The Intel Core i5 is a quad-core processor built around an architecture much like the Core i7, with it's own internal memory controller just like AMD Athlon 64 CPUs. The platform breaks new ground by taking over many of the functions previously relegated to a PC's main core logic chipset, hence the emergence of the Intel's 5-series P55 Express chipsets. The Core i5 processor slips into a new socket with 1156 pins, so it's not compatible with existing socket 775 or socket 1366 Intel motherboards. Further complicating things are two 8-series Core i7 processors which will be socket 1156 formfactor.
Ahead of the Core i5 and P55 chipset release this week, PCSTATS is giving you a sneak preview of ASUS's newest Core i5 platform - the ASUS P7P55D-Deluxe motherboard. To understand what's changing you need to know that until now desktop computers have largely been built around a three chip solution; a CPU communicating with the Memory Controller Hub (MCH) also know as the 'Northbridge,' which in turn talks to an I/O Controller Hub (ICH), commonly called the 'Southbridge.'
The CPU-Northbridge-Southbridge architecture has blissfully survived many upgrade cycles intact, with the occasional bandwidth bottleneck here and there. The release of the Intel 'Lynnfield' P55 platform will see this architecture simplified to CPU-Southbridge however.
Intel Two Chip Architecture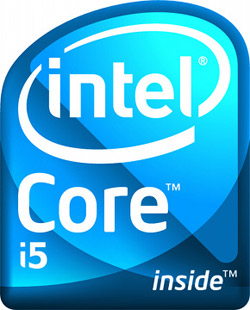 In the past Northbridge chipsets for the Intel platform have included the 945P, 965P, 975X, P35, and P45 Express. The Northbridge chipset acts as a bridge between the CPU, system memory, graphics card and the rest of the PC. Without it the PC cannot function, so each time new memory or CPU front side bus speeds are adopted, a new chipset is generally released.
The third member of the family (the first being the CPU) is the Southbridge chipset. It's job is to bridge the CPU-Northbridge with the rest of the computer. Items like the input/output devices. hard drives, PCI/PCI Express expansion slots, sound card, network controller and mouse/keyboard. On the Intel platform these have included the ICH7, ICH8, ICH9 and ICH10 Southbridge chipsets.
Here's a block diagram to illustrate the relationship between these three critical chips in a simplified computer system. On the left, the way it has been for many years, and at right the simplified Intel P55 platform. The main difference between the two is that tasks previously handed by the Northbridge chipset are being rolled into the Core i5 processor itself.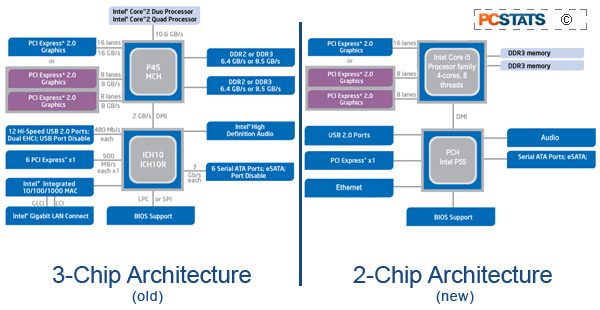 Once Intel's new 'Lynnfield' P55 Express motherboards start hit the shops there will be an extra layer of future proofing to consider with pros and cons to each path. PCSTATS has wonder what impact the Intel Core i5 processor and P55 Express chipset will have in an industry where differentiating boards is already a difficult task.
In speaking with reps from Gigabyte who stopped by PCSTATS offices last week, it seems clear that Tier 1 motherboard manufacturers will be moving 1) build quality and 2) custom features to the forefront. With so much integrated into the Core i5, mobo manufacturers are going to be pressing unique value-added features like never before. Gigabyte spoke about six specific features its boards will have, ASUS has of course a similar collection of tools and tweak friendly measures that we'll be focusing on today.
Introducing the ASUS P7P55D-Deluxe Motherboard
It's going to be exciting to see just what the ASUS P7P55D-Deluxe motherboard is capable of with a Core i5 750 processor locked into its 1156-pin socket.... but unfortunately we can't reveal ANY benchmarks or performance related indications just yet. Such a tease, I know. Instead, PCSTATS offers up a fun preview of what to expect from the new crop of Intel P55 based motherboards, the Intel 'Lynnfield' platform, socket 1156, and everything ASUS is squeezing into its flagship P7P55D-Deluxe motherboard.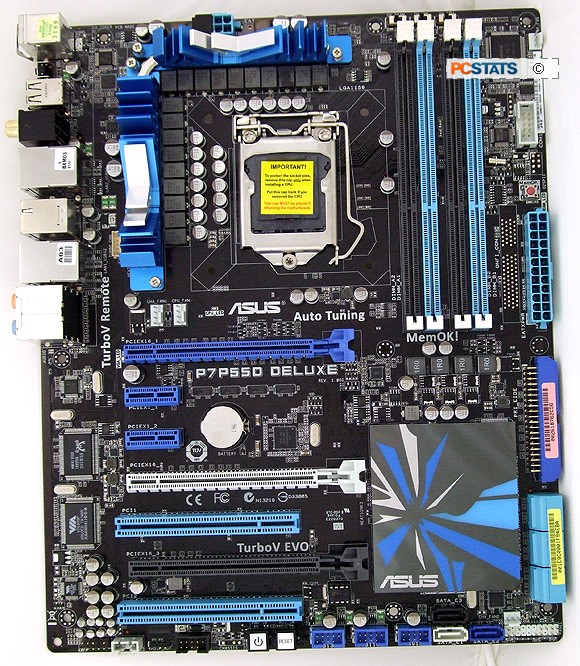 ASUS P7P55D Deluxe
ASUS' P7P55D-Deluxe motherboard is a socket 1156 Core i5 platform representing the flagship feature set. Along with the obvious support of Intel Lynnfield socket 1156 processors, the ASUS P7P55D-Deluxe motherboard features three PCI Express 2.0 x16 videocard slots for multi-graphic card set ups. It's not triple x16 mode however, rather one VGA at x16 or two at x8/x8, and an additional PCI Express 2.0 x16 slot that's really just a PCI Express x4 in disguise (black above).
Further expansion comes via a pair of PCI Express x1 and PCI slots. The P7P55D-Deluxe supports ATI Quad-GPU CrossfireX and nVidia Quad-GPU SLI, though you'd be hard pressed to find many users clamoring for a Geforce right now. There are four dual channel DDR3-1333/1066 memory slots which can accommodate up to 16GB of DDR3 RAM. Memory can be overclocked to run at DDR3-2133/1600 speeds with compatible modules.
In terms of data storage the ASUS P7P55D-Deluxe motherboard is well equipped - there are nine 3.0Gb/s SATA connectors! Pair that up with RAID 0,1,5,10 options on at least six of those and its clear the ASUS P7P55D-Deluxe is built for seriously large hard drive arrays. Rounding out the features on the P7P55D-Deluxe board are fourteen USB2.0 ports, two Firewire and a pair of Gigabit network jacks. High Definition 10-channel audio comes standard.
Asus overclocking friendly and performance features next!