Hard drive capacity is always on the up and up, but the standards which enable the PC to access those Terabytes of data, such as IDE and SATA, change much less frequently. Today Seagate is inaugurating the latest speed bump for SATA storage devices - SATA 6Gb/s - with a new desktop hard drive called the Barracuda XT.
What's notable about Seagate's desktop 2TB Barracuda XT hard drive is that it's the worlds first 3.5" hard drive to support SATA-IO's Serial ATA 6Gb/s interface . The Barracuda XT is built around a four platter 7200RPM spindle framework, with ramp loading for the heads and 64MB cache. I suspect 128MB cache drives are not too far off in the future, although Seagate declined to comment specifically when PCSTATS spoke with company reps recently.
Western Digital has of course offered 2TB Caviar Black hard drives with similar specs for a while now, including 64MB cache, but its drives operate on the previous generation 3Gb/s SATA II interface.
Architecturally the Barracuda XT is quite similar to the popular Barracuda 7200.12, so evidently the bandwidth advances are coming by way of the enlarged cache and shiny new SATA 6Gb/s controller, rather than changes to its perpendicular magnetic recording technology. The Seagate Barracuda XT has an areal density of 368 Gigabits per square inch, is capable of burst speeds of up to 6 Gb/s and supports Native Command Queuing. Expect sustained data rates of around 138MB/s. The Seagate ST32000641AS 2TB hard drive will run about $290 and come with a 5 year warranty.
PCSTATS will have a full set of performance benchmarks on the Seagate Barracuda XT SATA 6G hard drive very shortly. In this quick preview we're going present a basic overview on the SATA 6G standard, let you know what critical piece of hardware is needed to actually take advantage of it.
Top of the list - High SATA 6G Expectations
Hard drives rated to SATA 6Gb/s interface speeds will communicate with a PC faster, but at the outset the speed bump is going to be muted, and certainly in real world terms not twice as fast as a 3Gb/s drives. Put it this way; Serial ATA I operates at 1.5Gb/s, Serial ATA II operates at 3Gb/s and Serial ATA 6G runs at 6Gb/s. You'd be hard pressed to saturate a SATA II connection with 3Gb/s burst of data for anything more than a fleeting moment, and that's why SATA 6G, while faster , will initially only have a small impact on bandwidth intensive situations.
Mechanical hard drives just aren't fast enough to saturate a 6Gb/s bandwidth connection continuously, but moving forward new technologies and Solid State Drives (SSD) will likely require the additional head room.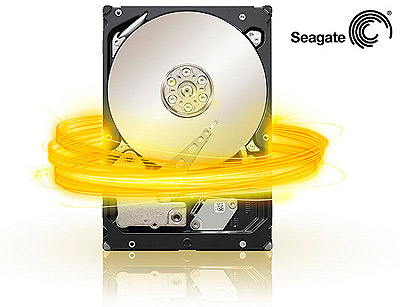 Incidently, the Serial ATA International Organization which controls SATA standards have banned the term "SATA III" from being used because it gets confused with SATA 3Gb/s too easily. The correct name for the new standard is SATA 6G or SATA 6Gb/s interface.
The critical hardware? Marvell Semiconductor's 88SE9123 chip
Serial ATA devices enjoy a great degree of backwards compatibility as the cabling and connectors have remained unchanged from the initial 1.5Gb/s bandwidth interface to 3Gb/s, and now 6Gb/s. However, to take advantage of SATA 6G your computer will need two critical pieces of hardware.
The first is a motherboard or expansion card equipped with the Marvell 88SE9123 SATA 6G controller, and the second is a hard drive rated for SATA 6G interface speeds. If one or the other is absent the drive will fall back to SATA 3Gb/s. It's worth noting that neither the Intel P55 Express nor AMD 785G chipsets natively support SATA 6G standards, and its not something a firmware or BIOS upgrade can introduce.
Currently there are two motherboard models that ship with the Marvell Semiconductor 88SE9123 SATA 6G controller, the Gigabyte GA-P55 Extreme and ASUS P7P55D Premium. As of this writing no motherboards for AMD Phenom II processors or Intel socket 775 CPUs have been announced which incorporate support SATA 6G, but ASUS is planning to release a SATA 6G PCI Express expansion card so existing PC platforms can be upgraded easily enough.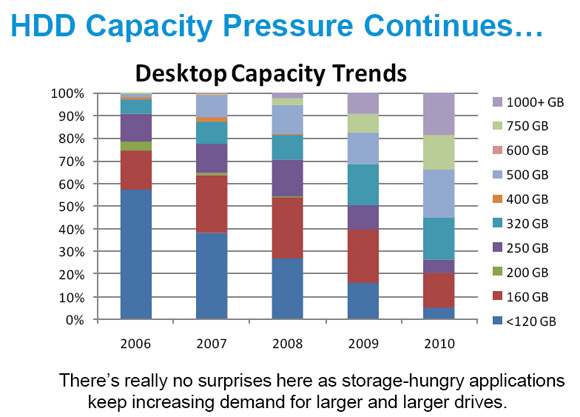 Do you need SATA 6G?
While computers equipped with SATA 6Gb/s hard drives will certainly be future-proof and meet the growing demands of gaming, digital video editing and storage-hungry applications in the years to come, the initial boost in "performance" isn't expected to be dramatically greater than what SATA II delivers currently. If you're building a new PC based on Intel's Core i5 / P55 Express platform and want SATA 6G, it's certainly there for the taking. In six months from now I'm sure most performance grade motherboards will feature the technology and more than one hard drive manufacturer will be supporting it.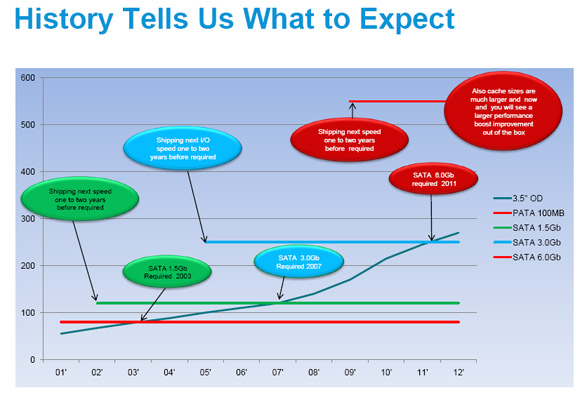 Marvell Semiconductor is the first to market with a SATA 6Gb/s solution, but you can bet that SIL is not far behind. For the initial launch of SATA 6Gb/s Marvell has partnered with both ASUS and Gigabyte offer motherboards to complement SATA 6Gb/s hard drives.
ASUS was first to market with a SATA 6Gb/s motherboard, the ASUS P7P55D Premium began shipping in August. Joe Hsieh of ASUS noted; "An expansion bridge integrated into the P7P55D Premium helps achieve real SATA 6Gb/s throughput to support bandwidth-hungry applications. The ASUS solution eliminates transmission bottlenecks in current technology and ensures users truly enjoy faster data speeds and double the storage bandwidth. For other P7P55D Series models, ASUS also provides an expansion card to achieve the same results."
On the other side of the fence, Gigabyte's Intel P55 Express-series GA-P55-Extreme motherboard is also now shipping. Tony Liao of Gigabyte mentions; "Gigabyte worked closely with our partners Seagate and Marvell in making the highly anticipated SATA 6Gb/s technology a reality."
Seagate will be demonstrating Serial ATA 6Gb/s Technology at the Intel Developer Forum this month, and PCSTATS will have a full hands-on review shortly thereafter so please stay tuned!
Oh more more interesting note from PCSTATS' briefing with Seagate on the SATA 6G technology and its Barracuda XT hard drives. The company is updating its Seagate SeaTools hard drive configuration software to make it easier for PC enthusiasts to "short stroke" drives. Short Stroking is a technique most often employed by gamers to restrict data to the outer areas of the drives platters, where data rates are highest. Seagate SeaTools will very shortly incorporate "ShortStroking" options in the standard feature set.
Find out about this and many other reviews by joining the Weekly PCstats.com Newsletter today! Catch all of PCSTATS latest reviews right here.
Related Articles
Here are a few other articles that you might enjoy as well...
- Western Digital Caviar Black WD1001FALS 1.0TB SATA Hard Drive Review
- IcyDock MB673SPF-B 3-Bay Tooless Hard Drive Bay Module
- IcyDock MB674SPF-B 4-Bay Tooless Hard Drive Bay Module
- Icydock MB664US eSATA/USB External Hard Drive Enclosure Review
- IcyDock MB454SPF-B SATA 4-Bay Hot-Swap 3.5-inch Drive Bay Review
- IcyDock MB453SPF-B SATA Multi-Bay Backplane Module Review