Even though the computer industry moves forward at a break-neck pace, it's positively slow when compared to the videocard industry. The GPU guys habitually double videocard performance between generations, with each year bringing huge advances as new GPU technology is introduced, mass produced, refined and perfected.

Such is the case with ATI's Radeon 'RV770' GPU, which was introduced nearly a year ago with the Radeon HD 4850, 4870 and 4870 X2. Mass production of the RV770 GPU brought stripped-down inexpensive versions into introductory markets. Recently AMD has refined and improved the RV770 into the RV790, the GPU behind its fastest single-GPU videocard, the Radeon HD 4890.

Today, Asus has claimed that is has perfected the Radeon HD 4890 and the RV790 GPU, with a custom-designed videocard that it calls the EAH4890 TOP. The EAH4890 TOP has everything you'd expect from a reference Radeon HD 4890: the GPU and shaders are clocked at 850MHz and accompanied by 1GB of GDDR5 memory that runs at an effective speed of 3.9GHz (975MHz quad-pumped).

Feedback?
What do you think of this review written by Julian?
Help make PCSTATS better, leave your comments here.

Where the Asus EAH4890 TOP differs is in its construction. Asus has made dramatic changes from AMD's reference Radeon HD 4890, with a re-designed PCB, new power management, an improved heatsink, and more powerful air cooling. The result is a videocard that holds a lot of promise for some extreme overclocking and tweaking. It's also covered by a three year warranty. Nice.

Everything else you know and love about the Radeon HD 4890 is still here. Support for AMD CrossfireX, HDCP, DX 10.1 support, shader model 4.1 support, as well as Unified Video Decoder 2 for HD content decoding.

All of these extras only make the Asus EAH4890 TOP a little more expensive than standard Radeon HD 4890s. Thanks to recent price drops it's possible to find the Radeon HD 4890 for as low as $220 CDN in the wild, while Asus's customized EAH4890 TOP version retails for around $260 CDN ($225 USD, £140 GBP).

ASUS EAH4890 HTDI/1GD5/A Videocard

Includes:

User's Manual, Driver CD, Component Output adaptor, DVI-to-Analog converter, DVI-to-HDMI converter, Composite adapter, Crossfire cable, Power adapters.
Physically, the Asus EAH4890 TOP is quite a big videocard, taking up two motherboard expansion slots, and reaching back 240mm into your system chassis. Fortunately there's quite a bit of clearance to keep it from getting snagged on other system components, but make sure to measure and check your system carefully so that there's enough room for such a large videocard.

The I/O shield of the Radeon HD houses a pair of DVI ports, as well as an S-video output. The yellow DVI port can carry audio as well when paired with the included HDMI adapter, which makes it an easy way to get output to an HDTV. Asus also throws in a VGA adapter, as well as an S-Video to component adapter.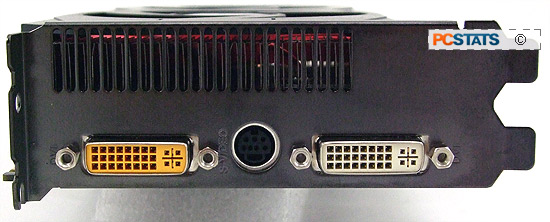 The rear of the Asus EAH4890 TOP videocard houses a pair of PCI Express power connectors (8-pin and 6-pin), both of which are required for stability, especially when adjusting the RV790 GPU's voltages. Asus includes a pair of PCI Express power adapters for this purpose, which can be fed off a standard molex power connector from your PSU.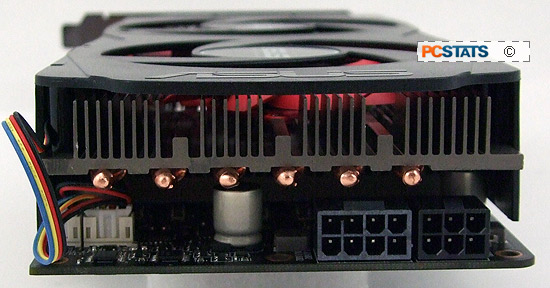 The heat is conducted away from the GPU by six heatpipes along a section of aluminum heatsink flanks the twin 60mm fans. The entire videocard is cooled by a pair of high-CFM cooling fans that are embedded in a heat shroud. The design allows for some of the hot air to be pushed out of the I/O shield, but it's still wise to have a system chassis fan or two to keep the ambient temperature inside the case low as well.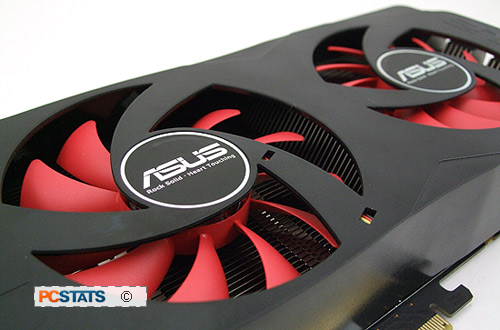 Asus has also changed the electrical system for the EAH4890 TOP videocard, which has become more efficient and will hopefully allow for better overclocks. This new design is thanks to a new capacitor design called Super-ML cap. The Super-ML capacitor has better tolerance for voltage spikes, produces less heat, and has lower height clearance than standard capacitors. Even better is that with a single Super-ML capacitor Asus replace several less-efficient capacitors at once.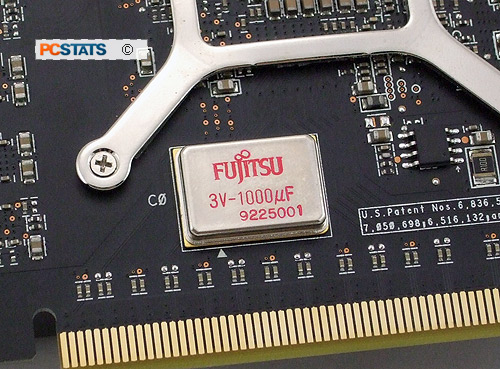 Hopefully all of this talk of overclocking has whetted your appetite for some serious performance tuning. Let's start off by getting a little more familiar with the Radeon HD 4890's GPU...