Gigabyte's GA-MA790FXT-UD5P motherboard is based on the AMD 790FX and SB750 chipsets and offers up much in the way of dual videocard gaming and generally fast socket AM3 AMD processor support. At its heart is AMDs 790FX chipset which supports HyperTransport 3.0 at 5200 MT/S. The Gigabyte GA-MA790FXT-UD5P supports DDR3 memory at speeds of up to 1066/1333MHz, and 1666 MHz when overclocked.
Discrete videocards are handled by a pair of PCI Express 2.0 x16 slots, and since the AMD 790FX forms the basis of the 'Dragon Platform' you can bet AMD Crossfire X is supported. Additional expansion is taken care of by three PCI Express x1 slots and two PCI slots. Unlike the AMD 790GX, the 790FX does not include the Radeon HD 3300 integrated graphics. For those who are building high-end Phenom II systems, this likely won't be a large loss since discrete graphics will always outperform IGPs.
It's at the southbridge where things start getting a little more interesting on the Gigabyte GA-MA790FXT-UD5P motherboard. AMD's SB750 chip powers six SATA II connectors that can work in RAID 0/1/5/10 and JBOD mode, while there are another four SATA II connectors powered by a pair of JMicron controllers. These SATA ports can be configured in RAID 0/1 and JBOD modes.
Connectivity comes in the form of eight USB ports on the rear panel, with another four available through the use of a motherboard header. There are also two firewire jacks, a pair of gigabit LAN and eSATA II ports via bracket.
Altogether that adds up to a lot of value for a fairly competitive price, $235 CDN ($190 USD, £130 GBP), particularly as Gigabyte's GA-MA790FXT-UD5P motherboard is firmly in the performance AMD segment. Of course, the paper specs are only half the story, and the real question that's on everyone's mind is how the new Phenom II processors will overclock on this motherboard. For the answer to that, just read on - PCSTATS is ready to dig deep and dish the dirt on the Gigabyte GA-MA790FXT-UD5P motherboard.

Gigabyte GA-MA790FXT-UD5P Motherboard



Includes:

Manual, Quick Install Guide, Driver CD, (4) SATA cables, (2) eSATA cables, IDE cable, Floppy Cable, eSATA Bracket, eSATA power cables, I/O shield
The layout of the Gigabyte GA-MA790FXT-UD5P motherboard is well-thought out, with plenty of space for system builders to work with. The dual PCI Express 2.0 x16 slots are widely spaced so that even the largest of ATI Radeon videocards can be seated in them in Crossfire X mode. Even with dual slot videocards installed, there will still be room to use the three PCI Express x1 slots and a legacy PCI slot.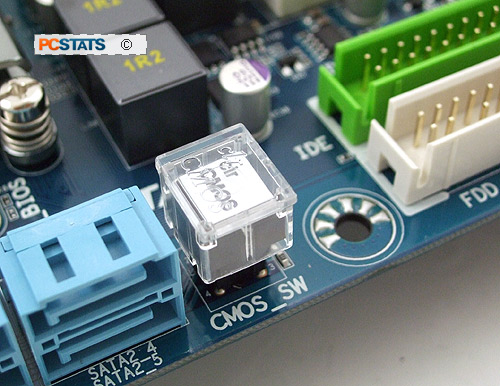 The remaining front panel headers are grouped together on the bottom edge of the motherboard, with two USB headers and an additional firewire port. Gigabyte labels these headers,which reduces confusion and potential short-circuiting. There's also a S/PDIF output, and an AAFP header for 7.1CH High Definition audio that supports Dolby home theatre.
A heat pipe connects the AMD 790FX northbridge the SB750 southbridge, and doubles as a cooling array for the MOSFETs that surround the socket AM3 AMD processor. This system relies on an active air cooler, so those who use liquid cooling or a passive CPU cooler will need a system fan to keep overall case temperatures down. The GA-MA790FXT-UD5P has a pair of system fan headers for this purpose.
All of Gigabyte's motherboards have received the Ultra Durable treatment. The Gigabyte GA-MA790FXT-UD5P uses a thicker copper trace layer which helps dissipate heat from board mounted components. Gigabyte has also moved to all solid-state capacitors, and uses ferrite core MOSFETs, which should extend the GA-MA790FXT-UD5P's electrical stability and lifespan.
Gigabyte includes a number of blue LED illuminated system control buttons on the motherboard to make it easy to troubleshoot and set up the system when it's not attached to a proper chassis. There's also a clear CMOS button that can be used a last resort for when overclocking goes horribly wrong. The coolest thing about it is that it's specially protected by a clear security cap, so you can lift it off and pretend you're nuking the eastern sea board instead of nuking overly ambitious system settings.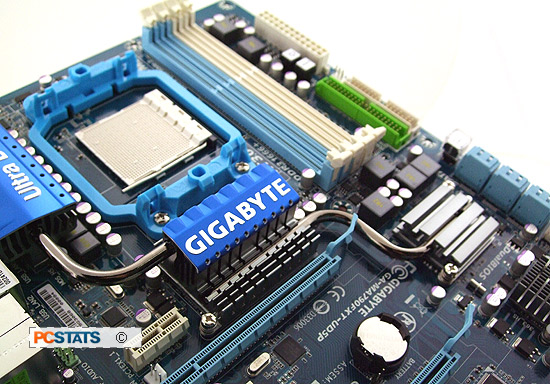 AMD 790FX Chipset - Leaner, Meaner, Greener

AMD's 790FX chipset has been around for a while now, first debuting in late 2007 but continuing to be used because of its power efficiency and versatility. The 790GX is built on a 65nm process node, which means that its overall TDP is quite low (~10W, as rated by AMD), which also makes it easy to cool passively and cuts down on its overall power draw.

Since AMD long ago moved the memory controller from the motherboard's northbridge and onto its processors, the 790FX chipset that was used with DDR2 motherboards is also used in DDR3 motherboards, with a minimum amount of fuss.

AMD's 790FX chipset supports all AMD 32-bit/64-bit Socket AM2 CPUs, Socket AM2+ Phenom/Athlon and Phenom II Socket AM3 processors. Depending on what the motherboard manufacturer builds, naturally. With a socket AM3 or AM2+ processor installed, the CPU communicates with the AMD 790FX chipset over a HyperTransport 3 (HT3) connection. For legacy socket AM2 processors, a HyperTransport 2 (HT2) connection is used.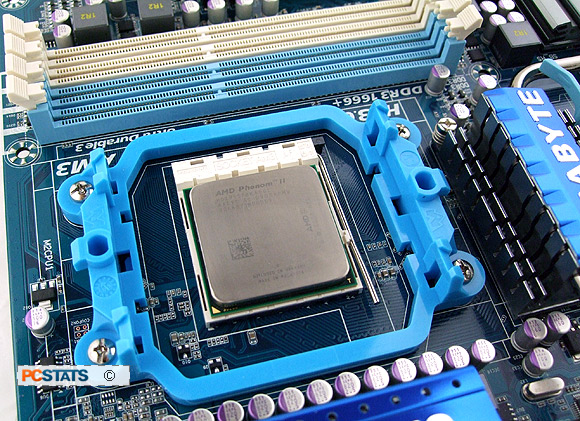 The 938-pin AM3 socket. Socket AM3 processors are backwards compatible with AM2+ sockets, but socket AM2+ processors are not forwards compatible with socket AM3 because those processors do not have a DDR3 memory controller.
AMD's 790FX chipset has 42 lanes of PCI Express available, with 32 of those lanes being dedicated to the graphics cards, and can potentially power as many as four AMD Radeon videocards in Crossfire X mode, although in the case of the Gigabyte GA-MA790FXT-UD5P motherboard there are only two PCI Express 2.0 x16 slots.
AMD SB750 Southbridge
The AMD SB750 southbridge has changed quite a bit from it predecessor the AMD SB700 which was paired with the AMD 780G chipset. This new southbridge now supports RAID 5, in addition to the RAID 0, 1 and 10 functionality. AMD's SB750 southbridge also makes use Advanced Clock Calibration (ACC); this is an interconnect that runs directly from the southbridge and into the CPU socket and can be used to independently adjust individual CPU cores.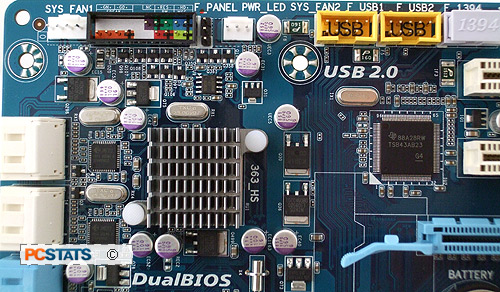 Gigabyte has added on another four SATA II ports through add-in controllers that are manufactured by JMicron. These controllers can be used in RAID 0, 1 and JBOD modes. It's time to do some overclocking with this new AMD motherboard. Before PCSTATS dives into that, let's take a closer look at the Gigabyte GA-MA790FXT-UD5P motherboard first.