Abstract: Samsung's new A950 series of LCD HDTVs has been designed to be the next step in image fidelity for liquid crystal display technology. These home theatre HD TVs use Light Emitting Diodes (LEDs) that can selectively illuminate sections of the screen at a time.


90% Rating:

Home > Reviews > Home Theatre > Samsung LN55A850D1F
When it comes to LCD HDTVs, the market is overfilled with a deluge of manufacturers, models and marketing jargon. Choosing which LCD HDTV is going to become the centerpiece of your new home theatre space can be daunting. However there's one area where PCSTATS refuses to compromise, and one where you should demand nothing less than the best - that's image quality. Today PCSTATS will be reviewing the very top end of the Samsung LCD HDTV family, the 55" Samsung LN55A950D1F.
Samsung's A950 series of LCD HDTVs has been designed to be the next step in image fidelity for liquid crystal display technology. These home theatre HD TVs use Light Emitting Diodes (LEDs) that can selectively illuminate sections of the screen at a time, which means that they have a wider color gamut and better colour reproduction. They also boast superb black levels, do away with back light bleeding, and offer unbelievable dynamic contrast ratios.
The transition from Cold Cathode Florescent Lamp back lights (CCFL) to LED back lights also means that the Samsung 9-series televisions should have noticeably longer life span than previous LCD HDTVs. One of the problems with CCFL bulbs is that they steadily lose brightness from the day they're turned on, and within a few years of steady use can drop down to half of their original luminance.
Samsung's LN55A950 selective LED back lighting reduces the overall amount of time individual LEDs are illuminated, and the LED matrix itself is much more resistant to dimming and burning out, which translates into a longer-lasting and more durable HDTV. The Samsung series 9 LCD HDTVs also take advantage of selective LED dimming which make them more power efficient than an equivalent CCFL HDTV.
The Samsung LN55A950D1F is a 55" 1080p LCD screen that supports both 60 and 120 Hertz refresh rates. Samsung rates the dynamic contrast ratio of its new localized LED back light at an astonishing 2,000,000 to 1, with an overall brightness rating of 500 cd/m2. The excellent viewing angles of Samsung's previous LCD HDTVs have been preserved, so the LN55A950 can be viewed from 178º either vertically or horizontally without colour distortion or dimming, and has an overall 4ms grey-to-grey response time.

Samsung LN55A950D1F 55" LCD HDTV

SPECIFICATIONS:

Screen size: 55"
Brightness: 500 cd/m2
Contrast Ratio: 1000:1
(Dynamic Contrast Ratio: 2,000,000:1)
Viewing Angle: 178°/178°
Interface: (4) HDMI, (2) Component, (2)Composite, S-Video, D-Sub, RF-coaxial, Optical.
Resolution: 1920x1080
Response Time: 4ms (G-to-G)
Power Draw: 320W
Dimensions: 49.7 x 32.8 x 12.3"
Weight: 31.2 kg
VESA Mount: 6 00x400mm

VIDEO/MEDIA:

Aspect Ratio: 16:9
HDCP: Yes
LCD 120Hz: Yes
USB2.0 Ports: Yes
Speakers: 15W


Backlight: LED Backlight


Includes: Remotes, batteries, cover, ferrite core, manual, AC power cord, microfiber cleaning cloth, HDMI-cable.

As the top end model of Samsung's A950 series of televisions, the 55" LN55A950 HDTV inherits all the standout features of Samsung's previous 6, 7 and 8-series of LCD HDTVs. This means that it can use Wiselink Pro to stream media from USB storage devices or over a home network. It also has a built-in content library and Samsung's Infolink service that can display stock, news and weather updates on the TV as an on-screen display.
Since Samsung's LN55A950D1F LCD HDTV supports 120Hz refresh rates, which increases overall fluidity for movies. The increased refresh rate is the basis for Samsung's Auto Motion Plus interpolation technology, which can remove jitter between frames of movies.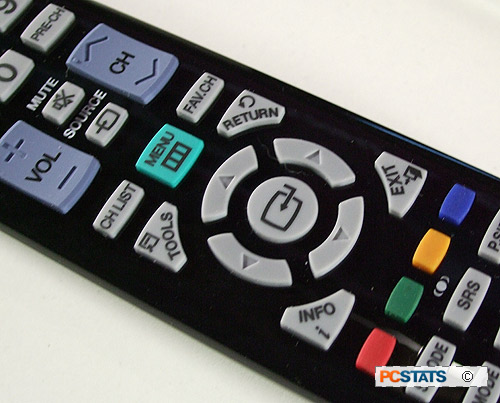 The included Anynet+ remote can control both the HDTV and any other Anynet+ devices. Certain peripheral-specific operations, like chapter skipping in DVDs, will have reduced functionality.
Samsung's previous LCD HDTVs have always had excellent connectivity, and the LN55A950 is no exception when it comes to inputs. Chief among them are four HDMI inputs, two component (YPBPR) inputs, and a VGA input for connecting a PC, along with accompanying coaxial audio cables. Legacy inputs include a pair of composite inputs, and an S-Video input.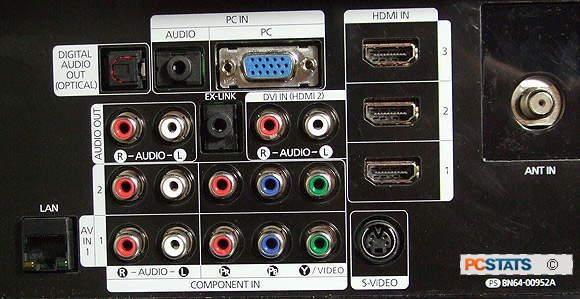 This is Samsung's largest LCD HDTV, with a massive 55" diagonal screen. The overall dimensions of the television with its stand attached is 34.7" tall by 53.7" inches wide. The screen itself is 4.4" deep, while the stand has a width of 26" and a depth of 13.3 inches. The entire HDTV weighs in at a hefty 91lbs (41kg) with stand, or 80lbs (36kg) for just the screen, in case you want to mount it on your wall using the 400mm x 600mm VESA mounts.
Samsung's estimated retail price for the LN55A950D1F is $5170 CDN (4200 USD, or 2890 GBP) ,which is a lot of money by practically anyone's standards, but flagship products of this nature always command higher prices. Let's go in for a closer look at the Samsung A950, we were pretty floored by its superb screen and I think you will be too...