Ever since processors with more than one computing core came into existance, a debate has raged between those who favour the more multi-threading friendly quad-core CPUs, and those that cite real-world performance gains from higher clock speeds in what's predominantly been a single threaded software universe. It's one of those "you say Tomato, I say asymmetric multi-threaded application" arguments that computer sales geeks absolutely love to spring on unsuspecting computer shoppers.
Let's face it, you are the giant human sized ball of string between their 11:15 coffee break and lunch. But let's not get sidetracked by amusing balls of string. All that "multi-threaded" means, is that the computer is able to break up the workload and spread it across a number of computing cores. Analogously, four carpenters could frame a house faster than one would be able to.
Is it better to get a dual core CPU, a triple-core CPU or a quad-core CPU?
Since you're reading PCSTATS to stay informed, the straightforward answer is a quad-core CPU is the best choice right now, all things considered. However, for those on a bit of a budget a triple-core CPU can be good value too as you'll see momentarily.
Multi-core processing is here to stay, and software able to take advantage of many shiny processing cores is well on the road to ubiquity. Intel of course has its quad-core Core i5 CPU for mainstream computing demands and AMD has the Athlon II in several variants, from two to four cores. The happy medium is more cores running at a faster clock speed. To use the carpenter analogy, three carpenters working fast can sometimes frame a house faster than four carpenters working slowly. Benchmarks help when splitting hairs like this, but the point is that four is not always by default better than three. Processor clock speeds still have an impact on how quickly work spread between multiple processing cores is completed. Don't forget that!
Enter the AMD Athlon II X3 435 processor, the focus of this PCSTATS Processor review. It's a 2.9GHz triple-core socket AM3 CPU built on AMD's "Propus" architecture. The Athlon II X3 435 is architecturally related to the AMD Athlon II X4 620 processor, which means it's also manufactured with AMD's 45nm SOI production process. Thermal design power sits at a very reasonable 95W. Beyond that, the Athlon II X3 435 is built without L3 cache so there is a performance hit in that respect. Fortunately the Athlon II X3 435 still has 512KB of speedy L2 cache per core, for a total of 1.5MB.

AMD Athlon II X3 435 Processor

Tech Specs

Athlon II X3 435
(triple core)
Clock: 2.9GHz
L1: 384KB total
L2: 1.5MB total
L3: none
Multiplier: 14.5x
Package: 938-pin
Socket: AM3 (AM2+)
organic mPGA
Core: 45nm SOI
Transistor: ~300M
Power: 95W
Vcore: 0.85-1.425V
Cost: $87 USD




Like all of AMD's recent processors, the Athlon II X3 435 has an on-board 128-bit wide memory controller that can communicate with dual channel DDR2 or DDR3 system memory at speeds of DDR2-1066 or DDR3-1333. Processor-to-system bandwidth tops out at 33.1GB/s and 37.3GB/s respectively. The processor uses HyperTransport 3.0 to communicate with the system, using dual 16-bit links at a speed of 4.0GHz.
The Athlon II X3 435 is a triple core, and those extra cores are ideal for tasks such as virtualization. Naturally the Athlon II X3 435 has full hardware virtualization support, allowing a single core to run a copy of Windows XP inside of Microsoft Windows 7. Virtualized Windows XP will be especially practical when it comes to legacy software applications that don't run in Windows 7. The AMD Athlon II processor and AMD's 785G chipset are both fully ready for Microsoft Windows 7 incidently. PCSTATS has included Windows 7 benchmarks in the review so you can see firsthand just how ready.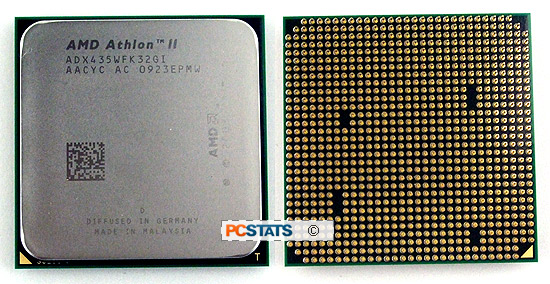 As the Athlon II X4 435 is priced around $90 CDN ($87 USD, £60 GBP), it's moving into a market crowded with AMD value-oriented processors. This includes AMD's popular Athlon II X2 250, the quad-core Athlon II X4 620 and the triple-core Phenom II X3 720. One has to wonder if three cores at 2.9GHz and low power consumption figures will be enough to distinguish the Athlon II X3 435 from the tidal wave of sub $100 CPUs flooding the market right now.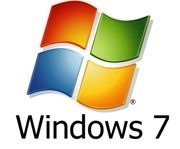 Athlon II X3: Triple-Core

AMD's Athlon II X3 435 processor is built with AMD's 'Propus' die, essentially a slimmed down version of 'Deneb' which has been around since first 45nm Phenom II processor launched. AMD's 'Propus' core consists of four individual computational cores with 512KB of L2 cache each, but unlike 'Deneb' it has no L3 cache. The Athlon II X3 435 has one core disabled, so it actually has three functional cores instead of four. This means the Athlon II X3 435's die is still 169mm2 in size, and still consists of about 300 million transistors just like the Athlon II X4 620, although the functional number of processing cores is less.
The absence of L3 cache has a few consequences for the Athlon II X3 435 as you might expect. A large, fast L3 cache is important for communication between processor cores and multi-threading efficiency after all. When all three cores are busy processing threads, the L3 cache acts as a pool that feeds the individual L2 caches. Ultimately this absence increases the frequency that the processor has to fetch information from system memory (your DDR2/DDR3 sticks) or virtual memory (your hard drive), both of which are orders of magnitude slower than accessing on-die cache. This puts the Athlon II X3 435 at a bit of a disadvantage when compared to the Phenom II X3 720 Black Edition which is equipped with a 6MB L3 cache. Keep an eye on the synthetic Sandra 2009 multicore efficiency and memory bandwidth results to see the real-world impacts of this.
The Athlon II X3 435 falls right in the middle of a spectrum of entry level and mainstream AMD processors. Interestingly, it shares the same price as AMD's popular Athlon II X2 250 processor, and while it has less cache and a slightly slower clockspeed, the extra processor core can make a big difference in multi-threaded benchmarks. Don't worry, both processors are being strapped on to the PCSTATS test bench later on in this review.
While the Athlon II X3 435's power consumption has likely diminished thanks to a disabled core, AMD has compensated by ramping up the speed on the three fully-functional processing cores, so the processor's TDP remains at 95W, the same as AMD's previous "Propus" processors.