Do you leave your computer on all the time? Are you downloading torrents, streaming media files to other PCs in your house, or serving files for remote access?
If you've nodded yes to any of the above, it might be time to think about a more power-efficient processor. Computer systems that are constantly on draw a lot of power over time, and that kind of power-inefficiency may add up to an expensive electricity bill. One of the easiest solutions is to upgrade that old power-sucking Pentium 4 PC to a more electricity-efficient CPU with an Active Power Factor 80+ rated power supply. Computing power for everyday applications will improve but with a lower carbon footprint.
That's the idea behind AMD's Athlon II X2 240e. It's a 2.8GHz dual-core processor based on the AMD "Regor" core with a TDP of just 45W. The "e" behind the Athlon II X2 240e model name indicates that it's one of AMDs Energy Efficient processors.
Similarly to the AMD Athlon II X2 250 PCSTATS recently benchmarked, the Athlon II X2 240e has a transistor count of 234 Million, 256KB of L1 and 2MB of L2 cache, and no L3 cache whatsoever. The Athlon II X2 240e is compliant with Hypertransport 3.0, operating at 2.0GHz: data is sent twice per clock cycle (DDR) so the final duplexed speed of HT3 is 4.0GHz. This is sent along a 16-bit/16-bit link, which translates to 16GB/s of bus bandwidth between the CPU and the chipset.
As an Athlon II processor, the Athlon II X2 240e enjoys AMD's efforts to keep its processors cross-compatible. The Athlon II X2 240e has support for both DDR2 and DDR3 memory, depending on if the processor is dropped into a socket AM2+ or socket AM3 motherboard. Memory can be run at speeds of DDR2-1066 or DDR3-1333 via the Athlon II X2 240e's integrated memory controller.

AMD Athlon II X2 240e Processor

Tech Specs

Athlon II X2 240e
(dual core)
Clock: 2.8GHz
L1: 256KB total
L2: 2MB total
L3: none
Multiplier: 13.0x
Package: 938-pin
Socket: AM3 (AM2+)
organic mPGA
Core: 45nm SOI
Transistor: ~234M
Power: 45W
Vcore: 0.775-1.35V
Cost: $77 USD




The AMD Athlon II processor and AMD's 785G chipset are both fully ready for Microsoft Windows 7 operating system. In fact, the AMD 'Dragon' platform is positioning itself as an economical mainstream solution for Windows 7 PCs. Windows 7 is moderately more demanding than Vista, requiring at least a 1GHz processor, 1GB of memory and DirectX 9 compatible graphics solution with WDDM 1.0.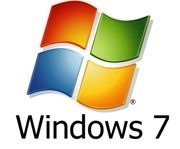 The Athlon II X2 240e also supports full hardware virtualization, allowing one of its two cores to run a copy of Windows XP inside of Microsoft Windows 7. Virtualized Windows XP will be especially practical when it comes to legacy software applications that don't run in Windows 7. The Athlon II is also the first CPU to move C1E low power states out of the BIOS and onto the CPU.
AMD's Athlon II X2 240e is aimed at both mainstream buyers and value-oriented PC applications where a lightweight, low-cost computer system is needed to fill the void. The processor costs $80 CDN ($77 USD, £50 GBP), which means its closest competition is AMD's own Athlon II X2 250. Let's find out if the Athlon II X2 240e can walk the tightrope between power consumption and performance...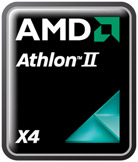 AMD "Regor" core
If you've read PCSTATS' review of the AMD Athlon II X2 250, you should already be familiar with AMD's "Regor" die. Regor is AMD's mainstream CPU die. . To make sense of AMD's Athlon II X2 240e processor, it's good to get the big picture of AMD's current CPU offerings first. AMD currently has four different families of 45nm desktop processors that make up its Phenom and Athlon brands.
The fastest and most expensive of these is the AMD Phenom II X4, based on the "Deneb" die. This is what you'll find running under the hood (or under the heat shield, to be specific) of processors like the Phenom II X4 965 Black Edition, AMD's current flagship processor. It has four cores and 6MB of L3 cache.
Slotting in underneath "Deneb" are AMD's enthusiast dual-core dies, codenamed "Callisto". This die has two cores but still keeps the 6MB of L3 cache, which makes it a very good candidate for overclocking performance. You can find "Callisto" dies in the AMD Phenom II X2 550 Black Edition. On the Athlon side of things, there's the quad-core "Propus" die. This processor die is actually very similar to "Deneb", with the same four cores but missing the L3 cache. AMD has turned "Propus" into its mainstream quad and triple-core processors. Check out PCSTATS' review of the AMD Athlon II X4 620 processor for more information on the "Propus" die.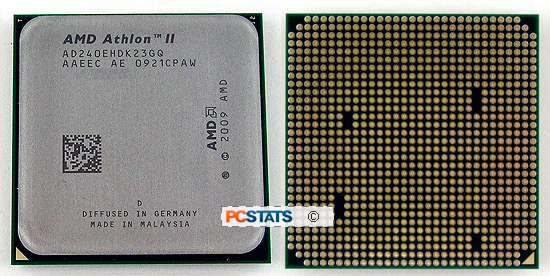 Which brings us to "Regor", the smallest and least complicated of the four 45nm AMD processor dies currently in circulation. "Regor" is what drives AMD's mainstream dual core processors, like the Athlon II X2 250 or the energy efficient Athlon II X2 240e. It has a pair of CPU cores, and no L3 cache.
The Athlon II X2 240e processor has a small die measuring just 117mm2 with a 234 million transistor count. Small sizes and low transistor counts are great when it comes to building energy efficient processors, and this is wheres Athlon II X2 240e-based PC can really shine.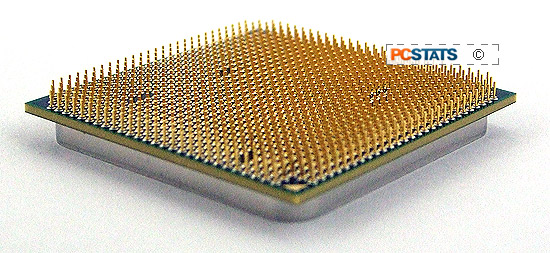 While some of AMD's "Deneb" processors (like the Phenom II X4 965 Black Edition) have TDPs in the 140W range, AMD's standard "Regor" CPUs are rated at just 65W TDP.
And now, thanks to a bit of engineering magic, AMD has managed to make the Athlon II X2 240e even more energy-friendly bringing its maximum TDP to a mere 45W. That's less than a light bulb.
Low wattage processors aren't always the most exciting when it comes to high clock speeds, number-crunching or multi-threading, but they do have a lot of practical uses, particularly when it comes to building a secondary PC that's only doing a limited number of tasks.
Take building a home media PC that doubles as a media server, for instance. It's a PC that will likely be on all the time in order to serve media to a home network, so it's ideal for a processor like the Athlon II X2 240e which doesn't use a lot of electricity.
If it's doubling as a home theatre PC, you'll want it to be as silent as possible. Again, processors like the Athlon II X2 240e generate so little heat that it's possible to use good passive heatsinks or a low-height, low-noise HSF combination.
The Athlon II X2 240e is another AMD's entry into the crowded mainstream CPU market, and with all of AMD's recent CPU releases its main competition is really from other AMD processors. The Athlon II X2 240e is very similar to the AMD Athlon II X2 250, the biggest difference between the two is that the Athlon II X2 240e has dropped 200MHz, has a TDP rating that's lower by 20W and costs $9 CDN less.
With all of that established, it's time to take a look at the Athlon II X2 240e's real-world power use, and see if it lives up to its potential...