It's not every day that a new chipset such as the Intel P55 Express brings about such sweeping changes to the desktop PC environment. Chief among them is a new CPU socket that sees LGA775 processors relegated to the old folks home. Moving forward all of Intel's mainstream processors will be LGA1156 chips. You see, up until recently desktop computer motherboards have been built around a three chip solution that hasn't really changed in the past decade. It consisted of a CPU that communicated directly with the Memory Controller Hub (MCH) also known as the 'Northbridge,' and this in turn talks to an I/O Controller Hub (ICH), commonly called the 'Southbridge.'
The CPU-Northbridge-Southbridge architecture happily survived many years of upgrading intact, but as memory started using more channels, CPUs grew extra cores and videocards grew more powerful, the interconnects that let these parts send information to one another became increasingly swamped with information and prone to bottlenecks. It was time to redesign the system architecture.
What was once a three chip system will be simplified to just two parts with Intel's upcoming 'Lynnfield' P55 platform: CPU-Southbridge.
Enter the Gigabyte GA-P55-UD3R motherboard, just one part from Gigabyte's line up of Intel P55 Express boards. The GA-P55-UD3R is the most affordable of the ATX motherboards that Gigabyte will be launching, cutting down on some the frills that you might find on its bigger brothers in favor of a better bottom line. We like affordable PC hardware just as much as you!
Fortunately a slightly smaller feature set doesn't affect its overall performance or compatibility. Gigabyte's GA-P55-UD3R motherboard supports all of Intel's socket 1156 Core i5 700-series and Core i7 800-series processors, which so far consists of the Core i5 750, Core i7 860 and Core i7 870, as well as future support for Intel's upcoming 32nm socket 1156 processors as well. Core i7 8xx-series should not be confused with Core i7 9xx-series processors, those are socket 1366 CPUs which are not compatible with this motherboard or any P55 Express platform.

Gigabyte GA-P55-UD3R Motherboard




INCLUDES: User's Manual, Driver CD, (4) SATA cables, I/O Shield, IDE cable.

Chipsets: Intel P55 Express
CPU Support: Intel Socket 1156
Memory Type: Dual Channel DDR3-800/1066/1333
Videocard Support: (2) PCI Express x16 2.0
Integrated Graphics: No
One of the biggest changes with the P55 Express chipset is what it doesn't do. While traditionally Intel chipsets have used the northbridge to control memory (including last generation's Intel P45 Express), that job now falls to the Core i5 and Core i7 processors and on-die memory controllers. The shift makes for some big improvements in memory performance, fortunately for the end-user memory compatibility is still pretty familiar. The GA-P55-UD3R will support up to 16GB of dual-channel DDR3 RAM, in speeds of DDR3-800/1066/1333 and even DDR3-2200 under certain overclocked settings.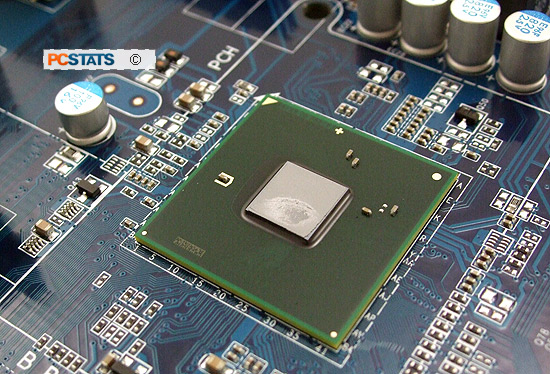 Another thing you won't find on the Intel P55 Express chipset is an add-on PCI Express 2.0 controller, it's been moved on to the die of socket 1156 Core i5 processors.
This on-board controller supplies x16 lanes of PCI Express 2.0 bandwidth to the primary PCI Express x16 slot. Another PCI Express x16 slot is supplied with x4 lanes of bandwidth by the Intel P55 Express chipset, and both of these PCI Express x16 slots can be linked together in Crossfire mode when paired with similar ATI Radeon videocards.
Although some motherboards using Intel's P55 Express chipset will run dual NVIDIA Geforce videocards in SLI mode, the GA-P55-UD3R doesn't have this feature built-in. Not that it matters much any more, NVIDIA's latest videocards never materialized and never will.
With Intel's Core i5 processors now handling most of the roles that would have traditionally been the job of the Northbridge, there's no longer any need for a two-chip core logic. Intel has merged the Northbridge and Southbridge into a single entity named the "PCH", P55 Express to you and me, it controls the legacy PCI slots, storage, networking and USB.
In addition to its two PCI Express x16 slots, Gigabyte's GA-P55-UD3R has four legacy PCI slots and a single PCI Express x1 slot (with x1 lanes of bandwidth, naturally). This leaves a fair amount of room available for expansion. The board is well laid out so that even with two double-wide videocards installed, there's room for a pair of legacy expansion cards. Useful if you have an old TV tuner and fancy soundcard.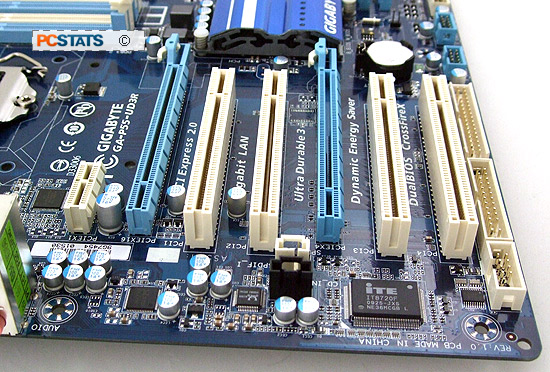 Intel's creation of the PCH controller for the Intel P55 Express chipset is an evolution of the ICH10R southbridge controller that graced the Intel P45 Express chipset. The PCH storage controller can handle up to six SATA II connection at 3Gb/s in RAID 0, 1, 5 and 10 modes. Gigabyte adds two more controllers into the mix, a JMicron JMB362 controller that powers two eSATA ports that can be run in RAID 0, 1 and JBOD modes, as well as Gigabyte's own SATA controller, which controls two more SATA II 3Gb/s that also do RAID 0, 1 and JBOD, and finally a legacy PATA adapter that can handle up to two IDE devices. Altogether that's 8 internal SATA connections and two eSATA connections, a lot of storage by anyone's definition. Unfortunately, there's no SATA 6G on this particular board.
Around back the I/O panel abounds with connectors; 10 USB 2.0 ports ready to go, a gigabit RJ-45 port, coaxial and optical S/PDIF audio connectors, 8-channel audio stereo jacks and two e-SATA ports for external devices. The Gigabyte GA-P55-UD3R motherboard retails for around $150 CDN ($140 USD, £85 GBP) which puts it right where motherboards based on Intel's P45 Express chipset used to be. When combined with a processor like the $200 Intel Core i5 750, it's pretty easy to build a socket 1156 computer system for under $600.
Gigabyte Ultra Durable 3

Of course, since this a Gigabyte motherboard, the entire thing gets the Ultra Durable 3 treatment. Ultra Durable 3 is a set of manufacturing technologies that Gigabyte has added to all of its motherboards that improve the quality of components.
These range from 6-layer PCB with 2oz. copper substrate, to the Japanese made solid state aluminum polymer capacitors and other electrical components chosen for low temperatures and long life. Including the energy saving features built into it, Gigabyte is certainly pulling out all the stops when it comes to making the GA-P55-UD3R competitive. With Intel P55 motherboards, features really distinguish the products, so browse those spec sheets carefully!
Gigabyte hasn't stopped there though. There are a lot of motherboards that will be based on Intel's P55 Express chipset, and standing out from the crowd is more difficult than ever before. To seal the deal Gigabyte introduced something called Smart 6.
Smart 6 is a team of interstellar robot lions that combine to form... no wait, that's Voltron. Smart 6 is actually a suite of programs that work with Gigabyte's motherboards to speed up and expand the capabilities of your computer system. PCSTATS will be taking a closer look at the Smart 6 later on in this review.
Okay, let's go in for a closer look at the Intel P55 Express chipset technologies and then show you some more of this nice Gigabyte motherboard.