In most other respects the quad core 3.4GHz Phenom II X4 965 Black Edition 125W revision remains the same. The architecture is "Deneb", the socket is AM3 and the CPU still features 6MB of shared L3 and 512KB of L2 cache for each of the four cores.


81% Rating:

Home > Reviews > CPU / Processors > AMD henom II X4 965 Black Edition C3
AMD has revised its current flagship CPU, the Phenom II X4 965 Black Edition into a slimmer electricity sipping 125W model, down from the initial 140W TDP processor released earlier this year.
Since this is a refresh, there are only a few differences between the otherwise identical CPUs. New to the "C3" 125W revision AMD Phenom II X4 965 Black Edition is hardware implementation of the C1E enhanced halt state; basically a tool in the CPU power saving chest to reduce clock speeds on the fly (when the PC is idle) and significantly lower power consumption. The other minor change is better support for four sticks of DDR3-1333 RAM. The 125W and 140W AMD Phenom II X4 965 BE processors can be differentiated by the code number etched on the lid of the processor if you need to know. The code etched onto the lid of the 140W TDP processors ends in "I" whereas that number on the 125W TDP chips is HDZ965FBK4DGM.
In most other respects the quad core 3.4GHz Phenom II X4 965 Black Edition 125W revision remains the same. The architecture is "Deneb", the socket is AM3 and the CPU still features 6MB of shared L3 and 512KB of L2 cache for each of the four cores. The Phenom II's multi-core design promotes a larger L3 cache that feeds faster L2 caches for the individual cores, a balance that improves multi-threading performance. The processor's HyperTransport 3.0 link continues to operates at 4.0GHz, and its on-board 128-bit wide memory controller runs at 2GHz, the same as its predecessor.
With the 125W TDP revision chip obviously comes lower heat output, boding well for overclocking potential. Like all of AMD's Black Edition processors, the Phenom II X4 965 Black Edition (125W) features an unlocked multiplier that makes overclocking as fun as driving down the Autobahn at 300Kmh! You might recall that PCSTATS took the Phenom II 965 Black Edition 140W CPU from 3.4GHz up to 3.93GHz in our overclocking experiments. We'll have to see if the added headroom allows the 965 BE 125W to break the 4GHz mark!

AMD Phenom II X4 965 Black Edition Processor
(125W revision)

Tech Specs

Phenom II X4 965 Black Edition
Clock: 3.4 GHz
L1: 4x 128KB
L2: 4x 512KB
L3: 6MB
Multiplier: 17x
Package: 938-pin
Socket: AM3 (AM2+)
organic mPGA
Core: 45nm SOI
Transistor: 758M
Power: 125W
Vcore: 0.825-1.4V
Cost: $195 USD
Manufactured by Global Foundries FAB 1 in Dresden Germany, the Phenom II X4 965 Black Edition (125W) contains 758 million transistors on a die 258mm2 in size. The CPU is compatible with the Hypertransport 3.0 specification, operating with a 16-bit link at 2.0GHz up and down stream. Total system bandwidth rises to 37.3GB/s on DDR3 platforms, 33.1GB/s for DDR2 systems.
AMD designed the Phenom II processor family to make an easy transition from older socket AM2 and AM2+ computers to socket AM3 CPUs and DDR3-based motherboards. The Phenom II X4 965 Black Edition (125W) is built for socket AM3 motherboards, but can be dropped into socket AM2+ motherboard, switching between its embedded DDR2 and DDR3 memory controllers.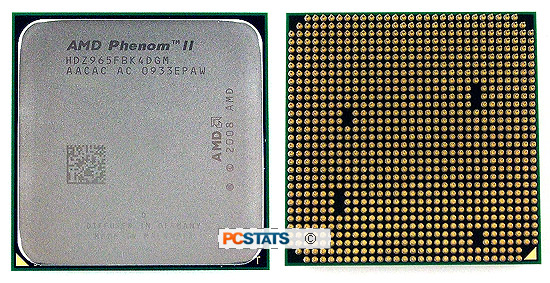 With a suggested retail price of $199 CDN ($195 USD, £117 GBP) , the 3.4GHz Phenom II X4 965 Black Edition (125W) is priced just below Intel's Core i5 750, the entry-level model for Intel's socket 1156 processor lineup. PCSTATS will be putting these two processors head-to-head along with other processor heavyweights like the Intel Core i7 920.
First though, lets take a look at what else AMD is doing to sweeten the deal for Phenom II owners...
AMD's Dragon Platform
Just a few months ago AMD brought out its Dragon platform, a combination of its new Phenom II processors, socket AM3 motherboards, and Radeon 48XX series of videocards. AMD is back with a few more upgrades to their arsenal. The newish Dragon platform consists of the AMD Radeon 5850 videocard, AMD's socket AM3 motherboards, and Phenom II line of processors.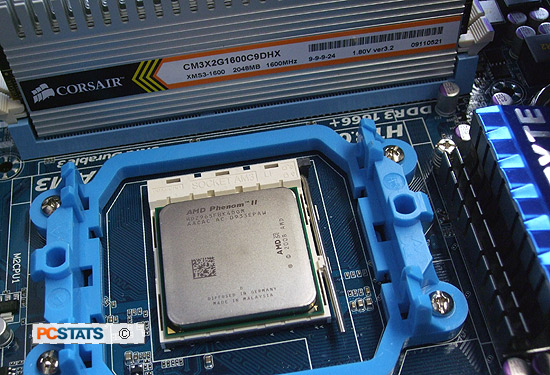 AMD is looking to make the 'Dragon' system platform into more than just an assortments of parts that share the same marketing label. While there still aren't any special hardware features that become unlocked from combining Phenom CPUs, Radeon videocards and socket AM3 motherboards together, AMD has crafted new software tools aimed directly at overclockers and enthusiasts.
AMD Overdrive software has recently been updated to version 3.1. Overdrive is designed to make overclocking AMD CPUs and GPUs easier and more accessible. While both NVIDIA and Intel offer tools which enable overclocking from within Windows Vista and Windows 7, the range or depth of options provided by AMD Overdrive is not matched.
The new AMD Overdrive 3.1 software introduces new CPU profiles for certain AMD processor models, better Cool'n'Quiet support and improved Smart Profile support. It also adds more Black Edition Memory Profiles.
Black Edition Memory Profiles (BEMP) are similar to Intel's Extreme Memory Profiles. AMD has collaborated with major memory vendors so that selected sets of high-frequency memory can work at the most aggressive frequencies and latencies, the way the engineers intended. BEMP will automatically adjust AMD Overdrive once compatible memory is detected to take full advantage of faster memory modules.
AMD Overdrive - Smart Profiles
Smart Profiles are a dynamic load balancing and overclocking tool built into the AMD Overdrive application. When the Overdrive software detects that a game has been launched, it can optimize the Phenom II X4 965 Black Edition 125W processor to utilize an appropriate amount of processor cores for that game profile.



The Smart Profiles settings for 3DMark 2006.
In certain games that only take advantage of two processing threads, the Overdrive utility will underclock the two unutilized processor cores, and increase the frequency of the two cores the game is using. This entire process is done automatically, so the user doesn't have to worry about turning profiles on or off before gaming - although the profiles must exist for the game in question.
In PCSTATS testing, the Smart Profiles were able to create some gains using the bundled profiles for 3Dmark06 and Crysis, in the range of about 3% to 5%. It's also possible to create custom profiles for any other software application you select, and for owners of Black Edition CPUs the individual core multipliers can be adjusted to set faster speeds for active cores, and lower speeds of the inactive cores, which will increase performance.
AMD Overdrive 3.1 + Black Edition Memory Profiles (BEMP)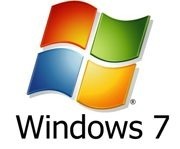 Black Edition Memory Profiles are a new feature to AMD Overdrive. It's AMD's way of getting the most out of high-performance DDR3 memory paired with, you guessed it, a Black Edition processor. AMD has an online database with presets for the fastest memory timings for high frequency memory modules. BEMP is exclusive to socket AM3 motherboards, and supported platforms will detect compatible memory and connect to the internet to download an XML profile with the appropriate memory timings - this means profiles can be rapidly updated, revised and included.
AMD Overdrive 3.1 software can tune the memory timings on the fly, as well as automatically boost the CPU northbridge frequency and voltage. The entire system is similar to Intel's XMP, but could potentially be more versatile since it does not rely on the embedded SPD profile of the installed memory.
BEMP removes a lot of the guesswork of selecting balanced memory speeds and timings, resulting in a one-click solution that simply boosts performance. Fighting with the BIOS over memory timings is not fun... while it's possible to manually tune CAS values up to the levels that BEMP selects, it takes a while for us to get the PC stable and to the point where performance exceeds the built-in memory profiles. While overall neither approach results in huge gains, it's free and very easy to unlock.
PCSTATS will be overclocking the Phenom II X4 965BE for certain, but next up are the total system power draw tests...