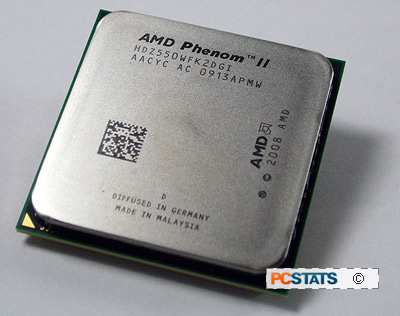 AMD's launch of the Phenom II X2 550 Black Edition brings the Phenom II processor line to a price point that few people would have expected. The $100 processor market has always been about compromise, with speed and cache sizes tend to be sacrificed first, and then features like hardware virtualization tend to go missing as CPU prices spiral down.
AMD has taken the opposite approach with the Phenom II X2 550 Black Edition processor, instead it offers this 3.1GHz chip 1MB L2 + 6MB L3 cache, full virtualization support, and an unlocked multiplier to complete the package. The 550 BE is essentially a Phenom II X4 955 Black Edition, but with two cores instead of four. The drawback? While 6MB of shared L3 cache makes sense for a quad-core processor, a dual core processor would be better served by having a large, speedy L2 cache, which isn't the case here. However it does allow AMD to re-bin some of its Phenom II processors, which helps keep the price of the Phenom II X2 550 Black Edition low.
The other major strength of AMD's strategy with the Phenom II X2 550 Black Edition and the Phenom II series is backwards compatibly. Dropping this processor into existing AMD Socket AM2+ motherboards (and potentially some Socket AM2 motherboards as well) makes for a very easy upgrade for AMD users looking for quick speed boost, and keeps the overall cost of building a Phenom II-based PC down considerably. Depending on the motherboard users choose to install a Phenom II into, the processor can be used with either DDR2 or DDR3 memory.
AMD Fusion, BEMP and Overdrive 3.0 have added some real teeth to the Dragon platform, and represent an actual bonus value for pairing up AMD's hardware together. Fusion works as a handy tool that simply suspends all background applications in order to minimize system resources getting tied up during intensive computing. BEMP allows for one-click memory optimization, which saves a lot of fiddling and fussing around with memory timings.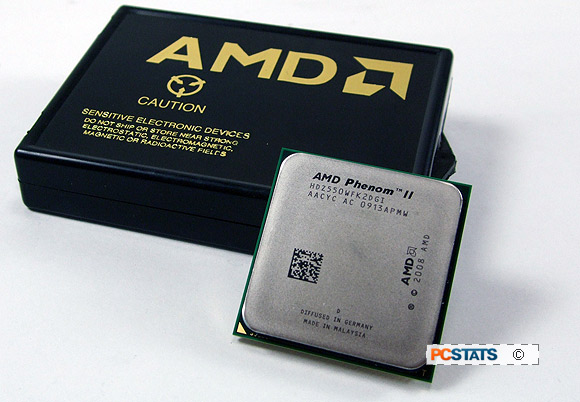 It's really AMD's Overdrive 3.0 that steals the show. It's superior to both NVIDIA and Intel's overclocking utilities, offering finer control over a broader range of options for overclocking and system tuning. While this software is aimed at the computer enthusiast, its purpose is to make overclocking as easy and accessible as possible.
While the Phenom II X2 550 Black Edition is AMD's fastest dual-core processor, it's generally slower in benchmarks than Intel's fastest lineup of processors, the Intel E8xx family. When the performance numbers are averaged out the Phenom II X2 550 Black Edition is about 20% slower than Intel's Core 2 Duo E8500 processor. This might sound like a loss for AMD, but it's important to remember thar the Intel Core 2 Duo E8500 retails for around $235 USD while the Phenom II X2 550 Black Edition is only $103 USD ($110 CDN, £62 GBP). In terms of bang for buck, it's very difficult to go wrong with AMD's first dual-core Phenom.
Overclocking the Phenom II X2 550 Black Edition was a lot of fun, thanks to the unlocked multiplier and adjustable FSB. With only some minor voltage tweaks, it was possible to take the 550BE from 3.1Ghz up to 3.795GHz. At that speed the Phenom II X2 550 Black Edition's scores in 3DMark08 Vantage jumped from 5253 up to 6255, while the 3DMark06 CPU score went from 2490 up to 3001. At that speed the 3.795GHz Phenom II X2 550 was effectively faster than the 3.16GHz Intel Core 2 Duo E8500, not bad at all!
One area where Intel does consistently trump AMD is power usage. The Core 2 Duo processor family has managed to consistently outperform AMD's Phenom and Athlon lines power efficiency, with processors that are both faster in general performance and draw less power. AMD's move to 45nm manufacturing has made this competition a little less one-sided, but they still have a long way to go before their processors are efficient as Intel's.
By bringing the technology in its flagship processor line down to the $100 price point, AMD has made a very compelling argument for those debating putting a socket AM3 Phenom II X2 processor into their PC system. It's an easy way to turn an aging AM2+ Athlon system into a high-performance gaming machine, and it can easily transition to a new socket AM3 motherboard and then overclocked for even greater performance. AMD's Phenom II X2 550 Black Edition can't compete directly with Intel's fastest Core 2 Duo processors, but its overall value more than makes up for it.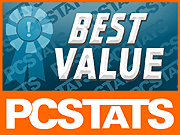 Find out about this and many other reviews by joining the Weekly PCstats.com Newsletter today! Catch all of PCSTATS latest reviews right here.
Related Articles
Here are a few other articles that you might enjoy as well...
- Intel 32nm Westmere Processor Roadmap - Integrated Graphics CPU
- Intel Core 2 Duo E6750 2.66 GHz 1333MHz FSB Processor Review
- Intel Core 2 Duo E6600 2.4GHz Processor Review
- AMD Athlon64 X2 4800+ 65nm Processor Review
- Intel Pentium M 740 1.73GHz socket 479 Processor Review
- AMD Sempron 3600+ 2.0GHz Socket AM2 Processor Review