At Computex 2009 in Taipei, Taiwan, AMD announced a new lineup of processors for the second half of 2009. These included the Phenom II X4 905e and X3 703e, which are energy-efficient processors, the Athlon II X2 250 AMD's first 45nm Athlon processor, and the dual-core 3.1GHz AMD Phenom II X2 550 Black Edition.
The Phenom II X2 550 Black Edition is AMD's first dual-core Phenom processor, and thanks to an unlocked multiplier and 45nm manufacturing process, it has the potential to break some serious overclocking records...
Based on the 'Deneb' architecture of the Phenom II X4 955 Black Edition, this chip simply has two of its four cores disabled. The Phenom II X2 550 Black Edition does retain the same L3 cache size as its big brother though, with a massive 6MB shared L3 cache that allows for faster, smaller 512KB of individual cache for each of the two cores. As the 550BE is part of AMD's Black Edition line up, it is multiplier unlocked for easier overclocking. The Phenom II X2 550 Black Edition is built on AMD's 45nm manufacturing process, so processor TDP sits at a comfortable 80W.
This 3.1GHz CPU slips easily into socket AM3 motherboards and Socket AM2+ platforms as well. This is largely due to its integrated DDR2/DDR3 memory controller, which functions in DDR3 mode for AM3 motherboards, and DDR2 mode on socket AM2/AM2+ motherboards. Overall it makes for some dead-simple upgrades, and the increased versatility is a welcome change from the complete system overhaul that's required to operate Intel's Core i7 and Core i5 processors.

AMD Phenom II X2 550 Black Edition Processor

Tech Specs

Phenom II X2 550 Black Edition
Clock: 3.1 GHz
L1: 2x 128KB
L2: 2x 512KB
L3: 6MB
Multiplier: 15.5x
Package: 938-pin
Socket: AM3 (AM2+)
organic mPGA
Core: 45nm SOI
Transistor: 758M
Power: 80W
Vcore: 0.850-1.425V
Cost: $102 USD
The on-die memory controller for the Phenom II X2 550 Black Edition supports DDR2 memory at speeds up to DDR2-1066Mhz, which is a bandwidth of 17.1GB/s. It can also work with DDR3 memory at up to 1333MHz, which increases the total memory bandwidth up to 21.3GB/S. Hypertransport 3.0 operates at 2.0GHz which is then sent twice per clock cycle (DDR) for a final duplexed speed of 4.0GHz along a 16-bit/16-bit link, translating into 16GB/s of bus bandwidth between the CPU and the chipset.
The physical specifications of the Phenom II X2 550 Black Edition are the same as that of the AMD Phenom II X4 955 Black Edition that it's based on. Both processors have 758 million transistors packed into a 258mm2 die, a feat possible thanks to AMD's 45nm die shrink.
Given Windows 7, AMD has ensured that the new Phenom II X2 550 Black Edition processor and the rest of the Phenom processor line will have full support for this operating system, most importantly the new 'XP virtualization' feature. The Phenom II X2 550 Black Edition supports full hardware virtualization, allowing a single core to run a simulated Windows XP environment inside of Windows 7.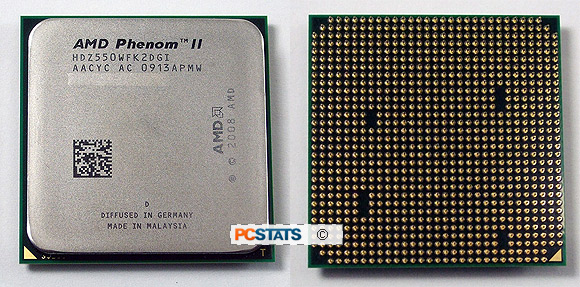 AMD's suggested retail price for the Phenom II X2 550 processor is a mere $103 USD ($110 CDN, £62 GBP), which positions it right between Intel's 2.6GHz E5300 processor and the Core 2 Duo 2.8GHz E7400 processor. This makes it both an inexpensive, easy upgrade for those looking to drop it into an existing socket AM2+ motherboard. The 3.1GHz clockspeed and potential overclocking headroom also mean that this processor should be a very exciting prospect for those who are building gaming systems on a budget.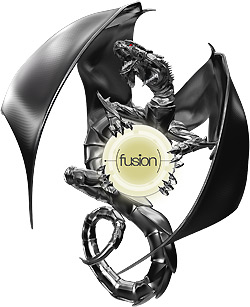 The Dragon goes Mainstream
At the end of 2008 AMD launched its Dragon platform, a combination of its new Phenom II processors, socket AM3 motherboards, and Radeon 48XX series of videocards. Since then AMD has updated Dragon with the Phenom II X4 955 processor. Now AMD is focusing on bringing the Dragon platform to the midrange market, with the Radeon HD 4770 videocard and the Phenom II X2 550.
As PCSTATS has previously demonstrated, a single Radeon HD 4770 is good budget gaming value, providing excellent performance at a low price point. However when two of them are linked together in Crossfire mode, the performance can rival high-end videocards that are much more expensive.
The Phenom II X2 550 fits into AMD's plan for budget system builders, giving an option for an affordable dual-core processor with a high clock speed. Thanks to the Phenom II X2 550's low TDP and unlocked multiplier, there's also the potential for some heavy-duty overclocking.
AMD Phenom II Processors

Processor Models

Thermal Design Power

Clock Speed
Cache

Price (USD)

AMD Phenom II X4 955 BE

125W

3.2GHz

8MB (2MB L2 +6MB L3)

$246

AMD Phenom II X4 945

125W

3.0 GHz

8MB (2MB L2 +6MB L3)

$226

AMD Phenom II X4 920

125W

3.0 GHz

8MB (2MB L2 +6MB L3)

$190

AMD Phenom II X4 810

95W

2.6 GHz

6MB (2MB L2 +4MB L3)

$176

AMD Phenom II X3 720 BE

95W

2.8 GHz

7.5 (1.5MB L2 + 6MB)

$139

AMD Phenom II X2 550 BE

80W

3.1GHZ

7MB (1MB L2 +6MB L3)

$103
AMD is looking to convert its 'Dragon' system platform into something that's more than just an assortments of parts that share the same marketing label. While there still aren't any special hardware features that become unlocked from combining a Phenom CPU, Radeon videocard and AM3 motherboard together, AMD has crafted new software tools aimed directly at overclockers and enthusiasts.
PCSTATS takes a closer look at AMD overdrive and memory profiles next, then it's on to system power draw tests on a core-by-core basis and overclocking.