Although LCD displays have largely taken over where CRT monitors once dominated, the technology behind the pixels is rarely talked about. The Samsung SyncMaster F2380 widescreen LCD is a thin-film transistor liquid crystal display (TFT LCD) that improves picture quality over the flood of inexpensive widescreen LCD panels that seem too good to be true by use of a technology called C-PVA.
Now there are a lot of different ways of making the actual LCD panel but three major types dominate the market. By far the most common TFT LCD panel type is Twisted Nematic (TN), thanks to its low production costs and decent colour transition times (usually called grey to grey response time). Chances are if you're reading this on a LCD screen, you're using a TN panel right now! You can check by looking at your monitor from below: brightness and colour dimming dramatically from lower viewing angles are common traits of TN Panels.
In-Plane Switching (IPS) LCD panels are the least common, and were developed as a remedy for the limited viewing angles and narrower colour gamut of TN panels. IPS panels are excellent for graphic design and colour-accurate imaging, but have much slower colour response times so they are not good for games or fast-moving movies. IPS panels are more complex to produce, so prices are typically several times more expensive than an equivalently sized TN monitor. This is why some 24" LCDs are $600, and others just $200.
The Samsung SyncMaster F2380 monitor isn't based on either TN or IPS technologies. Instead it uses a LCD pixel alignment technology called Patterned Vertical Alignment (PVA). PVA panels offer better viewing angles than TN-based LCD panels, and better contrast ratios and response times than high-end IPS-based LCD panels. It's a compromise that gives you the best of both worlds!

Samsung SyncMaster F2380 23" LCD Display

SPECIFICATIONS:

Screen size: 23"
Brightness: 300 cd/m2
Contrast Ratio: 3,000:1
(dynamic contrast 150,000:1)
Viewing Angle: 178°H/178°V
Video Interface: (2)DVI, D-sub
Resolution: 1920x1080
Pixel Pitch: 0.272mm
Response Time: 8ms (GtoG)
Power Draw: 45W
Dimensions: 54.5 x 47.6 x 21.6cm
VESA Mount: 100x100/200x100mm
Speakers: none

VIDEO/MEDIA:

Aspect Ratio: 16:9
HDCP: Yes
Video: No
Audio: No
USB2.0 Ports: No


Backlight: CCFL
Panel Tech: C-PVA


Includes: DVI and Analog video cable, AC power cable, driver/manual CD.


In this LCD display Samsung have introduced a new technology called Circular Polarization Patterned Vertical Alignment (C-PVA), which is a variant on PVA technology that gives the SyncMaster F2380 LCD attributes appropriate for moderate graphics professionals. The use of C-PVA technology means the 23" widescreen SyncMaster F2380 can achieve 178° / 178° horizontal /vertical viewing angles, so colours won't shift or dim if you move your head relative to the position of the monitor. The 23" widescreen (16:9) panel has an anti-reflective coating and features a brightness rating of 300 cd/m2, a contrast ratio of 3000:1 (dynamic contrast of 150,000:1) and an average 8ms Grey to Grey pixel refresh time. Samsung's 23" widescreen SyncMaster F2380 LCD monitor is priced at $340 CDN ($320 USD, £200 GBP), one of the least expensive PVA panels in stores.
Widescreen LCD for Work and Play
Since the SyncMaster F2380 is a widescreen monitor, it has 1920 horizontal pixels to work with - making it ideal for entertainment uses like movie watching and gaming. It can also be put to work in an office environment, there's enough room to have a pair of windows open side by side (say, an Excel spreadsheet and a Word document). The SyncMaster F2380 is about the size of two 8.5 x 11 pages tiled horizontally, which is the ideal size for this kind of work.
An additional tip: If you're using Windows 7, you can easily resize documents to take up exactly one half of your screen with the "Win + Left Arrow/Right Arrow" key combination.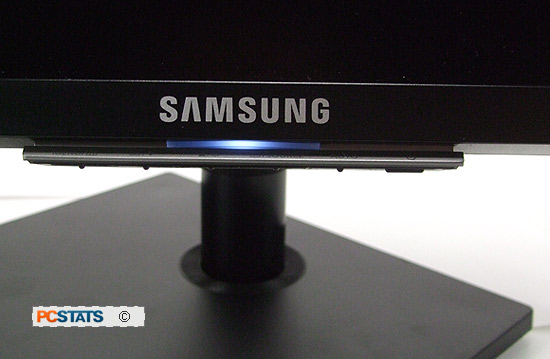 The 3000:1 contrast ratio and 300cd/m2 brightness rating also means that the SyncMaster F2380 monitor will have suitably black backgrounds and generally vibrant colours at its the native resolution of 1920x1080 pixels.
The Samsung SyncMaster F2380 is HDCP compliant over both of its DVI connections, but you can also connect it to a PC with a standard analog VGA cable. The display does not have a built in USB hub.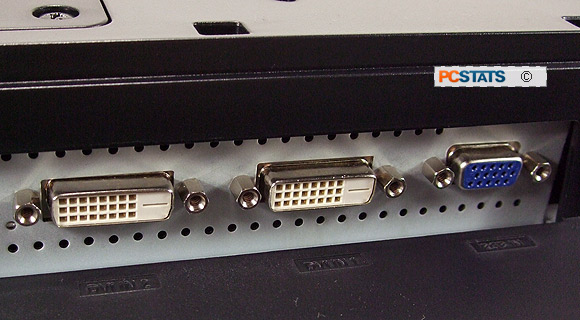 The monitor ships with a DVI cable, VGA cable and a power cable. A pivot/swivel stand supports the Samsung SyncMaster F2380 offering vertical height adjustment, tilt, swivel and landscape-to-portrait rotation. The stand removes with a basic phillips screwdriver so the F2380 can be mounted to a 100mm or 200 x 100 VESA arm or wall plate quite easily.
Power consumption is pegged at a reasonable 45W when the CCFL backlight is powered up, and just 1W in standby mode. There is also a physical power switch to cut down on phantom power consumption, the power supply is self contained in the back of the screen.
Monitor Control Panel
The first stop on every LCD monitor review is the control panel. Good control panels are nice, bad control panels can make adjusting an LCD quite a chore.

There are six control buttons underneath the Samsung SyncMaster F2380 display panel. The buttons are labeled facing the viewer, and from left to right are: Menu, Contrast/Down, Brightness/Up, Source, Auto and Power.
Rather annoyingly Samsung has chosen to use a horizontal control panel, which makes navigating the on-screen displays more difficult than a directional-pad style control scheme.
The buttons themselves are tucked underneath the lower bezel of the monitor, so they're only visibly from below the monitor. Fortunately the labels are visible from the front of the monitor, and are illuminated by a white LED light, so you can still see what they do in the dark.
The On Screen Display menu is concise, but the interface is a little awkward. The control buttons make a nice click sound when pressed, and the white LED power status light makes it easy to tell when the monitor is on. Useful if you're not getting a video signal, or need to see if the monitor is on standby.
Now let's move in for a closer look at this 23" display...