Gigabyte has a half dozen boards built around Intel's P55 Express chipset on the market right now, the flagship model being pitched as the ultimate companion to Intel's Core i5 and Core i7 800-series processors. However, with strong competition from the likes of ASUS' P7P55 Premium and MSI's P55-GD80, what really makes the companies' flagship Gigabyte GA-P55-UD6 motherboard stand out from the crowd? In one word - features.
For starters Gigabyte has sweetened the pot with a little more of well... everything. There is support for nVidia SLI and ATI CrossfireX of course, but there's also combo USB/eSATA ports and a pair of extra slots for DDR3 memory to entice you. The GA-P55-UD6 motherboard is also the companies first to feature a 24-phase power VRM design which takes advantage of its all solid-state capacitors, ferrite choke cores, low RDS MOSFETs and extra-thick copper backplanes so we're told.
Of course, the essentially capabilities of Gigabyte's GA-P55-UD6 motherboard are similar to what you'd expect from any enthusiast grade board built with the Intel P55 Express chipset. The board supports all socket 1156 Intel Core i5 700-series and Core i7 800-series processors and is future-ready for the upcoming "Westmere" family (a 32nm die-shrink of Intel's current socket 1156 chips). While many P55 Express motherboards have four memory slots for DDR3 RAM, the GA-P55-UD6 ups that number to six. This makes it easier to mix and match pairs of memory as you upgrade the computer, although the board still supports a maximum 16GB of DDR3-800/1066/1333/2200 memory. Extreme Memory Profiles (XMP) are de rigueur.
Single videocards benefit from x16 lanes of PCI Express 2.0 bandwidth supplied by the "Lynnfield" CPU and its on-board PCI Express controller. Dual-graphics gaming setups like a pair of NVIDIA Geforce videocards running in SLI or ATI Radeon videocards running under CrossfireX, are split into PCI Express 2.0 x8/x8 bandwidth.

Gigabyte GA-P55-UD6 Motherboard

INCLUDES: User's Manual, Driver CD, (4) SATA cables, I/O Shield, IDE cable, SLI connector, SATA bracket, (2) eSATA cables, molex power cable.

Chipsets: Intel P55 Express
CPU Support: Intel Socket 1156
Memory Type: Dual Channel DDR3
Videocard Support: (1) PCI Express x16 2.0
Integrated Graphics: No
Expansion on the Gigabyte GA-P55-UD6 consists of one each PCI Express x16, x8 and x4 slots (they are all physical PCI Express x16 connectors since it's less expensive to manufacturer), a pair of PCI Express x1 slots that share bandwidth with the PCI Express x4 slot and two 32-bit PCI slots. If the PCI Express x4 slot is populated at x4 mode it disables the two PCI Express x1 slots and both eSATA ports (you can turn this on and off via the BIOS), the default setting is x1 mode. The long of the short is that the Gigabyte GA-P55-UD6 motherboard has plenty of expansion options, but is not a triple-SLI/Crossfire platform even though it appears as such at first glance.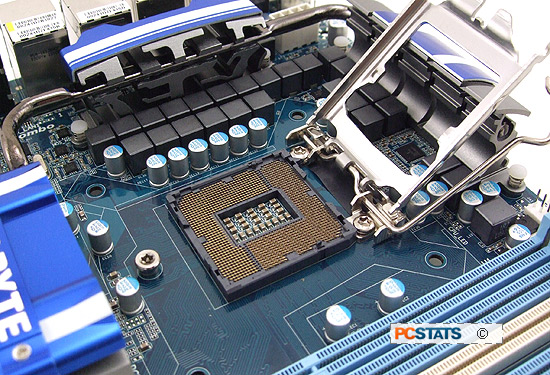 While this is Gigabyte's flagship motherboard for Intel's P55 Express chipset, the GA-P55-UD6 costs just $250 CDN ($235 USD £145 GBP) at stores like NCIX, CanadaComputers, Misco.co.uk or NewEgg. For such a fully-featured board this is pretty reasonable. The GA-P55-UD6 doesn't have quite as many silly overclocking extras as some equivalent platforms, but Gigabyte has seen fit to include some special items with the board.
Storage options on the Gigabyte GA-P55-UD6 motherboard are expansive. The Intel PCH offers up six SATA II connection at 3Gb/s in RAID 0, 1, 5 and 10 modes.
Two additional JMicron JMB362 controllers power two eSATA ports (RAID 0, 1, JBOD) and two extra onboard SATA ports. A Gigabyte branded SATA controller adds a further two SATA II 3Gb/s ports with RAID 0, 1, JBOD functionality. A legacy IDE connector supports older optical drives and things of that ilk. Altogether that's 10 internal SATA connections and two eSATA connections, a lot of storage by any definition.
Around back at the I/O panel we find a pair of USB/eSATA combo ports that can function with external hard drives or USB peripherals (such as a hybrid eSATA thumb drive), eight standard USB 2.0 ports (four additional via header), two Firewire jacks (one extra via header), dual Gigabit LAN ports (with support for Teaming/Dual LAN connections), coaxial and optical S/PDIF connectors for the 8-channel audio system, and multi-channel output via six stereo jacks. There's also a legacy PS/2 port if you have an old mouse or keyboard.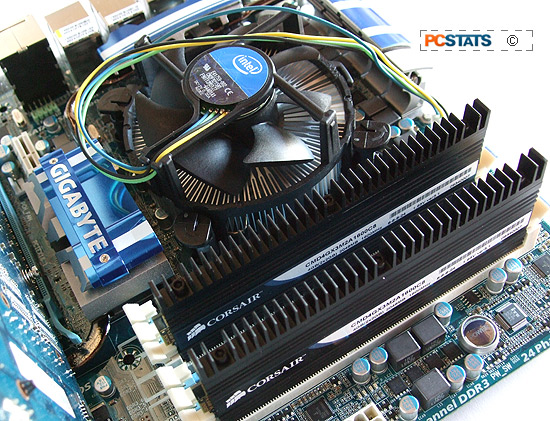 Testing the Gigabyte GA-P55-UD6 with 4GB of Corsair DDR3-1600-C9 Memory
Of course, since this a Gigabyte motherboard, the entire platform gets the 'Ultra Durable 3' treatment.
Ultra Durable 3 is a set of manufacturing technologies that Gigabyte has added to all of its motherboards that improve the quality of components. From its special 6-layer PCB with 2oz. copper substrate to the Japanese made solid state capacitors and electrical components and the energy saving features built into it, Gigabyte is certainly pulling out all the stops when it comes to making the GA-P55-UD6 competitive.
The GA-P55-UD6 is Gigabyte's flagship Intel P55 Express motherboard, here are some of the extras that really stood out....