While Intel's "Lynnfield" platform has barely had a chance to catch on in the mainstream and enthusiast markets with its new 1156-pin socket design, a CPU-powered PCI Express controller and a new lineup of processors, some manufacturers have already decided to push out new features and revisions to their existing "Lynnfield" motherboard families.
Enter the Gigabyte GA-P55A-UD4P motherboard, based on Intel's P55 Express chipset with a trio of augmentations that push its capabilities beyond the typical Intel P55 offering. Top of the list is Gigabyte's 333 Onboard Acceleration marketing pitch, which in real world terms is USB2.0 slots capable of outputting higher voltages to power external hard drives and the like, a pair of 4800Mb/s SuperSpeed USB 3.0 ports for high-speed peripherals care of the brand new NEC PD720200 controller and 6.0 GB/s SATA III via Marvell's SE9128 controller for faster hard drive transfers. The '333' moniker comes from USB3.0, SATA III and 3x USB power. Phew... all the GA-P55A-UD4P needs now is a Laser-7 optical connection and then you can finally hook up that Wii!
As you might expect, these extra features Gigabyte has included into the mix build up on the core features provided by the ubiquitous Intel P55 chipset. The GA-P55A-UD4P still has support for all of Intel's socket 1156 Core i5 700-series and Core i7 800-series processors, can be installed with up to 16GB of DDR3 memory at speeds of 800/1066/1333/2200 in four DDR3 memory slots. The board supports dual-videocard SLI/Crossfire gaming configurations in a x8/x8 PCI Express 2.0 arrangement, or a single videocard in x16 mode.
Gigabyte's GA-P55A-UD4P motherboard also features the companies Ultra Durable 3 technologies; meaning thicker 2oz copper PCB and solid-state capacitors, as well as a 12-phase VRM power design and its Smart 6 suite of motherboard utilities. Although it has some cutting-edge features, the GA-P55A-UD4P retails for a reasonable $210 CDN ($190 USD, £125 GBP). It's quite affordable compared to similarly equipped motherboards.

Gigabyte GA-P55A-UD4P Motherboard

INCLUDES: User's Manual, Driver CD, (4) SATA cables, I/O Shield, IDE cable, SLI bridge


N/A

Chipsets: Intel P55 Express
CPU Support: Intel Socket 1156
Memory Type: Dual Channel DDR3
Videocard Support: (1) PCI Express x16 2.0
Integrated Graphics: No
Storage options on this board are pretty expansive, but most importantly the GA-P55A-UD4P is equipped with a little controller chip tucked away by the memory slots called the Marvell SE9128. The Marvell SE9128 is significant because it is the first controller to bring two 6GB/s SATA III ports (RAID 0, 1) for use with compliant SATA III hard drives like the Seagate Barracuda XT into the fold. While mechanical SATA III hard drives see a small boost in performance, the real benefits are seen when using the latest generation SSD or a pair of Barracuda XT's in RAID 0.
In addition the Intel PCH offers up six 3Gb/s SATA II connections (RAID 0, 1, 5, 10) and a JMicron JMB362 controller adds on two 3GB/s eSATA II ports (RAID 0, 1, JBOD) at the rear I/O. In total, Gigabyte's GA-P55A-UD4P motherboard may support up to eight SATA II and two SATA III devices. A legacy IDE connector rounds out the board's supports older optical drives.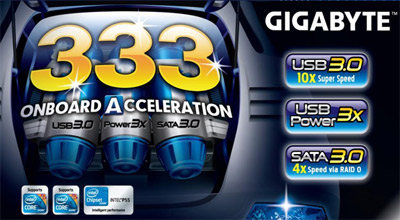 Around back at the motherboard's I/O panel we find an extensive collection of ports, both old and new. In blue are the two 4.8Gb/s USB3.0 jacks , these are paired off with two USB/eSATA combo ports that are intended to function with external hard drives or peripherals such as the somewhat rare hybrid eSATA thumb drive - USB supplies the power and eSATA the data connection. In total there are eight standard USB 2.0 ports ( four additional via header), two Firewire jacks (one extra via header), two Gigabit LAN ports (with support for Teaming/Dual LAN connections), coaxial and optical S/PDIF audio connectors for the 8-channel audio system, and multi-channel output via six stereo jacks. There's also a legacy PS/2 port if you have an old mouse or keyboard.
Gigabyte 333 'Onboard Acceleration'
With the GA-P55A-UD4P motherboard, Gigabyte is promoting its '333' motherboard enhancements, these include USB2.0/3.0 slots capable of outputting higher voltages to power external hard drives, 4.8Gb/s USB 3.0 ports for high-speed peripherals care of the brand new NEC PD720200 controller and 6GB/s SATA III connections via Marvell's SE9128 for quicker hard drive transfers.
The '333' name comes from USB3.0, SATA 3 and 3x USB Power.
The most interesting addition to Gigabyte's GA-P55A-UD4P motherboard has to be SuperSpeed USB3, via NEC's PD720200F1 controller. USB3.0 is the third major revision of the Universal Serial Bus standard that runs everything from your mouse and keyboard to flash drives to wifi adapters. It brings with it a couple benefits along with the significant speed jump, such as Sync-n-go (USB devices are instantly available), backwards compatibility, bidirectional dual simplex data transfer protocol and better power efficiency (lower active/idle power states, no device polling).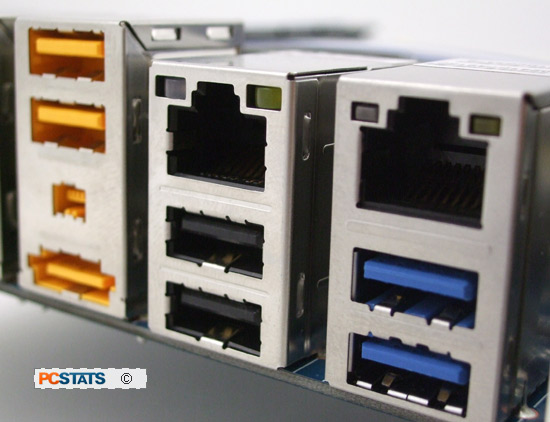 USB 3.0 ports are identifiable by the blue colour and nine electrical connector pins. These ports are physically compatible with USB 2.0 and USB 1.1 devices and standard USB A-type cables. Only USB3.0 devices operate at 4.8Gb/s however, USB2.0 devices will default to 480Mb/s.
While USB 2.0's 480Mb/s maximum bandwidth was enough for smaller flash-memory based devices (like thumb drives or SD cards) USB 3.0 expands the bandwidth to a whopping 4.8Gb/s (4800Mb/s), much more appropriate for larger mass storage devices. Much of this speed improvement is due to USB 3.0 being a bi-directional bus, meaning it can transfer information to a device and to a host computer simultaneously.


USB 3.0 operates with a bidirectional data transfer architecture; meaning you can concurrently upload and download data at the same moment.
USB 3.0 is backwards compatible with legacy devices, so you shouldn't have any problem plugging in USB 2.0 or USB 1.1/1.0 items into the GA-P55A-UD4P board's fancy new ports.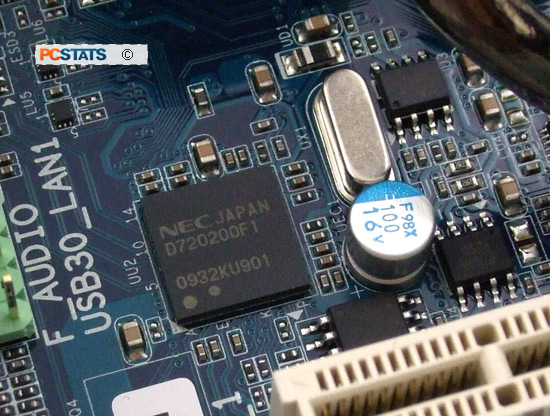 NEC's PD720200F1 controller is responsible for two 4.8Gb/s USB 3.0 ports on the Gigabyte GA-P55A-UD4P motherboard. USB3.0 sockets are backwards compatible with USB2.0 devices.
Next up is a major boost to the electrical capabilities of all the GA-P55A-UD4P's USB ports - Gigabyte are calling this USB3x Power Boost. USB 2.0 and USB 3.0 ports natively supply electricity to power external peripherals, but if too many devices or power intensive devices are attached this can cause the USB bus to shut down. Standard USB 2.0 ports are limited to 500mA maximum load, and the USB 3.0 specification increases this to 900mA. On the Gigabyte GA-P55A-UD4P motherboard both of these values are increased, so more devices or things like external hard drives can be powered by the USB ports alone.
USB2.0 power levels increase from 500mA to 1500mA, and USB 3.0 power levels are bumped up from 900mA to a maximum 2700mA. This isn't going to change the performance of any USB device, but it will stop some especially power hungry things like external 2.5 inch hard drive enclosures from conking out unexpectedly and increase overall system stability if you use a lot of USB devices (and who doesn't?).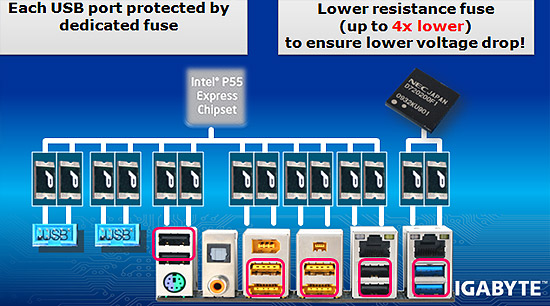 Each USB port is protected by a solid-state fuse, that according to Gigabyte is also 4X more power efficient.
In addition to boosting available power over USB sockets, Gigabyte has improved the fusing behind them in case something goes awry. Apparently the fuses on a motherboard reduce available power from the nominal 5V by a small amount, typically to 4.6V. Solid state fuses like the ones pictures above are standard to all recent motherboards, and you'll find them near buy all USB ports/headers and Firewire devices if you care to look.
Gigabyte hasn't reinvented the wheel here, it's just directed its electronic parts buyers to pick higher tolerance fuses so power drop is reduced by a small amount (4.8V we are told, rather than 4.6V for the standard fuse of this type). USB voltage levels can impact device stability, and the number of devices connected to each port. Granted this is a rather obtuse feature to discuss, but it does go to show you that Gigabyte are indeed investing into the build quality of their boards.
The final trick in the 'Gigabyte 333' stables comes in the form of 6Gb/s SATA III via the fabled Marvell SE9128 controller.