PC gaming enthusiasts live on the cutting edge of technology. Just to keep up with the computer gaming industry requires frequent upgrades of hardware, from videocards to motherboards to processors it's a constant struggle to stay at the top of your game. There is one piece of gaming hardware that is often overlooked in the quest for the ultimate gaming experience: the humble mouse.
While optical mice have finally managed to vanquish ball mice as the standard pointing device, a lot of computer users have been content that their optical mice are "good enough". Gamers on the other hand demand way more from their mice, and that's why a little beauty by the name of the Gigabyte Ghost GM-M8000X laser gaming Mouse exists.
Gigabyte's Ghost M8000X is an infrared laser mouse, so there is no red light LED glowing below. Instead, you'll find a nine button performance mouse built for competitive gaming around a 6000 DPI laser sensor with on-the-fly sensitivity adjustment and a high 1000 reports/second USB polling rate. All of this is in pursuit of a faster, more precise mouse that can keep up with fast-paced first person shooters and real time strategy games on wide screen displays. While performance mice can command premium prices, the jet black Gigabyte Ghost GM-M8000X is a quite reasonable $70 CDN ($60 USD / $40 GBP) through stores like NCIX.
Of course as a gaming-grade mouse the Ghost GM-M8000X has more than just a fancy sensor, in fact this mouse is loaded with luxury features that will make owners of lesser optical mice feel like they're moving from a Kia to a Lexus. Beneath its selectively rubber-clad exterior are nine buttons, each programmable for hotkey and macro usage. Up to five macro profiles can be stored on the mouse through an on-board 32KB memory chip that Gigabyte calls the GHOST engine.

| | | |
| --- | --- | --- |
| | Gigabyte Ghost GM-M8000X Laser Gaming Mouse | |
| | | |
Gigabyte's M8000X mouse can be balanced to suit your hand with a set of four weight cartridges (one 20g and three 6g), this allows the mouse to be balanced from 6g up to 38g depending on how much 'heft' you prefer. The M8000X is ergonomically designed to be wielded in the right hand, and can be used on pretty much any surface except for mirrors and glass. Gigabyte has even included a technology called Perfect Tracking Position that can calibrate the M8000X's laser to match the mousing surface.
Comparing the M8000X to regular optical mouse reveals the difference in numbers. A standard mouse will have a 400-800 DPI optical CMOS camera on board that operates by taking tiny pictures of the surface below it with a single red LED. Those images are compared several times a second to tell which direction the mouse is moving in. The problem is that this even this simple comparison process can't pick up subtle differences in motion, and the result is having to move your mouse in long, (relatively) slow stretches in order to move your cursor smoothly.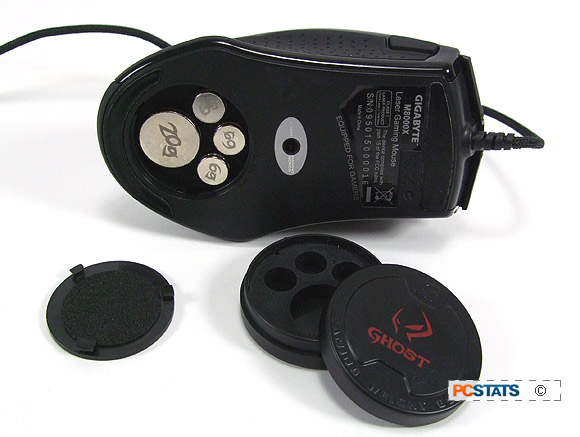 Instead of using optical cameras, gaming mice use more accurate lasers to gauge microscopic differences in the texture and height of mousing surfaces. The laser operates at a much shorter wavelength than an optical camera is able to observe which lets it poll information at a much higher rate. This results in a mouse where tiny, subtle motions can generate smooth mouse motions, and only the slightest push is necessary to send your mouse cursor flying across the screen.
Anatomy of the Ghost GM-M8000X gaming mouse
The ergonomics of the Ghost GM-M8000X mouse are clearly designed for right-handed users, with the index and middle fingers straddling the left and right click buttons. The index finger also operates the scroll wheel, which can be used for standard vertical scrolling as well as horizontal scrolling. Directly underneath the scroll wheel is the DPI selection button, which adjusts the sensitivity of the M8000X on the fly. There are four levels of tracking resolution; 810DPI, 1620DPI, 3240DPI and 6030 DPI. Each level of sensitivity indicated by a LED light on the side of the M8000X, and frankly speaking if you aren't used to the higher resolution setting you'll find it damn near impossible to control your character on the screen. The high resolution does help with large wide-screen monitors where a very small hand motion translates into a large movement on the screen in front of you.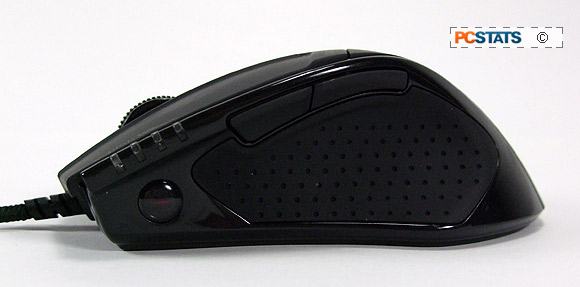 The Ghost GM-M8000X features a rubberized grip which helps the mouse stay grippy, even if you are the type prone to sweaty palms. There are two buttons on the side of the M8000X as well, these can be easily tapped with the thumb as long as you have medium-sized hands. These two thumb buttons are programmable, although they default to internet page forward and backwards (alt + right / alt + left).
On the other side of the mouse there's only one button, a little ahead of where the pinky finger rests. By default this button allows the M8000X to switch between profile modes. Up to five profiles can be saved thanks to the on board GHOST processor. The current profile is indicated by the colour of the illuminated GHOST logo on the top of the mouse.
The mouse attaches to the computer using a 6' long braided USB cable, which tends to snag and tangle less than conventional cables we're told. Next, we'll take a look the macro software that really makes this mouse a gamers best friend....