The ASUS M4A89GTD PRO/USB3 motherboard is built around the 55nm AMD 890GX and SB850 southbridge. It has 128MB of onboard DDR3-1333 sideport memory for the integrated DX10.1 ATI Radeon HD 4290 graphics. Its AM3 CPU socket will accommodate AMD Phenom II and Athlon II processors, right through to the six-core Phenom II X6.


80% Rating:

Home > Reviews > Motherboards > ASUS M4A89GTD PRO/USB3
Introducing the AMD 890GX / SB850 Chipsets
Dedicated bandwidth for USB 3.0 ports means that plugging something into a x4 PCI Express 2.0 expansion slot won't make your USB 3.0 ports suddenly stop working or operate at half their speed.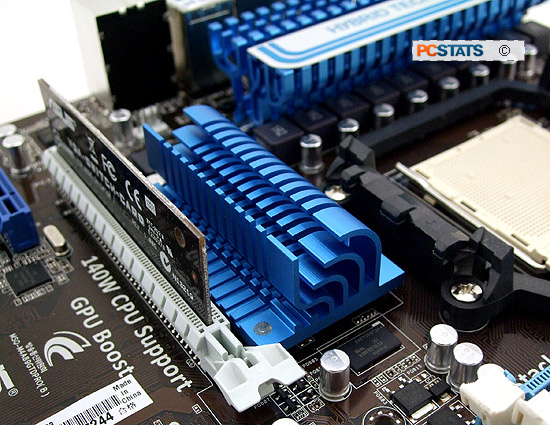 To put this in perspective, USB 3.0's 4.8Gb/s theoretical bandwidth is enough to transfer a 25GB HD movie in about 70 seconds, something that would take 14 minutes on a USB 2.0 connection (or 9 and a half hours on USB 1.0). In the next year or two expect to see USB 3.0's faster transfer used not only for high-speed storage transfers but to also start connecting exotic devices like USB 3.0 HD displays and external USB 3.0 graphics accelerators.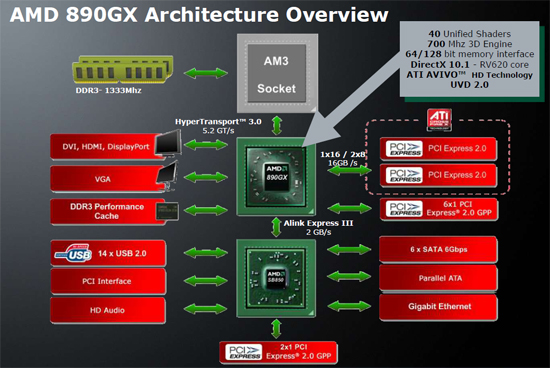 The NEC USB 3.0 controller should appear on most motherboards that use the AMD 890GX chipset, although it's up to the motherboard manufacturer to include and implement them.
AMD SB850 Southbridge
While there have certainly been some tantalizing improvements with the Radeon HD 4290's graphical abilities, the real excitement comes from the new bandwidth added by the AMD SB850 southbridge chipset.
The role of the northbridge and its control over PCI Express graphics, memory and the CPU has changed dramatically in recent computer history. The southbridge has long been passed over with only minor changes and upgrades. Since the southbridge controls storage, USB, peripheral expansion, audio and networking, it's about time we saw some upgrades on this front!
AMD's SB850 is the first southbridge to have native SATA 6Gb/s connectivity, with full RAID support. With all of the extra bandwidth that the SB850 southbridge controller is taking on, AMD has also doubled the bus speed between it and the 890GX northbridge. This expanded northbridge-southbridge bus is called A-link Express III, and this has 16Gb/s transfer rates.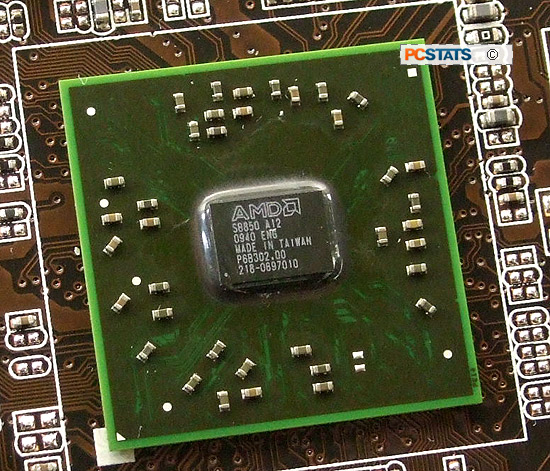 AMD SB850 Southbridge with native 6Gb/s SATA III.
Certain board manufacturers have been able to 'bolt' SATA 6Gb/s controllers on Intel P55 platforms most notably, but benchmarks have brought to light a number of compromises. SATA 6Gb/s connections need a lot of system bandwidth, and to make room for them motherboard manufacturers have re-routed PCI Express expansion lanes, resorted to bridge chips and even sacrificed CrossFire/SLI graphics bandwidth in efforts to make SATA 6Gb/s work in places it wasn't originally intended. And even then, SATA 6Gb/s support has been limited to two or four ports at best, with limited RAID support.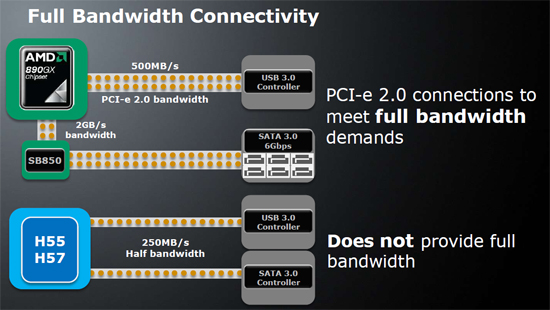 The AMD SB850 controller has native SATA 6Gb/s support built in, which theoretically means no compromises are necessary to enjoy faster storage drives, especially those expensive Solid State Drives. A fast SSD in sequential read mode can saturate the SATA 3Gb/s connections found on typical motherboards, so SATA 6Gb/s support is more important than ever to avoid bottlenecks. Towards the end of 2010 new 25nm flash production techniques will make SSDs have larger capacities and lower prices then ever before, so having the ability to connect SSDs at full speed is good for future proofing your PC. Right now they are still very much a luxury item, but new features like SATA 6Gb/s are always about having the foresight to look forward 6 or 12 months.
The SB850 southbridge supports SATA 6Gb/s in RAID 0, 1 5 and 10 modes, so you can even set up a massive array of SSDs or conventional hard drives. SATA 6Gb/s connections are backwards compatible with SATA 3Gb/s and SATA 1.5Gb/s hard drives, although to take full advantage of the faster bus you need to match up a SATA 6Gb/s capable hard drive with a SATA 6Gb/s connection to the motherboard.
Now, let's take a look at the layout of the ASUS M4A89GTD PRO/USB3 motherboard...