While AMDs 785G chipset was a welcome refresh to the integrated graphics landscape, it was just an hors d'oeuvre to whet our collective appetites for the main course, the AMD 800-series. Well, it's time to tuck in because the AMD 890GX and SB850 chipsets bring forth major changes to the AM3 platform, changes that may make Intel's competing H55 chipset and Core i3 IGP-CPU seem positively out of date.
In this review PCSTATS will focus on ASUS' M4A89GTD PRO/USB3 motherboard as it showcases the AMD 890GX innovations like native SATA 6Gb/s, increased PCI Express 2.0 bandwidth for USB 3.0 and a faster DX10.1-class IGP, dubbed the Radeon HD 4290. The Gigabyte 890GPA-UD3H, MSI 890GX-GD65, Biostar TA890GXE and ECS A890GXM-A are also launching with similar feature sets.
ASUS' M4A89GTD PRO/USB3 motherboard is built around the 55nm AMD 890GX and SB850 southbridge. It features 128MB of onboard DDR3-1333 Sideport memory for the integrated DX10.1 ATI Radeon HD 4290 graphics. Its AM3 CPU socket will accommodate AMD Phenom II and Athlon II processors, right through to the six-core Phenom II X6 (code name 'Thuban'/140W CPU). At launch the AMD 890GX chipset will be exclusive to socket AM3, which means boards are DDR3-only. The ASUS M4A89GTD PRO/USB3 has four memory DIMMs that support up to 16GB of DDR3-1066/1333/1866(OC) RAM.
ASUS' M4A89GTD PRO/USB3 motherboard has a pair of x16 PCI Express 2.0 slots for graphics cards. A single nVIDIA Geforce videocard or ATI Radeon videocard will run in x16 mode on its own, or two Radeon videocards can be run in Crossfire mode with x8/x8 connectivity. There's also an additional PCI Express 2.0 x4 slot, a PCI Express 2.0 x1 slot, and a pair of legacy PCI slots for add-in cards.

ASUS M4A89GTD PRO/USB3 Motherboard




INCLUDES: User's Manual, Driver CD, (2) SATA cables, (2) SATA 6gb/s cables, I/O Shield, IDE cable, Q-Connector, VGA switch card.

Chipsets: AMD 890GX / SB850
CPU Support: AMD Socket AM3
Memory Type: Dual Channel DDR3
Videocard Support: (2) PCI Express x16 2.0
Integrated Graphics: Radeon HD 4290 / 128MB DDR3-1333 Sideport memory (700MHz GPU)
AMD's 890GX chipset brings with it a new southbridge called the SB850 that is major upgrade to the SB750 storage controller used with AMD's 700-series of chipsets. The most impressive trick for the SB850 southbridge is native support for SATA 6Gb/s connections (ie. SATA III/3). The ASUS M4A89GTD PRO/USB3 has six internal SATA 6Gb/s connections, and all of them support RAID 0, 1 5 and 10 modes. ASUS adds a JMicron JMB631 controller for an additional eSATA II port and IDE connector.

The ASUS M4A89GTD PRO/USB3 use of the AMD 890GX chipset makes for a very promising motherboard that matches new SATA 6Gb/s storage technology with capable integrated graphics and USB 3.0 connectivity.
It's compatible with any socket AM3 processor, so there's a lot of versatility here to turn an M4A89GTD PRO/USB3-based system into a nice gaming rig (with discrete graphics card of course) or take advantage of its integrated graphics to build a HTPC outputting hardware accelerated HD to an nearby plasma TV. The ASUS M4A89GTD PRO/USB3 costs around $180 CDN, ($155 USD, £95 GBP) . A non-USB 3.0 ASUS M4A89GTD-Pro mobo will set you back ~$145USD.
The AMD 890GX northbridge houses the updated graphics controller, the Radeon HD 4290 GPU. This integrated graphics processor is similarly powerful as the Radeon HD 4200/AMD 785G, but with a faster 700MHz core clock speed. The ASUS M4A89GTD PRO/USB3 board integrates a special 128MB cache of Sideport memory, which is DDR3 1333MHz RAM for the graphics subsystem. ASUS supports GPU overclocking with its GPU Boost utility. PCSTATS will be taking a closer look at this and the TurboV Evo performance tuning suite a little later on in this review.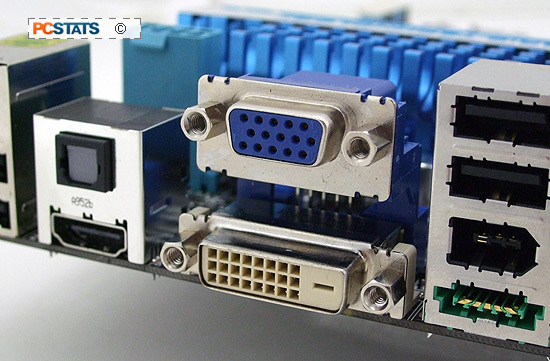 Equipped with HDMI 1.3, DVI and analog VGA video outputs. Dual monitor support for HDMI or DVI + analog outputs, but not HDMI + DVI.
ATI's Radeon HD 4290 is a DirectX 10.1, Shader Model 4.1, Unified Video Decoder (UVD) 2 (MPEG2, VC-1, and H.264 formats) endowed IGP. It features expanded compatibility with ATI Stream Transcode, which uses graphics hardware to accelerate certain types of desktop applications. The Radeon HD 4290 supports Blu-Ray 1.1 features like picture-in-picture too. The ASUS M4A89GTD PRO/USB3 supports dual-display output over HDMI or DVI and VGA output, so it can output video to an analog monitor and HDTV at the same time. With specific Radeon HD 5000 series graphics cards, up to three monitors can be supported care of ATIs Eyefinity.
USB 3.0 makes a debut on the AMD platform with ASUS' M4A89GTD-Pro/USB3 motherboard - if you've ever tired of transferring 8GB MKV files from PC to PC, you'll absolutely love USB 3.0! SuperSpeed USB 3.0 runs at 4.8Gb/s, an order of 10x magnitude faster than USB 2.0.
Like all other current USB 3.0 implementations on Intel or AMD boards, it comes to us care of a dual-port NEC controller. This NEC controller has a pair of dedicated PCI Express 2.0 lanes backing it up, which means that the extra bandwidth of USB 3.0 shouldn't get bottlenecked by other system components. The ASUS M4A89GTD PRO/USB3 has a four USB 2.0 ports on the I/O panel (with eight USB 2.0 ports available via header), for a total of 14 USB connections altogether). Rounding out the rest of the I/O panel are HDMI 1.3, DVI and VGA outputs, a 1394a firewire port, a powered eSATA port, an optical S/PDIF output, a gigabit LAN jack and 8-channel audio outputs.
Tweaking and Overclocking Tools A Plenty
For the hardened overclocker the ASUS M4A89GTD PRO/USB3 motherboard comes packed to the gills with tweaking and tuning options and tools. We'll go over them in greater detail later in this review, but in brief they are as follows.
ASUS Core Unlocker will unlock hidden cores and cache on certain dual / triple core processors. According to ASUS documentation, it's smart enough to only unlock working cores/cache. ASUS TurboKey II is basically a one-stop way of allowing the system to achieve its own modest (and stable) overclock. Good for the non-techie. The features expand further with a software application called Auto-tuning, that allows the system to go more than one or two CPU model numbers "up", and instead overclock moderately based more on your PCs capabilities.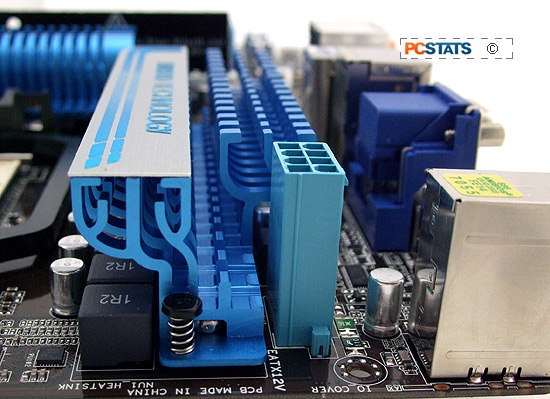 As the ASUS M4A89GTD PRO/USB3 motherboard features built in Radeon HD 4290 graphics, ASUS devised GPU Boost to enable overclocking the entry-level graphics. It has a complete set of overclocking options to achieve that end (GPU core/voltage, sideport memory clock/voltage), but keep in mind you can't overclock integrated graphics into a discrete videocard!
Environmentally friendly energy saving features continue to show up on motherboards, ASUS has the EPU, but we have to wonder how many of you reading this review actually use these power-saving features? Personally, I'd recommend this 80+ gold rated power supply and this quad-core energy efficient AMD chip if low electrical power consumption is your goal.
PCSTATS goes in for a closer look at the ASUS M4A89GTD PRO/USB3 motherboard and its overclocking tools, but first let us introduce you to the AMD 890GX and SB850 chipsets...