Abstract: The PX-128M1S is a 2.5-inch, SATA 3Gb/s drive, which makes it compatible with most notebooks. It can also be installed into a desktop computer with use of a mounting bracket (not included).


80% Rating:

Home > Reviews > Hard Drives/SSD > Plextor PX-128M1S
HDD Benchmark: File Transfer Test & Conclusions
File Copying
For this test a single 8.5GB file is copied from a WD Raptor (WD740) system disk to the test disk (write to), from the test disk to the WD Raptor system disk (read from), and from the test disk to itself (read and write to self). While this test is heavily influenced by the SATA controller and by the number of files being transferred, it provides a good indication of the sustained transfer rates capable from the hard drive being tested. Higher transfer speeds are best.
Large Single File Transfer (8.5GB)
Average Speed: Write to
(MB/s)
Ranking
Plextor PX-128M1S
51
Seagate 2TB Barracuda XT
51
Average Speed: Read From
(MB/s)
Ranking
Plextor PX-128M1S
63
Seagate 2TB Barracuda XT
58
Average Speed: Read / Write to Self
(MB/s)
Ranking
Plextor PX-128M1S
48
Seagate 2TB Barracuda XT
51
While other tests have shown the Plextor PX-128M1S as having higher sequential read and write speeds, a simple copying test in Windows Explorer show the Plextor PX-128M1S actually takes longer than the Seagate Barracuda to copy large files.
Weighing your SSD Options
Only recently have Solid State Drives (SSDs) come into vogue for personal computing, and for good reason. They're much faster than conventional rotational hard drives, particularly for tasks like booting into Windows and increasing the speed at which programs will load (READ: games).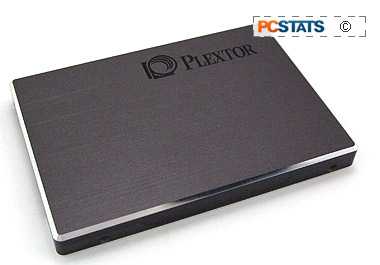 The 128GB Plextor PX-128M1S SSD works the way a good piece of hardware should, giving a noticeable improvement in operating system responsiveness without requiring the user to jump through hoops to take advantage of it. Just hook up the SATA cable and turn on AHCI (if you have the compatible hardware), it'll work nearly as well with older systems that lack ACHI but you lose some hot-swappability and speed.
When compared to a pair of fast drives like the Western Digital WD1001FALS in RAID 0 mode, the Plextor PX-128M1S SSD can't quite attain the same sequential read and write speeds, but it does manage better random small file I/O performance. Thanks to its built-in wear-leveling and S.M.A.R.T. diagnostic tools, the PX-128M1S should last you quite some time. Plextor backs the whole thing up with a 3-year warranty.
SSD's are blessed with some of the lowest access latencies this side of Mars. As PCMark Vantage shows, it's these qualities that make the SSD significantly faster for situations like application loading... though you do sacrifice storage capacity for those gains. This is why most enthusiasts will use them selectively to boost the performance of their PC - typically by installing the OS directly onto the SSD partition and relegating all media/data files to a conventional hard disk where price per GB is dramatically lower.
Retailing for around $430 CDN ($380 USD, £250 GBP), the Plextor PX-128M1S SSD is definitely an investment, but 128GB of space gives you a bit more storage capacity compared to those enticing 32GB-64GB SSDs. If you've been window shopping for SSD recently, the Plextor PX-128M1S is comparable to OCZ's Vertex, the G.Skill Falcon II and Kingston's SSDNowV+; all of which can be found in 128GB capacities at for around the same amount.
Plextor's 128GB PX-128M1S SSD hits all the right notes and offers up good mainstream performance on par with other solid state disks of its class, although we do wish Plextor would expand the warranty from 3 years to 5. Bottom line, if you have can afford an SSD like the Plextor PX-128M1S, it is one of the best upgrades you can do for your computer in terms of application load time and all around snappiness!
Find out about this and many other reviews by joining the Weekly PCstats.com Newsletter today! Catch all of PCSTATS latest reviews right here.
Related Articles
Here are a few other articles that you might enjoy as well...
- Seagate Barracuda XT Preview - Worlds First SATA 6Gb/s 2TB Hard Drive
- Western Digital Caviar Black WD1001FALS 1.0TB SATA Hard Drive Review
- IcyDock MB673SPF-B 3-Bay Tooless Hard Drive Bay Module
- IcyDock MB674SPF-B 4-Bay Tooless Hard Drive Bay Module
- Icydock MB664US eSATA/USB External Hard Drive Enclosure Review
- IcyDock MB454SPF-B SATA 4-Bay Hot-Swap 3.5-inch Drive Bay Review