Gigabyte's flagship GA-P55-UD6 motherboard has just been ousted from its position as the company's top Intel P55 Express-based platform! What could Gigabyte possibly replace this motherboard with... but itself? Meet the Gigabyte GA-P55A-UD6, a special revision of the original P55-UD6 motherboard that adds next generation features to Gigabyte's already double-stuffed flagship motherboard.
To be specific, that extra "A" in GA-P55A-UD6 means that this motherboard is part of Gigabyte's "333" series of motherboards. The GA-P55A-UD6 has a trio of new improvements in the form of SATA 6.0 GB/s using a Marvell SE9128 controller for faster hard drive transfers, enhanced USB voltage capabilities and USB 3.0 support for high-speed peripherals thanks to a NEC µPD720200 controller.
We're is already seeing the first SATA 6Gb/s products hitting the market in the form of ultra-high-speed SSDs, so this new addition is very welcome. USB 3.0 is expected to make a big splash this year, with USB 3.0 flash drives, USB-based displays and high-definition cameras all using the higher-bandwidth I/O bus.
Gigabyte's GA-P55A-UD6 motherboard posses the same specifications common to every Intel P55 Express chipset motherboard. The motherboard supports all of Intel's Core i5 700-series and Core i7 800-series processors, and will work with the Core i3 500-series and Core i5 600-series with the processor's on-board graphics disabled. This motherboard supports both 32nm and 45nm socket LGA1155/1156 processors, which Intel has said it will support at least until 2014.
Like its predecessor, Gigabyte's GA-P55A-UD6 motherboard includes additional slots for DDR3 memory. There are six banks which will accommodate DDR3 memory - making it easier to mix and match pairs of memory as you upgrade your computer. Like other Intel P55 Express motherboards, the GA-P55A-UD6 has a maximum of 16GB of memory and operates in dual-channel mode. Supported memory speeds include DDR3-800/1066/1333 and 2200MHz when overclocked. High performance memory from the likes of Corsair or OCZ can raise overall system performance by as much as 15%, so having support for faster memory speeds will definitely be a draw for enthusiasts.
On the graphics card front the Gigabyte GA-P55A-UD6 supports both NVIDIA SLI and ATI's CrossfireX. The Intel "Lynnfield" CPU and its on-board PCI Express controller supply x16 lanes of PCI Express 2.0 bandwidth. This connectivity can be directed to the GA-P55A-UD6's primary PCI Express x16 slot, or divided for dual x8/x8 bandwidth when running multiple NVIDIA Geforce or ATI Radeon videocards. The GA-P55A-UD6 has a third PCI Express x16 slot (with x4 connectivity). If this slot is populated with a PCI Express x4 device it will disable the PCI Express x1 slots and the GA-P55A-UD6's eSATA ports (you can turn this on and off via the BIOS). In addition to its PCI Express x16 slots, the GA-P55A-UD6 has a pair of PCI slots and two PCI Express x1 slots.
As Gigabyte's new flagship motherboard for the Intel P55 Express chipset, the GA-P55A-UD6 will cost around $270 CDN ($250 USD £130 GBP) through stores like NCIX, CanadaComputers, Misco.co.uk or NewEgg. This is about average for an upper-end performance motherboard, and falls in line with the rest of Gigabyte's pricing for its Intel P55 Express-based motherboards.

Gigabyte GA-P55A-UD6 Motherboard




INCLUDES: User's Manual, Driver CD, (4) SATA cables, eSATA connector, 2-way SLI bridge, I/O Shield, IDE cable.

Chipsets: Intel P55 Express
CPU Support: Intel Socket 1156
Memory Type: Dual Channel DDR3
Videocard Support: (1) PCI Express x16 2.0
Integrated Graphics: No
The boards storage builds upon the Intel Platform Controller Hub (PCH). The PCH storage controller can handle up to six SATA connections at 3Gb/s in RAID 0, 1, 5 and 10 modes. Gigabyte has augmented this with a Marvell 9128 storage controller that powers a pair of SATA 6Gb/s ports that can be run in RAID 0 mode. Finally, there's a JMicron JMB362 controller that powers two eSATA ports that can be run in RAID 0, 1 and JBOD modes. Tallying everything up and you get eight internal SATA connectors (two of which are 6Gb/s connections) and a pair of eSATA connectors.
On the rear panel of Gigabyte's GA-P55A-UD6 motherboard is every kind of I/O connector you could possibly need. Most important are the pair of SuperSpeed USB 3.0 ports, which have a 4.8Gb/s bi-directional bus designed for high-bandwidth mass storage devices. Following this are six standard USB 2.0 ports (480Mb/s transfer), and a pair of hybrid eSATA/USB 2.0 ports. There are also dual-ethernet connections, dual 1394a firewire ports and a PS/2 keyboard port. Sound can be run through the coaxial and optical S/PDIF outputs, or through the 7.1 channel stereo output.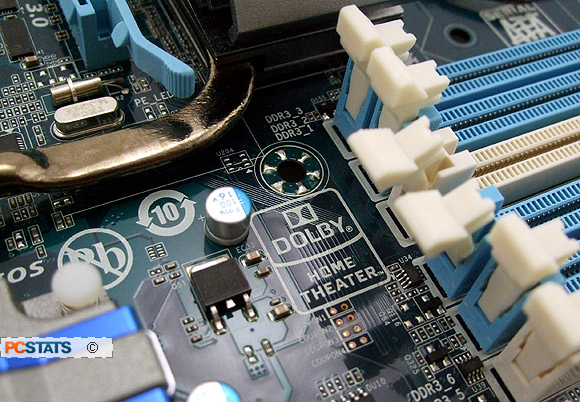 Gigabyte has also given the GA-P55A-UD6 board its Ultra Durable 3 treatment. Ultra Durable 3 is a set of manufacturing technologies that Gigabyte has added to many of its high end boards to improve the quality of components.
From its special 6-layer PCB with 2oz. copper substrate to the Japanese made solid state capacitors and electrical components and the energy saving features built into it, Gigabyte is certainly pulling out all the stops when it comes to making the GA-P55-UD6 competitive.
The GA-P55A-UD6 motherboard is also one of only a few motherboards to use a 24-phase power VRM design, which takes advantage of the GA-P55A-UD6's all solid-state capacitors, ferrite choke cores and low RDS MOSFETs.
USB 3.0, enhanced voltages, and SATA 6Gb/s - Gigabyte's '333'
The biggest change for the Gigabyte GA-P55A-UD6 from the original GA-P55-UD6 series is USB 3.0 support. This is the third major revision of the Universal Serial Bus standard that runs everything from your mouse and keyboard to flash drives to wifi adapters.
While USB 2.0's 480Mb/s maximum bandwidth was enough for smaller flash-memory based devices (like thumb drives or SD cards) USB 3.0 expands the bandwidth to 4.8Gb/s, much more appropriate for larger mass storage devices. Much of this speed improvement is due to USB 3.0 being a bi-directional bus, meaning it can transfer information to a device and to a host computer simultaneously. USB 3.0 is also backwards compatible, so you shouldn't have any problem plugging in USB 2.0 or USB 1.1/1.0 devices into the GA-P55A-UD6's fancy new ports.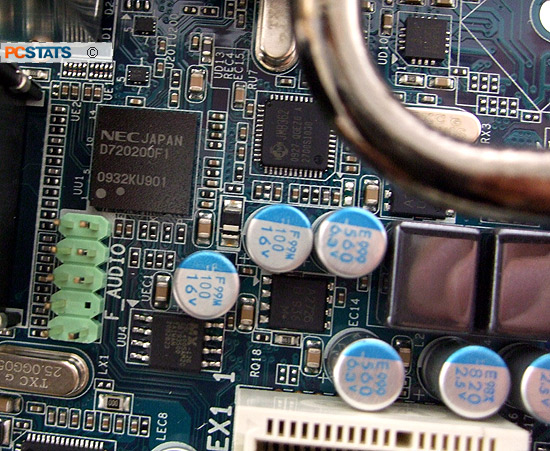 NEC's µPD720200 controller powers the dual USB 3.0 ports on the GA-P55A-UD6.
Next up is a major boost to the electrical capabilities of all the USB ports. USB 2.0 and USB 3.0 ports natively carry some electricity to power or charge peripherals. Standard USB 2.0 ports are limited to 500mA maximum load, and the USB 3.0 specification increases this to 900mA, but the GA-P55A-UD6 increases its USB 2.0 power to 1500mA, and its USB 3.0 maximum power to 2700mA.
This isn't going to change the performance of your USB devices, but it will stop some especially power hungry USB devices like 2.5 inch hard drive enclosures from conking out unexpectedly, and increase overall system stability if you use a lot of USB devices (and who doesn't?). It's also useful for powering USB-based chargers like those used with the Apple iPad.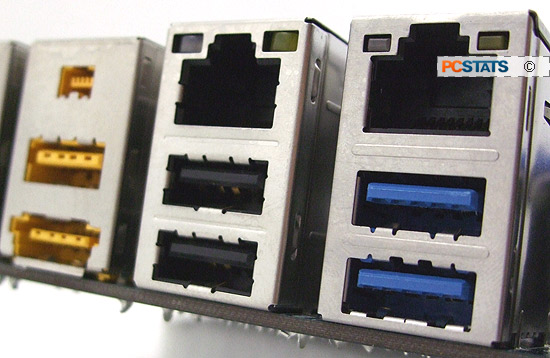 The Gigabyte GA-P55A-UD6's final trick comes in the form of SATA 6Gb/s. Gigabyte incorrectly refers to this is as SATA 3.0 for marketing purposes, but the important thing to take away is more bandwidth for better data transfer rates. While standard rotational hard drives haven't exceeded the bandwidth of a typical SATA 3Gb/s connection, single solid-state drives can reach up to 2Gb/s sustained read rates, enough to run into a SATA bandwidth bottleneck in RAID modes. By moving to a SATA 6Gb/s bus, the GA-P55A-UD6 creates some future proofing for new storage drives, as well as opening up the possibilities of a blistering fast dual SSD setup in a striped RAID 0 mode. Simply Delicious.
Special Gigabyte GA-P55A-UD6 Features
The GA-P55A-UD6 is Gigabyte's flagship Intel P55 Express motherboard, so it's loaded up with features that you won't find on basic motherboards. Here's some of the extras that really stood out:
The GA-P55A-UD6 has a big power switch that's easy to find, and very helpful for when the motherboard is being tested or tweaked outside of the system chassis.
An on-board debug LED will give PORT 80 codes, which makes it easier to diagnose boot-up errors. It's a lot more convenient than diagnosing beep codes. Right beside it is an on-board reset switch. Before we move on, let's get a little familiar with the Intel P55 Express chipset...