Intel's P67 and H67 chipsets are set for release the first week of 2011 in support of the much anticipated 32nm Intel 'Sandy Bridge' processor architecture - the first to integrate a graphics core onto a multi-core CPU directly.
While many of the details of Sandy Bridge processors are known, Intel is being tight lipped about processor and integrated graphics performance ahead of the launch date. At Computex 2010 PCSTATS attended an Intel press conference with multiple Sandy Bridge computer systems on display, but unfortunately these computers only ran comparative image quality demo's. What we saw first hand looked good, but the tests were undoubtedly skewed in favour of the graphics core's strengths. Rumors are that Sandy Bridge's graphics core will operate at between 650MHz and 1350MHz in turbo mode, and share some L3 cache with the four processing cores of the CPU proper.
Sandy Bridge processors will ship in socket 1155 Intel Core i3, Core i5 and Core i7 2xxx-series variants - generally referenced as "2nd Generation Core family" - but will not be backwards compatible with socket 1156 motherboards.
If history is anything to go by, the integrated graphics of the new class of socket 1155, second generation Intel Core i3/i5/i7 2xxx-series processors will be better than the current Intel H55 integrated graphics chipset, but stand up like a water pistol to a forrest fire with respect to performance tuned discrete videocards. Integrated graphics have never competed against discrete graphics, and likely won't for some time still. The upshot of the new graphics core packed into the 32nm Sandy Bridge CPUs is that graphics will get better for everyone who buys their PCs from the likes of Dell, or other large system integrators.
The two Intel chipsets launching in conjunction with Sandy Bridge processors are the Intel P67 and Intel H67 .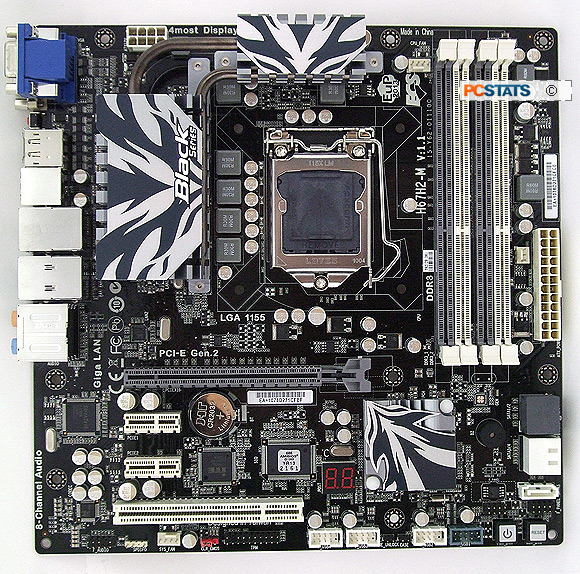 ECS H67H2-M Motherboard
The Intel P67 chipset is the standard performance oriented desktop core logic. Computers built from motherboards sporting this slab of silicon will see an incremental improvement in ports and features over the P55 chipset, such as the addition of SATA 6Gbps support, but will continue to get their graphics through discreet PCI Express 2.0 x16 nVidia or AMD videocards, singularly or in CrossFire or SLI as the case may be.
The Intel H67 chipset will make use of the integrate graphics core tucked away on the socket 1155 2nd generation Intel Core processor. Motherboards like the ECS H67H2-M PCSTATS is previewing for you today will not require a discrete videocard at all, but will support up to one PCI Express 2.0 x16 videocard. Multi-monitor support via the IGP and a range of video outputs including HDMI and Display Port come standard.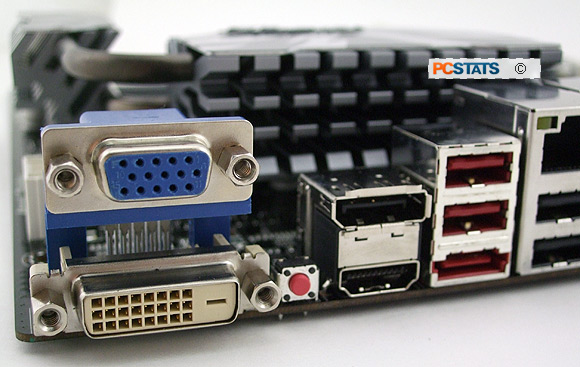 Four onboard video ports: DVI, Analog, HDMI, Display Port
While PCSTATS cannot yet go into detail on the Sandy Bridge processor, or its graphics core performance, we can give you a first look at one feature packed Intel H67 board from ECS so you have a better idea of what to expect in the new year.
PCSTATS is excited to see what the ECS H67H2-M motherboard will be capable of with a 2nd generation Intel Core i3/i5/i7 2xxx-series CPU installed.... but this article is going to focus on what ECS has squeezed in. Off the top - you get four video outputs, USB 3.0, a Port 80 card, illuminated power/reset/CMOS-clear buttons, dual slot spacing for a PCI Express 2.0 x16 videocard and all in a compact microATX format! Retail price is unknown at this time, but expected to be $100-$130USD.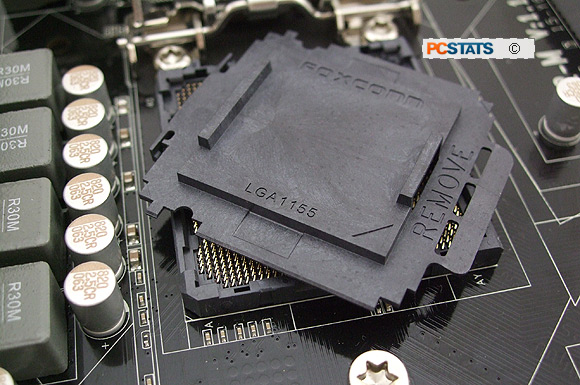 The ECS H67H2-M motherboard is built with Japanese solid state capacitors.
The ECS H67H2-M motherboard supports quad-core Intel 2nd Generation Core i3/i5/i7 2xxx-series socket 1155 32nm Sandy Bridge processors. The LGA1155 socket is not compatible with existing LGA1156 processors, nor are the upcoming LGA1155 CPUs backwards compatible with existing LGA1156 motherboards despite the common processor names.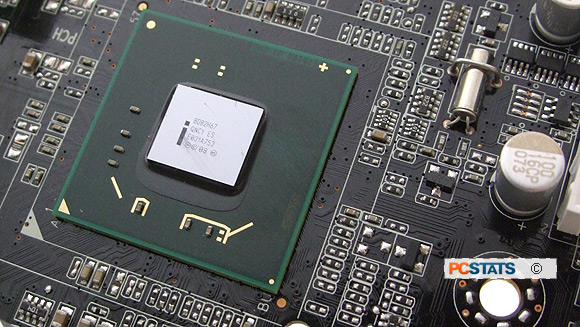 Intel H67 Northbridge chipset pictured (ES = Engineer Sample)
The Northbridge is an Intel H67 chipset which finally brings native 6Gb/s SATA III support into the house of Intel. USB 3.0 support is handled by a discreet Etron controller on this particular bard. It may be that Intel truly has decided to side-step native USB 3.0 support altogether and focus on its high-bandwidth Light Peak (fiber optic) peripheral interconnect instead.
ECS' H67H2-M motherboard has one PCI Express 2.0 x16 videocard slot that runs with 16-lanes of bandwidth, two PCI Express 2.0 x1 slots and a legacy PCI slot care of an ITE controller. The Intel H67 has notably dropped native support for PCI. The MicroATX ECS H67H2-M features four dual channel DDR3-1066/1333 memory slots which can accommodate up to 4GB of DDR3 RAM in 32-bit OS', 16GB in 64-bit Windows 7.
Rounding out the feature set are Analog/DVI/HDMI/Display Port video outputs, two USB 3.0 ports, twelve USB 2.0 ports, one eSATA jack and a pair of Gigabit network jacks. Intel High Definition 8-channel audio comes standard. Two of the USB 2.0 are so-called EZ-Charger ports which allow devices like the Apple iPad to be charged.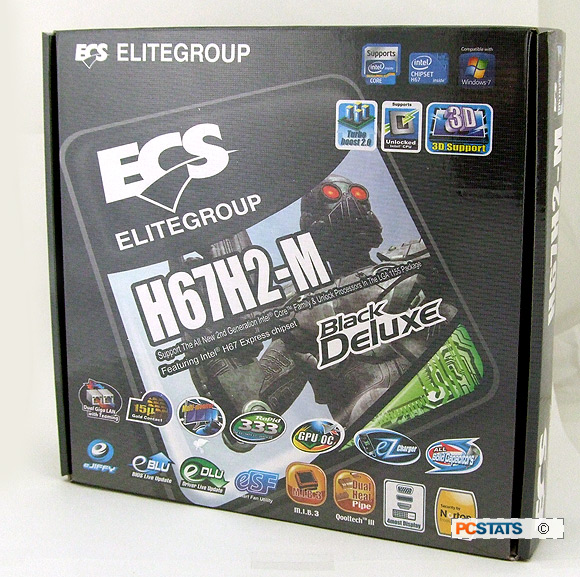 ECS has put some serious efforts into improving the build quality of its boards, the H67H2-M utilizes Japanese made solid-state capacitors, extra-thick gold plating on the DRAM and CPU socket pins and heatpipe cooling for the board's power MOSFETs.
Next up, detailed photos of the ECS H67H2-M motherboard and its notable features...