Hard drive racks are a very convenient way to manage Serial ATA hard drives, particularly if you're running a RAID 1 array. RAID stands for Redundant Array of Independent Disks, and the "1" designates the kind of RAID array where the same data is mirrored on two identical hard disks. If one drive fails, there's an up to date working copy at hand. With a removable hard drive rack or tool free backplane module, when one SATA HDD goes bad it takes but a moment to pull the disk and slide in a fresh drive. Without that easy access people are more likely to let the bad disk slide for a while... and this can spell disaster should the remaining HDD go legs up.
Take a look at this PCSTATS Guide to RAID if you'd like to learn more, it's not difficult to set up RAID at all. Or don't, then read this data recovery guide when you loose ALL your family photos from drive crash.
A hot swap backplane module like the IcyDock MB973SP-B is like a hard drive rack, except you don't have to fiddle with plugs and data cables when time comes to install or swap a drive. The disks are always at hand for removal and capacity upgrades. On top of that, forced cooling is built in to prevent excessive heat build up, something that isn't always available (or plugged in) within the PC chassis.
Icydock's tool and rail free backplane module is called the MB973SP-B. It stores three 3.5" SATA hard drives in the space of two 5.25" drive bays. No hard drive rails or tools are needed, just open one of the three bays and slide a SATA hard drive in right side up, then close the door. The hard drive automatically engages with fixed SATA data and SATA power connectors at the back of the unit and provided the SATA ports are set to AHCI in the computer BIOS, the disk will momentarily become available as if you had plugged in a USB thumb drive.
The ICYDock MB973SP-B is a really convenient three disk Serial ATA hard drive backplane module, it retails for about $87 USD. This particular unit also sports an eSATA port and a USB jack for the added flexibility of connecting external USB/SATA drives to the computer.

IcyDock MB973SP-B 3-Bay Hard Drive Bay Module

Includes:
Instructions, mounting screws, cooling fan.
(HDDs not included)
The module fits into two open 5.25" drive bays and provides hot swapping data/power connections for each drive. It support SATAI, SATAII and 6GB/s SATA III standards according to the manufacturer. Note that only hard drives with SATA type power connectors may be used in it.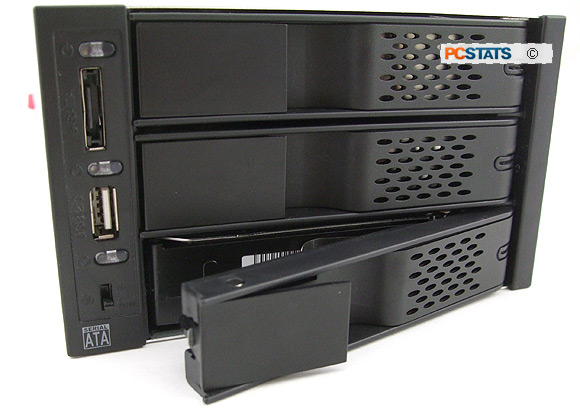 To load it up, a SATA hard drive disk is inserted right side up into the ICYDock MB973SP-B almost all the way. The door can then be closed and will push the hard drive back to engage it with the SATA data and power connectors on the backplane automatically. To remove the hard drive a little locking lever is lifted up on the somewhat flimsy plastic door catch which releases a catch and allows the door to open. Each door is mechanically linked to a small metal lever at the back of the hard drive which applies the force to mechanically disengage it from the SATA data and power connectors.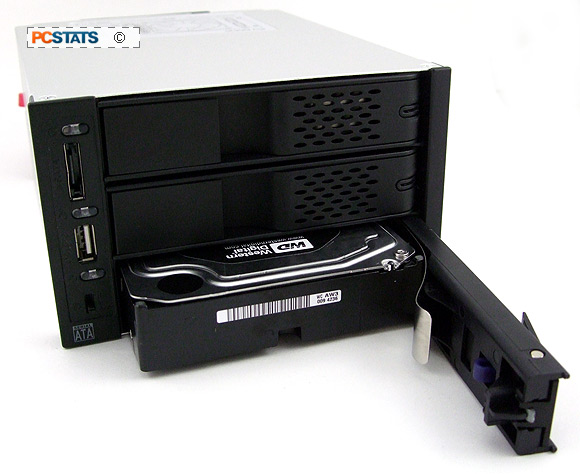 The ICYDock MB973SP-B doesn't feature a physical lock to prevent unauthorized removal of a hard drive from being removed, so in that respect it's not suitable for publicly accessible computers. At the back of the entire unit are two molex power sockets to supply juice to all the disks, three SATA ports for the drive bays, one SATA cable for the eSATA port and a bundle of wires for the USB jack. All cables are centralized, so wire clutter is minimized. One 80mm cooling fan draws air over each drive and this helps to keep temperatures from escalating in the confined space. The fan can be removed for cleaning.
That's about all there is to the ICYDock MB973SP-B multi-bay hard drive module. The device is effectively transparent to the Serial ATA hard drives that are installed in it.
Problems with the IcyDock and a 2TB SATA 6Gb/s Hard Drive
The only issue PCSTATS encountered while testing the MB973SP-B was with a 2TB Seagate Barracuda XT 6GB/s SATA III rated hard drive oddly enough. The drive would show up in the computer BIOS, but within Windows 7 the computer could not recognize the disk in 9 out of 10 insertions into the MB973SP-B unit. The odd time it did, the 2TB drive would fail Seagate Sea Tools short DST drive test, would not format and could not be written to or read from. This issue occurred in all three ports on the MB973SP-B, but only with this one particular hard drive.

PCSTATS tested the Icy Dock MB973SP-B with other 1TB and sub-1TB SATA 1 and SATA II drives from a variety of makers and experienced no abnormal operation. The 2TB Seagate Barracuda XT SATA drive in question worked in the same computer when connected directly to the motherboard with the same SATA cable that routed through the IcyDock and also worked in an external Thermaltake BlackX USB SATA HDD dock. So essentially, either by a random signal issue, incorrect engagement of the data/power connections... or possibly because of a SATA 6gb/s issue the Icy Dock MB973SP-B failed with this one hard drive. We cannot say for certain as unfortunately at the time of this writing another SATA 6GB/s hard drive was not available for comparative testing.
According to IcyDock representatives, "it's a connection issue not a compatibility issue as enclosure simply bypass the SATA connection to motherboard, so the enclosure natively support SATA 6Gb/sec."
The IcyDock MB973SP-B SATA hard drive module will accommodate most PC chassis configurations but... there are at least two critical areas which may conflict with some chassis designs.