If I say ClickBIOS, Military Class II, OC Genie II or Control Center II there's really no need to mention anything else, is there? These features are so immediately evident that you probably already know what to expect in PCSTATS's preview of the MSI P67A-GD65 motherboard! For the rest of us, here's a quick rundown on MSI's upcoming Intel P67 motherboard.
We'll explain the four key features MSI is touting, first a little background to set the mood....
Intel's 32nm Sandy Bridge processors will adopt the familiar Core i3/i5/i7 2xxx nomenclature and arrive in a range of clock speeds, cache sizes and core counts - this much everyone knows. The Sandy Bridge CPUs are notable for their new architecture, being built on the 32nm process technology and for not being backwards compatible with existing Intel P55 socket 1156 motherboards among other things. The CPUs will be paired specifically with Intel P67 or Intel H67 chipsets. The Intel P67 is suited to mainstream performance PC systems with all the bells and whistles; like Crossfire/SLI for example. The latter relies on the integrated graphics core within the 32nm Sandy Bridge processor (the iGPU), making it an ideal office PC platform or basis for a home theatre PC.
If we can go off on a tangent for a moment, Intel H67-based motherboards should benefit from an improved variety of graphics interfaces (display port, HDMI, analog and DVI), multi-monitor capabilities and moderately better IGP performance over Intel H55 integrated graphics. For a better idea of what to expect, here's a first look at an Intel H67 motherboard.
MSI's P67A-GD65 motherboard has a lot for computer enthusiasts to get excited about, not the least of which are dual videocard slots, (4) USB 3.0 ports, (6) SATA 6GB/s ports and some interesting tools for more seasoned overclockers. For example, next to the memory slots there are voltage read points if you're one to break out the digital multimeter while overclocking. MSI has also built its board with low profile heat tolerant components around the LGA1155 CPU socket, that should make it simpler to install large after market heatsinks like the Thermalright Silver Arrow (socket 1155 compatible).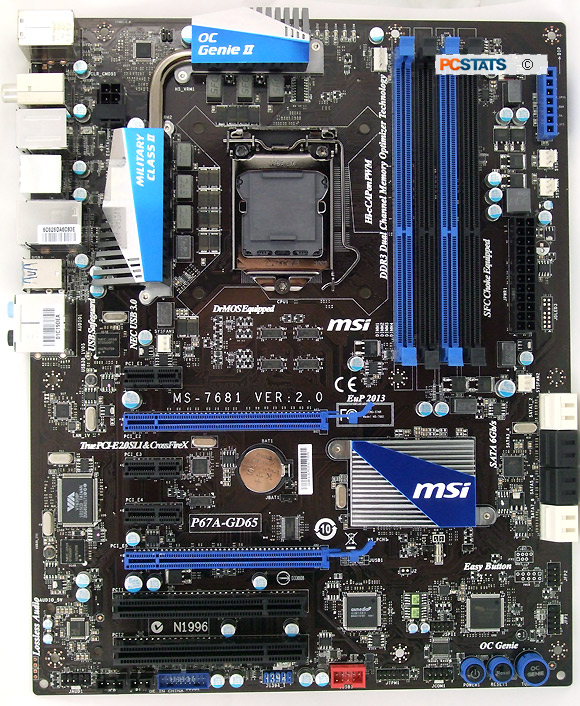 MSI P67A-GD65 motherboard in all its glory.
In general, the list of features accompanying the P67A-GD65 motherboard show a serious competitiveness from MSI towards arch rival Gigabyte. As PCSTATS showed you with the GA-P67A-UD7 motherboard First Look, Gigabyte is doing some really interesting things itself. I mean, just look at this, it packs in a heck of a lot into one Intel P67 board.
As with Gigabyte, MSI offers charge-specific USB ports so you can recharge cell phones and smart phones while the PC is off. On the MSI P67A-GD65 it's called 'Super Charger.' Other features include four USB 3.0 ports via the NEC PD720200F1 controller (two via header, two at rear I/O), four SATA III 6Gb/s ports, six-phase CPU power VRM, Winki III and the usual list of goodies brought to the table by the Intel P67 chipset itself.


MSI P67A-GD65 motherboard rear I/O panel
So what exactly are ClickBIOS, Military Class II, OC Genie II or Control Center II? Let's run them down now, starting from the top.
CickBIOS II is MSI's name the replacement to the old keyboard-only BIOS format we've all used for many many years. The new, Unified Extensible Firmware Interface (UEFI) can be thought of simply as a BIOS that works with a mouse. UEFI is an international standard, it's an OS-firmware interface which is technically called a 'Boot Service'. Motherboards that adopt UEFI should be easier to configure and will be able to offer a broad range of thin-client troubleshooting applications. It will be a great tool for PC setup, overclocking and testing so long as the manufacturers don't butcher the General User Interface (GUI) with incomprehensible dragons and cryptic icons.
Just remember UEFI equals a BIOS that works with a mouse.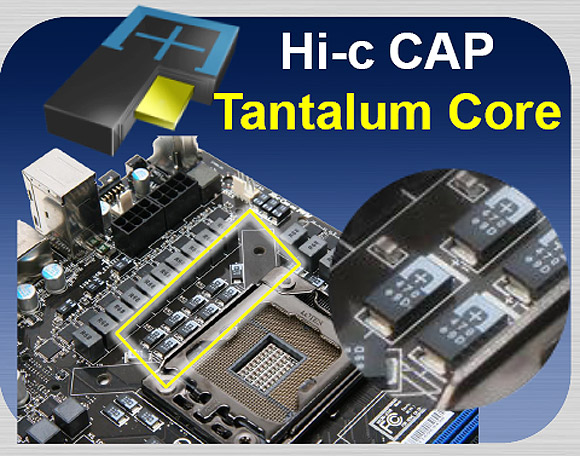 Military Class II is the catch all designation for MSI's allegiance to certain mil-spec certified electrical components in the P67A-GD65's onboard Voltage Regulator Module (VRM ). The VRM is the part of the motherboard right next to the CPU socket, it is responsible for delivering clean, stable power to the processor regardless of heat or overclocking pressures. The MSI approach with 'Military Class II' was to select compact solid state electrical parts that are mil-spec rated for this important circuitry. It does not mean the entire motherboard is mil-spec rated.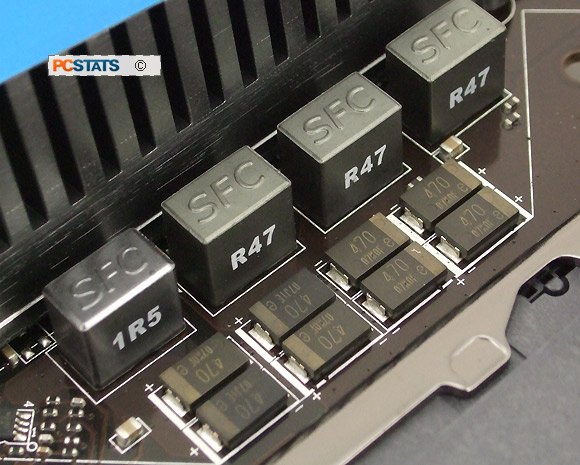 MSI's Tantalum Hi-C capacitors and Super Ferrite Chokes pictured next to the LGA1155 processor socket.
The components include Tantalum core highly-conductive polymerized capacitors (Hi-c Cap), super ferrite RF choke's and solid-state low ESR conductive polymer capacitors throughout the rest of the platform. The Tantalum capacitors are likely THE mil-spec rated electrical component in question. Tantalum caps last substantially longer than electrolytic or polymerized caps and are very compact and thermally stable.
OC Genie II is like having a little overclocking genie tucked away in each and every motherboard; press a single button and it automatically overclocks the CPU and memory, provided an Intel K series CPU is in the drivers seat. Most users report that the tool gets the overclock speed so right that there isn't really much point in spending hours manually overclocking the board!
With MSI's H67 motherboards, OC Genie II will reportedly also boost the iGPU speeds. Basically, if you don't want to waste time overclocking, spend a second and let MSI's Genie do it for you.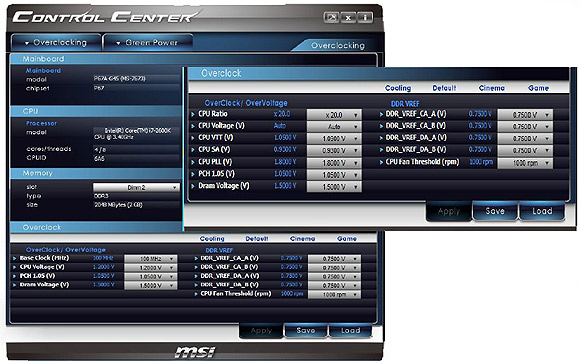 Control Center II is the second in a long line of software tools that make it easier to monitor the parameters of a board like the MSI Computer P67A-GD65 from the comforts of Windows 7. With it you can load overclocking profiles, overclock manually, change voltages, set fan speeds and all that fun stuff. Yippee!
First Look at MSI P67A-GD65 Motherboard
PCSTATS is excited to see what the MSI P67A-GD65 motherboard is capable of with a 32nm Sandy Bridge CPU locked into its 1155-pin socket. Here's a quick spin around the board so you know what to expect when it comes time to figure out what board is going to be your first Intel P67 platform.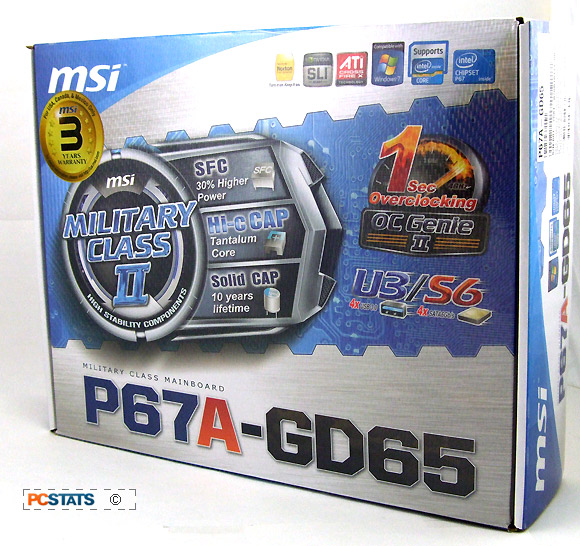 Canada, the US and Mexico consumers are covered by a 3 year warranty with MSI
Expansion options include two PCI Express x16 slots (16x/8x) for videocards, three PCI Express x1 and two PCI slots. Up to 16GB of dual channel DDR3-2133/1600/1333/1066 memory can be installed in the boards four RAM slots.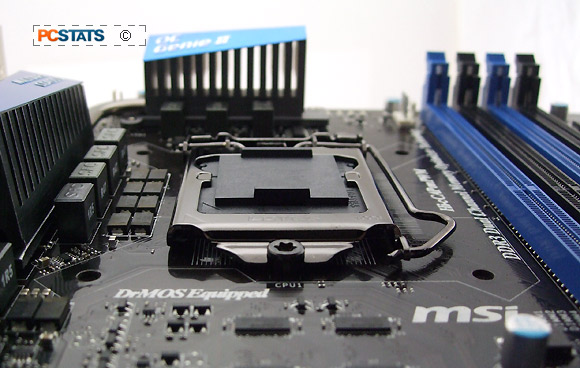 Socket 1155 for Sandy Bridge 32nm processors only.
Processor support on this board is restricted to 2nd generation Intel Core i3 / i5 / i7 2xxx-series processors only. The LGA1155 socket is not compatible with existing LGA1156 processors, nor are the upcoming LGA1155 processors backwards compatible with existing LGA1156 motherboards, despite the common processor names.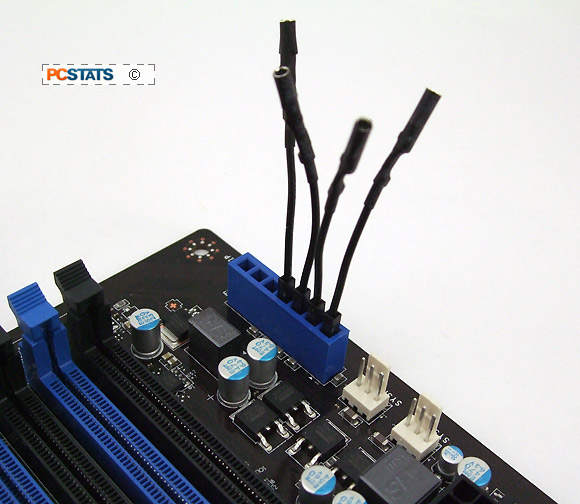 Voltage read points along the side of the P67A-GD65 motherboard.
In terms of data storage the MSI P67A-GD65 offers four 6Gb/s SATA III, four 3Gb/s SATA connectors and two eSATA. Across the SATA ports RAID 0,1,5,10 is brought to bear by the Intel controlled ports, RAID 0,1 by the JMicron controller. In either case you can configure large hard drive or solid state drive arrays. Rounding out the feature set are two Firewire ports, one Gigabit networking jack and high definition 8-channel audio. Retail price is unknown at this time, but the MSI P67A-GD65 motherboard is expected to retail for between $125-$180USD.
Next up, up close and detailed photo high lights of this motherboard!