Intel's P67 and H67 chipsets are set for release in unison with the highly anticipated 32nm Intel 'Sandy Bridge' architecture, the first CPU from Intel to integrate a graphics core directly onto its silicon die. The graphics core, or iGPU, will share some L3 cache with the four processing cores of the CPU proper. Socket 1155 Intel Core i3, Core i5 and Core i7 2xxx-series processors - generally referenced as "2nd Generation Core family" - will not be backwards compatible with existing socket 1156 motherboards.
If history is anything to go by, the integrated graphics core of the socket 1155, second generation Intel Core i3/i5/i7 2xxx-series processors will be better than the current Intel H55 integrated graphics chipset, but will still have a hard time standing up against performance tuned discrete videocards. Integrated graphics has never competed well against discrete graphics and likely won't for some time still. The upshot of the new graphics core packed into the 32nm Sandy Bridge CPUs is that graphics will get better for everyone who buys from the likes of Dell, or other large system integrators.
While all Sandy Bridge CPUs will have the integrated graphics core tucked away on the socket 1155 chip, to use it you will need an Intel H67 based motherboard. Motherboards like the Biostar TH67XE that PCSTATS is previewing for you today support up to one PCI Express 2.0 x16 videocard, but more than likely will never see any discrete graphics outside of the Sandy Bridge iGPU. Biostar TH67XE motherboard features one DVI, one HDMI, one Display Port and one Analog video output - it supports multiple monitors over the iGPU as well.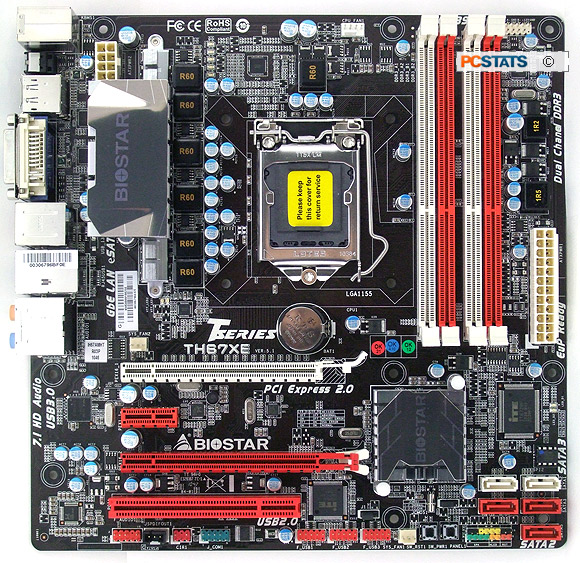 Biostar TH67XE Intel H67 Motherboard
PCSTATS is excited to see what the Biostar TH67XE motherboard will be capable of with a 2nd generation Intel Core i3/i5/i7 2xxx-series CPU installed - off the top - you get four video outputs, USB 3.0, dual slot spacing for a PCI Express 2.0 x16 videocard and a compact microATX format. The board also uses a new style UEFI BIOS - the BIOS that works with a mouse.
Biostar's TH67XE motherboard supports socket 1155 Intel 2nd Generation Core i3/i5/i7 2xxx-series 32nm Sandy Bridge processors and as such is not compatible with existing LGA1156 processors..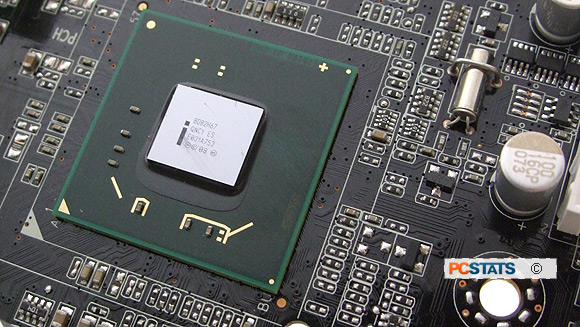 Intel H67 Northbridge chipset pictured
Solid state hard drives owners will appreciate the fact that the Intel H67 chipset finally brings native 6Gb/s SATA III support into the fold. This board supports the bare minimum of two SATA 6Gb/s III devices, plus three SATA III devices. Dual USB 3.0 ports are handled by a discreet NEC controller on this particular board as USB 3.0 is not natively supported by the H67.
The Biostar TH67XE motherboard is equipped with one PCI Express 2.0 x16 videocard slot that runs with 16-lanes of bandwidth, the other is a PCI Express x16 @ x1. Rounding out expansion slots are a PCI Express 2.0 x1 and legacy PCI slot. This MicroATX board has four dual channel DDR3-1066/1333 memory slots which can accommodate up to 16GB of DDR3 RAM in 64-bit OS like Windows 7.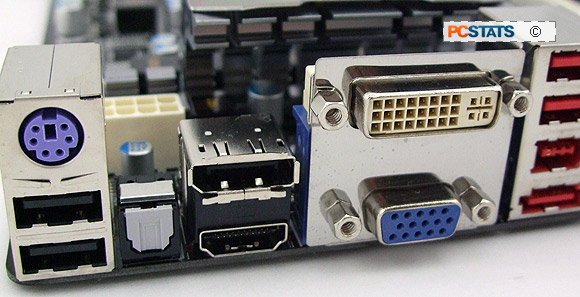 H67 onboard video ports: DVI, Analog, HDMI, Display Port
Rounding out the feature set are the video outputs - DVI, HDMI, Display Port and Analog VGA. Any two of the four video ports can be combined for dual monitor use, without the need to install a discrete videocard. This is a really nice improvement for integrated graphics, as I look around me everyone at the PCSTATS labs uses at least two monitors.... Connectivity features include two USB 3.0 ports, a whole pile of USB 2.0, one eSATA, one Firewire and one Gigabit network jack. Intel High Definition 8-channel audio comes standard.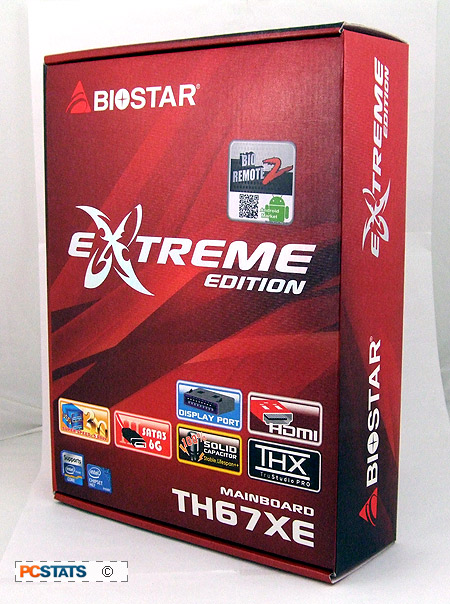 Next up, detailed photos of the Biostar TH67XE motherboard and its notable features...