The four memory slots are intended to make installing or removing modules easier when a videocard is installed. On the side nearest the videocard the normal clasp is absent, which will certainly help swap memory when large graphics cards are installed. Right next to the memory slots are the ASUS Q-Design switches.

ASUS Q-Design processor, memory module, integrated memory controller over-volting switches.
ASUS Q-Design switches allow users to enable or disable the advanced memory module, integrated memory controller and CPU over-volting settings in the BIOS.
The average voltage adjustment range for the CPU is between 0.85V - 1.7V, the advanced over-voltage switch will boost that to a potentially chip frying 1.25V - 2.1V. The memory controller can be over-volted to 1.9V, the RAM to 2.5V. Use these advanced overclocking controls with caution and read the warnings... and strap on suitable cooling!

PLX Technology PEXZ8613-BA50BC controller
ASUS MemOK! is a simple tool that lights up when a memory module is not properly installed. Pressing the button will also command the system to run through several failsafe memory settings at boot if a memory module is questionable. The red light is part of the Q-Led system... basically a indication a device isn't correctly installed, or that an item is preventing the computer from booting up.

ASUS MemOK! and special memory DIMMs.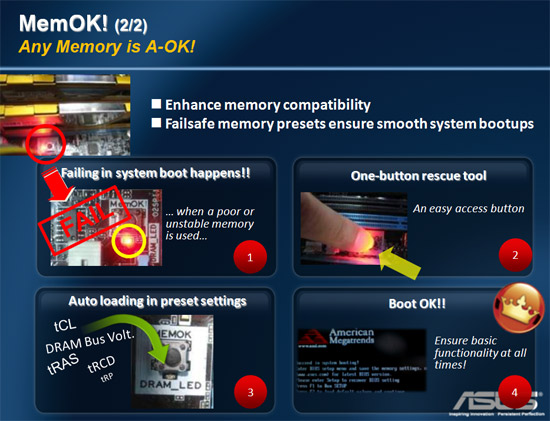 ASUS MemOK!
ASUS StackCool 3+ is an extra plane of copper in the motherboard to help cool board mounted components. Behind the motherboard VRM ASUS have mounted an aluminum bus bar and thermal interface gasket to help even out temperatures in this hot region of the motherboard.

ASUS StackCool 3+
Small heatsinks on the upper part of the board help cool the ASUS 32+3 Phase Power Design. Let's go in for a closer look at the ASUS P7P55D Premium motherboard next...