Abstract: The ASUS P7P55D Premium is a good representation of overclocking tools, power saving features and tweaks: TurboV Evo, Hybrid Phase, ExpressGate, MemOK, EPU, Fan Xpert and Stack Cool 3+ in moment. Gamers can install two videocards in the board's twin PCI Express 2.0 x16 videocard slots.


80% Rating:

Home > Reviews > Motherboards > ASUS P7P55D Premium
While much of Intel's world has been thrown into a tizzy by the Q1'2011 Intel P67/H67 chipset recall (initial B2 stepping only), we thought it timely to look in on Intel P55 motherboards from ASUS that offer some of the bells and whistles of Intel P67 platforms, with none of the bad recall aftertaste. The ASUS P7P55D-E Pro is one such board to consider, this review is going to focus on its nearly identical twin, the P7P55D Premium.
ASUS's P7P55D Premium motherboard supports socket 1156, 45nm Intel 'Lynnfield' processors like the Core i5 750 & 760. It is not compatible with the newer socket 1155 Sandy Bridge 2nd generation Intel Core i3/i5/i7 2xxx series CPUs, just to make that clear. At the heart of the P7P55D Premium is the Intel P55 Express, a reliable but year and a half old chipset that doesn't have native SATA III like current Intel P67 platforms. Instead, its two 6Gb/s SATA III ports are provided for via a discreet Marvell SE9123 controller.
Now the one odd thing about the P7P55D Premium motherboard is that ASUS have used two physical USB 3.0 ports (in blue) on the rear I/O, it's just that these ports are in fact USB 2.0 because the motherboard does not have a NEC USB 3.0 controller. There's a spot where the NEC chip would be soldered to the board (between the MOSFET heatsink and firewire jack) but the silk-screened outline and BGA solder mask remain empty... ASUS isn't known for stooping to cheap tricks to confuse shoppers, but regardless of the technical or cost-cutting reasons at the time of manufacture, confuse shoppers is exactly what ASUS does by equipping the P7P55D Premium with physical USB 3.0 ports that only operate at USB 2.0. Tisk... Tisk...
Thankfully, the remainder of the ASUS P7P55D Premium isn't merely a cardboard cutout, but a good representation of overclocking tools, power saving features and tweaking tools. We'll touch on TurboV Evo, Hybrid Phase, ExpressGate, MemOK, EPU, Fan Xpert and Stack Cool 3+ in moment. Gamers can install two videocards in the board's twin PCI Express 2.0 x16 videocard slots for x8/x8 multi-graphic card set ups. A single videocard will run in full x16 mode. Two additional PCI Express 2.0 x1 and two PCI slots are provided for additional expansion. All the same, better not to confuse 'ATI Quad-GPU CrossfireX / Nvidia Quad-GPU SLI' with quad videocard SLI/Crossfire, the Intel P55 Express just doesn't have the extra PCI Express lanes for this.

ASUS P7P55D Premium Motherboard




INCLUDES: User's Manual, Driver DVD, (4) SATA cables, (2) SATA 6 cables, ASUS Q-Shield, IDE cable, SLI Bridge Connector, TurboV Remote, Q-Connectors, USB/eSATA bracket.

Chipsets: Intel P55 Express
CPU Support: Intel Socket 1156
Memory Type: Dual Channel DDR3
Videocard Support: (2) PCI Express x16 2.0 slots (x16, x8/x8)
Integrated Graphics: No
On the memory front, the ASUS P7P55D Premium's four dual channel memory slots can accommodate up to 16GB of DDR3-1066/1333/1600/2133(OC) RAM. Memory can be overclocked to run at DDR3-2133 speeds and Intel Extreme Memory Profiles (XMP) can be applied with compliant modules.
In terms of data storage the ASUS P7P55D Premium accommodates (6) 3.0Gb/s SATA II devices, (2) 6Gb/s SATA III devices and (2) IDE storage devices. The six 3.0Gb/s SATA II ports all come care of the Intel P55 chipset and include Intel Matrix Storage Technology, a.k.a RAID 0/1/5/10. Rounding out the board are (12) USB 2.0 ports, (2) Firewire, a pair of Gigabit 1GbE network jacks and High Definition 10-channel audio. One eSATA port is available via an included bracket, which means cannibalizing a SATA port somewhere else.
For all this, the ASUS P7P55D Premium motherboard will set you back about $280 CDN ($280 USD, £160 GBP) from Newegg, an outrageous $413 from TigerDirect.ca! Still, somehow "Premium" doesn't quite befit a board with no built-in eSATA, no USB 3.0 and one PCI Express 2.0 x16 for a single videocard, x8/x8 mode for Crossfire/SLI. Semi-Premium seems more apt.
Anyhow, let's jump ahead and check out a few of the many value-added features ASUS have bundled in with the P7P55D Premium. Perhaps these features can turn the tide in this board's favour - there are quite a few of them, particularly for overclocking.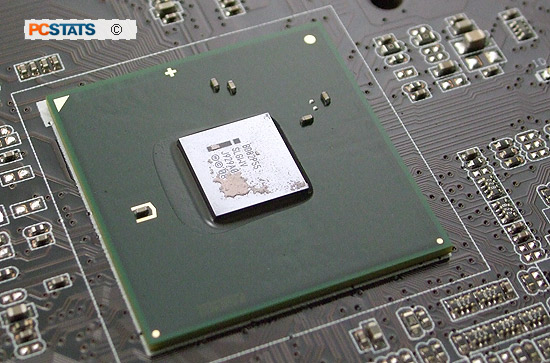 Intel P55 Express chipset.
PCSTATS has covered the Intel P55 chipset specifications in quite some detail already so we're omitting the core-logic discussion from this review. To read about the Intel P55 Express chipset please read here.
Overclocking Features Front and Center
Along with the ASUS P7P55D Premium you'll find a collection of software tools and overclocking features that fall under the ASUS Xtreme Design moniker.
These include: ASUS TurboV Evo (Turbo Key and Turbo V remote), Hybrid Phase (a 32+3 phase motherboard VRM), T.Probe technology, FanXpert, MemOK!, EPU power saving features, Express Gate instant on operating system, Stack Cool 3+ board cooling tech., Q-shield, Q-connector, Q-Design (memory slots and LEDs), OC Profile, CrashFree BIOS 3, EZ Flash 2, Precision Tweaker 2 software overclocking tools (voltage controls primarily), Stepless Frequency Selection, and CPU Parameter Recall overclocking protection.
Got all that?


ASUS TurboV overclocking remote.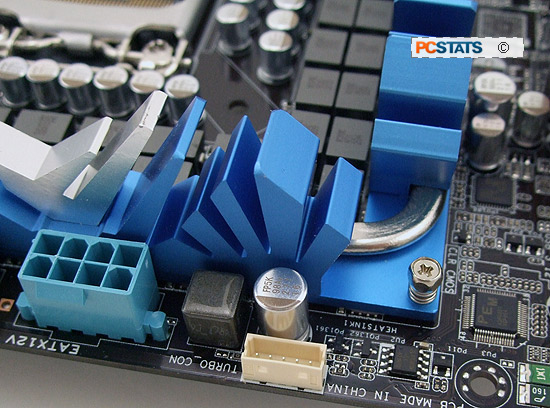 ASUS TurboV remote plugs in here.
The most visible overclocking tool bundled with the P7P55D Premium is the ASUS TurboV remote - essentially an external overclocking switch that connects to the motherboard. This remote can be used to adjust processor speed dynamically while running applications in Windows, without exiting the application to launch software overclocking tools.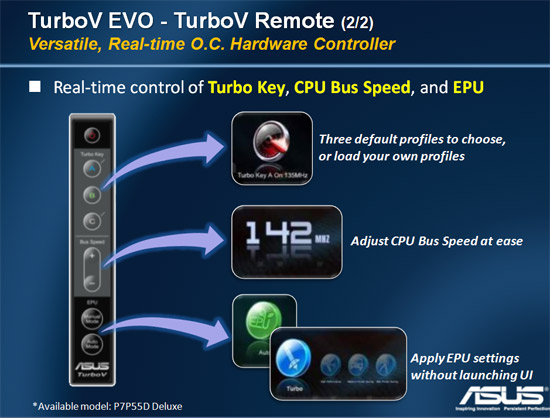 ASUS TurboV overclocking remote functions.
Like any motherboard worth its salt, the ASUS P7P55D Premium uses all solid-state polymer aluminum capacitors and incorporates various power saving features to increase its efficiency and improve electrical stability when overclocked. Heatsinks are suitably placed on the 32+3 phase motherboard voltage regulator modules and a thicker copper trace layer is used in the actual motherboard PCB to help spread the heat around. This is supposed to decrease the overall temperature levels of board mounted MOSFETs and other ICs improving component longevity.
Redesigned memory slots and over-volting controls are up right after the jump.