PCSTATS measures total system power draw (watts) with the aid of an Extech 380803 AC Power Analyzer and A-PFC compliant Seasonic SS-760KM power supply. The meter is placed between the 120V AC outlet and the PC power supply and the computer stressed. Total system power draw is recorded and compared to the PC's idle state.
Total System Power Draw
Idle

CPU Loaded

GFX Loaded

nVidia Geforce GTX470 /
Gigabyte GA-Z68XP-UD3-iSSD

85W
152W
239W

(Idel @ desktop)

(via Prime95)

(via 3DM06)
Gigabyte's GA-Z68XP-UD3-iSSD motherboard uses a Voltage Regulating Module built around 'Driver MOSFETs' that combine the functions of a Driver, high MOSFET and low MOSFET into one small integrated circuit. This approach is compact and reduces heat by improving power efficiency. Flanking the CPU socket in the photo below are Japanese made all solid-state capacitors and Low RDS ferrite core chokes as well.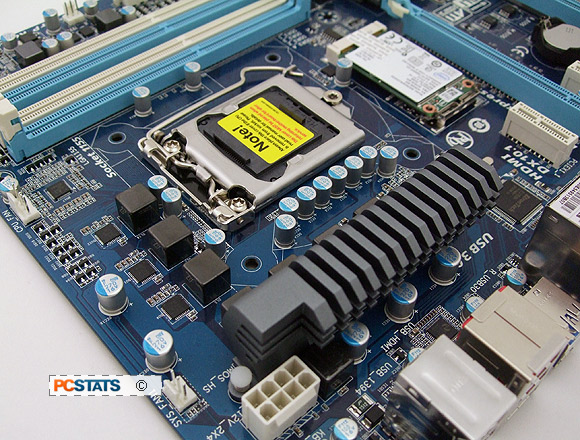 Gigabyte VRM circuitry includes Driver MOSFETS and LOW RDS Ferrite Chokes.
All of Gigabyte's Intel Z68 boards are VRD12 qualified and rely on an Intersil PWM controller to control active power phases. This mobo uses a 4-layer PCB with 2oz. copper substrate that pulls double-duty as a board level heatsink for surface mount devices.

A pair of "voltage control circuits" have been added to this board to give overclockers more precise control (as fine as 6.25mV) when adjusting CPU/chipset/memory voltages in the BIOS. Gigabyte call this hardware Precision OV - OV as in Over Voltage. This hardware level voltage control circuit should help improve overclocking stability when pushing voltages up, though as always your milage will vary.

Time to wrap PCSTATS' 19-page review up and summarize our thoughts on the Gigabyte GA-Z68XP-UD3-iSSD Motherboard.

Weighing the Benefits of SSD Caching and Media Transcoding

To sum up, the Gigabyte GA-Z68XP-UD3-iSSD motherboard is a great Intel Z68 platform that PCSTATS thinks is worth buying for your next socket 1155/Sandy Bridge PC, particularly if you plan on sticking with a mechanical hard drive for reasons of drive capacity, economics or convenience.

With a little help from Intel Smart Response Technology, which requires a small capacity dedicated caching SSD to bring about 'SSD-like system responsiveness', a computer built around the GA-Z68XP-UD3-iSSD can see real benefits in data intensive applications. To make the whole process easy to implement, Gigabyte bundles in a 20GB Intel 311 mSATA SSD just for this purpose!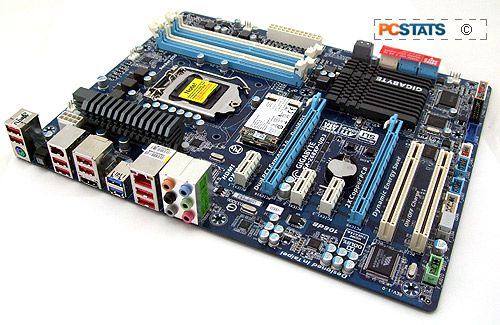 In addition to Intel SRT, the Gigabyte GA-Z68XP-UD3-iSSD motherboard comes with an onboard HDMI video output and Lucid Logix VIRTU driver support. Intel's integrated graphics core is still pretty tame by any discrete videocard's standards, lame if compared to AMD's A75/A8-3850 integrated graphics, but the transcoding acceleration it brings forth is quite powerful.
The addition of an HDMI video output on this Intel Z68 motherboard means users can apply the VIRTU driver to virtualize the Intel HD 3000 IGP graphics through a discrete videocard while doing desktop work, thus enabling video transcoding acceleration via Intel QuickSync. It's a best of both worlds solution really - IGP for transcoding acceleration, discrete graphics for 3D gaming.
In most other respects the Gigabyte GA-Z68XP-UD3-iSSD is a pretty well rounded Intel Z68 platform; it's got plenty of connectivity, plenty of expansion space to suit mainstream PC requirements and it can handle two-way NVidia SLI or AMD Crossfire.
The ATX sized Gigabyte GA-Z68XP-UD3-iSSD board is equipped with four USB 3.0 ports, four internal 6Gb/s SATA III ports, firewire, and fourteen USB 2.0 ports... yet all that's bundled with it are a couple SATA cables and a bridge connector. The 20GB SSD seems to have eaten into Gigabyte's generosity when it comes to brackets and so forth. On the plus side, the videocard PCI Express 2.0 slots are well spaced, memory slots and so forth are easy to access and build quality of this 4-layer PCB is top-notch.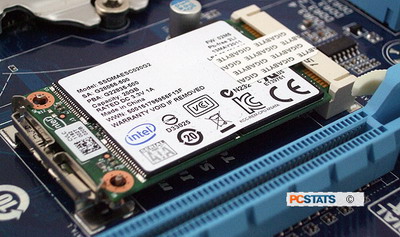 Naturally, the big advantage with this Intel Z68 board is easy implementation of Intel Smart Response Technology - the ability to assign a caching SSD to speed up systems installed to traditional hard disk drives.
PCSTATS touched on the in's and out's of Intel SRT already, suffice to say we have a positive impression of what this technology can do for users. Clearly though, if you plan on installing Windows 7 to a SSD, the impact of Intel SRT is a moot and you'd be better served by an Intel Z68 board without the onboard SSD.
If you're considering the leap into a first-class socket LGA1155 'Sandybridge' motherboard based on the Intel Z68 platform, Gigabyte's GA-Z68XP-UD3-iSSD will set you back about $239CDN / $239USD / £130GBP (Newegg / CanadaComputers / NCIX) with the SSD. This is a good deal if you consider the standalone price of an Intel 311 'Larsen Creek' 20GB SLC-flash mSATA SSD is $130 itself (Newegg). Without the SSD, the basic GA-Z68XP-UD3 motherboard costs $139 (MicroCenter) / $159 (Newegg), so the combo saves you about $40 bucks. Not a bad deal at all!
With all the features that the Intel Z68 chipset brings to the table, it's a great time to upgrade to Intel's 32nm Sandybridge processor, or Intel's very-soon-to-arrive 22nm CPUs which will bring PCI Express 3.0 into the fold (details).... Recommended!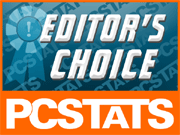 Find out about this and many other reviews by joining the Weekly PCSTATS.com Newsletter today! Catch all of PCSTATS latest reviews right here. Comments and Feedback are welcome.
Related Articles
Here are a few other articles that you might enjoy as well...
- Gigabyte GA-Z68X-UD5-B3 Intel Z68 Motherboard Review
- Beginners Guide: Intel Smart Response Technology and Intel 311 Larson Creek SSD
- ASUS P7P55D Premium Intel P55 Express Motherboard Review
- Intel 6-Series Chipset Recall - Sandy Bridge Intel P67 & H67 (v2.2)
- Biostar TH67XE Intel H67 Motherboard - FIRST LOOK
- MSI Computer P67A-GD65 Intel P67 Motherboard - FIRST LOOK