There are four key features that make the Gigabyte GA-Z68XP-UD3-iSSD motherboard a real killer among Intel Z68 platforms: 1) It comes bundled with a 20GB Intel mSATA SSD for implementing Intel Smart Response Technology. 2) It has an onboard HDMI video output so users can leverage Intel's Quick Sync media transcoding acceleration by way of the Intel Z68+Intel HD 3000/2000 IGP. 3) Lucid Logix VIRTU driver support makes it possible to effortlessly switch between integrated graphics for desktop work and a discrete videocard for 3D gaming. 4) The board supports two-way ATI Crossfire and two-way nVidia SLI for serious gamers who need raw FPS-cracking power!
In addition to the standard benchmark set, for this review PCSTATS has gone the extra step and put Intel Smart Response Technology through its paces against stock SSD/HDD installations. Intel's HD 3000 IGP graphics core also gets benchmarked against six different integrated graphics solutions, including AMD's powerful new socket FM1 APU-based Radeon HD 6550D - don't miss those results!
The Gigabyte GA-Z68XP-UD3-iSSD motherboard is a socket 1155 platform that can be installed with 2nd Generation Intel Core i3/i5/i7 2xxx-series 'SandyBridge' processors. Built around the Intel Z68 Express chipset, the board takes up to 32GB of dual channel DDR3-1066/1333/1600/1866/2133 memory (4GB for 32-bit OS's) in four DIMM slots. Extreme Memory Profiles (XMP) are supported.
In terms of videocard support, the GA-Z68XP-UD3-iSSD motherboard will accommodate one PCI Express 2.0 x16 videocard in x16 mode or a pair of nVidia Geforce / ATI Radeon videocards in SLI or Crossfire, in x8/x8 mode. Crucially, Gigabyte equipped the GA-Z68XP-UD3-iSSD with one onboard HDMI video output (to 1920x1200 resolution) so the Intel HD 3000/2000 integrated graphics core of 'SandyBridge' processors can be utilized. This is a small but critical differentiation between Intel Z68 and P67 feature sets. Further peripheral expansion comes to users via three PCI Express x1 slots and two PCI slots.
A micro-SATA slot is an uncommon addition, located just below the LGA1155 CPU socket and factory installed with a 20GB Intel 311 mSATA SSD. Intel Smart Response Technology requires a small capacity dedicated caching SSD to bring about 'SSD-like system responsiveness' on PCs where Windows 7 has been installed to a standard mechanical SATA hard drive. That little 20GB mSATA SSD is just right to cache frequently accessed data!

Gigabyte GA-Z68XP-UD3-iSSD Motherboard




INCLUDES: User's Manual, Driver DVD, (4) SATA cables, 2-way SLI bridge, I/O Shield, 20GB Intel 311 mSATA SSD.

Chipsets: Intel Z68 Express
CPU Support: Intel Socket 1155
Memory Type: Dual Channel DDR3
Videocard Support: (2) PCI Express x16 2.0 (x16 or x8/x8)
Integrated Graphics Video Port: (1) HDMI

Average Price at time of review: $239
Gigabyte's GA-Z68XP-UD3-iSSD motherboard, which comes with a 20GB Intel 311 mSATA SSD valued at $130, retails for around $239 at Canada Computers, NCIX and Newegg. Being a Gigabyte board you can also get Hybrid-EFI TouchBIOS, +3TB hard drive support, 3x USB power boost, On/Off Charge for recharging devices like the iPhone and a slew of other fun stuff.
On the storage front the GA-Z68XP-UD3-iSSD motherboard dishes out the usual six SATA connections from the Intel Z68 chipset; two 6Gb/s SATA III and four 3Gb/s SATA II ports. RAID 0, 1, 5 and 10 modes are supported across those SATA ports while a Marvell SE9172 controller adds an extra pair of 6Gb/s SATA III ports into the mix for good measure (RAID 0,1). One SATA II port is lost when the onboard mSATA is populated with the SSD. More on that in a moment...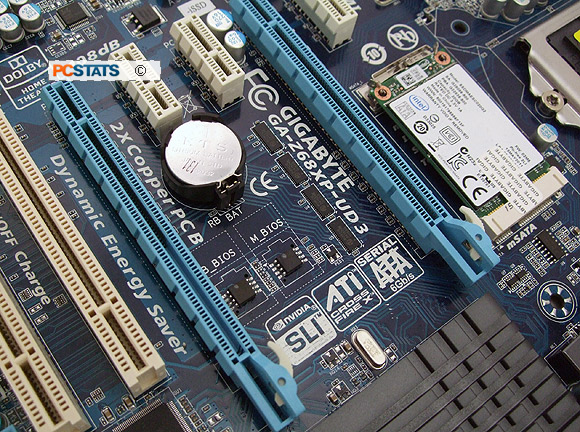 Supports two way Crossfire or two-way SLI.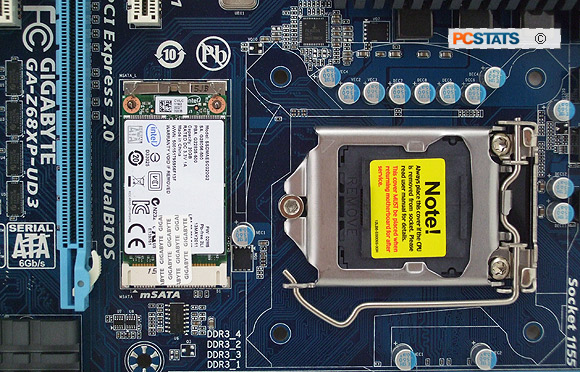 Bundled in with the Gigabyte GA-Z68XP-UD3-iSSD is this tiny 20GB Intel Solid State Drive.
Disappointingly there aren't any eSATA ports at the rear I/O of the GA-Z68XP-UD3-iSSD motherboard, and scant little in terms of accessories; just a SLI bridge connector and some SATA cables. A USB 3.0 bracket would have been a nice addition to the box contents in order to make use of the USB 3.0 header, but one isn't included.
At the back of Gigabyte's GA-Z68XP-UD3-iSSD motherboard you'll find one HDMI video output, an 10/1000 Ethernet connection, (2) SuperSpeed USB 3.0 ports, (8) USB 2.0 ports, an IEEE1394 Firewire port, optical S/PDIF and full assortment of Intel high definition 7.1-channel headphone jacks. The audio system is Dolby Home Theatre compliant. PS/2 still clings to life in a hybrid keyboard/mouse kind of way, which is good... modern keyboards just don't 'click' as nicely as those made a decade ago, let alone the machine guns that were IBM Model M's.
Since interest in the Apple iPad and iPhone shows no sign of letting up, it's a good thing Gigabyte boosted the electrical capabilities of its motherboards' USB ports to better meet the electrical requirements of chargers for these devices. This was primarily done because Gigabyte engineers wanted to be able to charge their iPhone's... it's handy with multiple external hard drives like Seagate's FreeAgent GoFlex, or a USB 3.0 hard drive docking station.