Initial precautions: While editing the registry gives you access to a wealth of options that may not be offered to you through the user interface, it also gives you the means to completely mess up your system in the time it takes to reboot. While restoring a computer with registry problems is now a fair bit more possible thanks to the system restore features built into Windows XP (which we cover later in this article), it's still a good idea to make a manual backup of your registry before making any changes to it.
A manual backup creates a file of your registry information, which can be stored until needed, and restored to roll your registry back to a stable state in case of disaster. This also gives you the added security of being able to store the backup on removable media such as a floppy or CD to be kept until needed.
To back up the entire registry, open REGEDIT and ensure that 'my computer' is highlighted, then go to file\export. In this window, you need to enter a location to save the exported registry (it will be saved as a single file) and choose the type of file to create. Also, check the 'all' button at the bottom of the screen to backup the entire registry.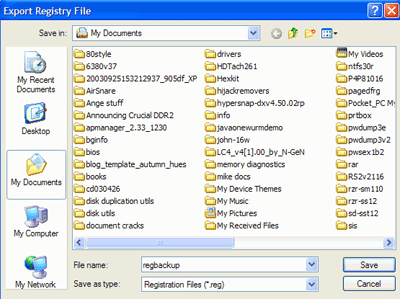 There are several possible file types, but we will start with '.reg' as it is the easiest to use. A .reg backup will copy over all changes made to existing portions of the registry when it is restored, while leaving additions to the registry made since the backup untouched. This means that restoring a .reg backup in the future will not disable programs you have installed since the backup, which is nice to know.
To backup the entire registry to a .reg file: Select the .reg file type and click 'save.'
Restoring the registry from this .reg file is a simple matter of locating the file you created, right clicking it and selecting 'merge.' Note that you can also save individual sections of the registry to files prior to editing them by clicking on the key you wish to change and hitting 'export.'
A second useful file format for registry backups is the 'hive' file. When you restore a registry hive file backup, that area of the registry will be completely restored to its state at the time of the backup, completely removing any new keys and values that were added since. Be aware that this could cause programs to cease functioning if they were installed since the backup.
To save a section of the registry as a hive file, select 'export' as above, then choose 'registry hive file' from the 'save as type' dropdown box.