An alternative method you can use to backup your Windows registry is employing Windows XP's built in backup software. By making a 'system state' backup with the utility, a copy of your registry is made and can be restored by using the backup utility. XP Professional users can access this utility right away, while XP Home users will need to add it from the CD by going to (your CD drive:)\Valueadd\msft\ntbackup and double clicking the 'NTBACKUP.MSI' file. This will start the installation wizard for the backup program.
To backup the system state data with Windows backup: Open the backup utility ('start\all programs\accessories\system tools\backup')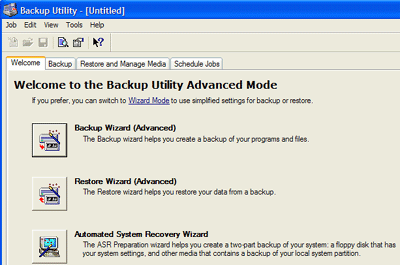 Choose 'backup wizard (advanced)'
Click through the welcome screen and select 'only back up the system state data.'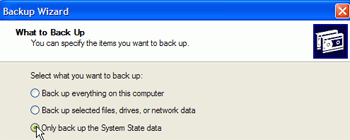 Now select a location and name for the backup file you are about to create. Note that the file will be saved with the .bkf extension.
Verify that the settings are correct on the final screen, then hit 'finish' to begin the backup process.
Note that backing up the system state data saves considerably more than just the registry; it also preserves crucial system configuration data. It does not backup your data though. If you are looking for information on backing up your files, see our XP data backup guide here.