On the PCSTATS test bench today is a unique 2nd Gen. Solid State Hybrid Drive (SSHD) from Seagate called the Momentus XT. This hybrid drive doesn't run on Hydrogen, but rather combines 8GB of SSD-grade SLC NAND flash with a standard 750GB two-platter 7200RPM notebook HDD. The 750GB Seagate Momentus XT SSHD retails for $245 USD and essentially aims to deliver like-SSD read responsiveness alongside the favorable economies of hard drive data storage.
Looking no different than any common 2.5" notebook hard drive, the trick up the Momentus XT's sleeve that it learns what data you frequently use and caches this to its 8GB of internal flash memory. When this qualified data is called for the next time around, an 'Adaptive Memory' algorithm kicks in and the data read instantly from the SLC NAND flash. System delays caused by seeking data on comparatively slow hard drive platters are thus lessened.
Adaptive Memory is the cornerstone of Seagate's hybrid Momentus XT SSHD and while the name may be unfamiliar the technology works in a manner similar to Intel Smart Response Technology. Unlike Intel SRT however, Seagate's approach functions independently of software drivers and the operating system. By comparison, Intel SRT is a dependant on Intel Z68 chipsets and requires some up front BIOS, software and hardware configuration. As a 2.5" notebook hard drive, Seagate's 750GB Momentus XT SSHD is completely platform agnostic - it's equally at home in Windows or Mac notebooks, on Intel or AMD based computer systems.
Over the next few pages PCSTATS will be testing out Seagate's 2nd Gen. 750GB Momentus XT SSHD to see how well the drive operates in a variety of standard hard drive benchmarks, but before we start you should note that 'like-SSD responsiveness' only relates to reads. Writes are only made to the hard drive platters. Frequently accessed and difficult to fetch data is stored on the 8GB Adaptive Memory after it is written to the hard drive. This approach ensures data integrity as there's never an instance where part of file exists on the driver platters and part in the flash memory. Incidently, the Momentus XT also has 32MB of multi-segmented cache (standard drive cache) so don't confuse that with the 8GB Adaptive Memory.
Tracing the Hybrid Hard Drive Lineage
In early 2010 Seagate introduced its first generation hybrid notebook drive, the 500GB Momentus XT. This drive contained 4GB of SLC NAND flash and operated on a SATA II interface, it also used the legacy 512-byte sector format. The new 750GB Momentus XT shares the same model name as its predecessor but utilizes an upgraded 6Gb/s SATA III data interface, 8GB of SLC NAND Flash and has migrated over to the new 4,096 bytes-per-sector or '4K Advanced Format' in compliance with International Disk Drive Equipment and Materials Association (IDEMA) guidelines that took effect January 2011.
The 2nd generation 750GB Momentus XT drive also benefits from;
1) The lessons learned on the first generation Momentus XT drives. Seagate improved the back end logic for the drives' boot-speed acceleration - now called Fast Factor Boot.
2) Improvements to the Adaptive Memory algorithm to extend the life of the NAND flash.
3) Writes are typically omitted from hybrid drive designs but Seagate has road mapped a compelling feature called 'Fast Factor Write', though it is not included in this firmware release. This feature may release via a firmware upgrade in Q2'12, so we can't tell you too much about it now in case things change.

Seagate Momentus XT 750GB Hybrid Drive

Model: Seagate ST750LX003
Type: Solid State Hybrid Drive
(HDD + SSD = SSHD)


Capacity: 750GB (7200RPM, two-platters)
Interface: 6Gb/s SATA III / NCQ
Adaptive Memory: 8GB SLC NAND Flash
Standard Drive Cache: 32MB
MSRP Price: $245 USD
According to Seagate, the Momentus XT ST750LX003 is rated for average read latency of 10.4ms, write 18.5ms. The peak transfer rate for this SATA III hard drive is 6Gb/s. The 750GB Momentus XT SSHD has two platters with a total of four read/write heads. The drive isn't loud by our standards, idling at 2.4 bel and generating 2.6 bel when seeking. A couple new technologies are introduced with this drive that deserve a little discussion; Adaptive Memory, Fast Factor Boot and Fast Factor Flash Management.
Here's what you need to know about them...
Adaptive Memory - A Learning Algorithm
The 2nd Gen. Momentus XT uses an algorithm to continually monitor and qualify frequently accessed data and LBA bits for duplication in the embedded 8GB SLC NAND flash. Seagate call this 'Adaptive Memory Technology.' It comes into play when frequently accessed or 'difficult to get to' data is called for and allows the Momentus XT to immediately access the data from the fast SLC NAND flash instead of waiting for the data to be read off the platters.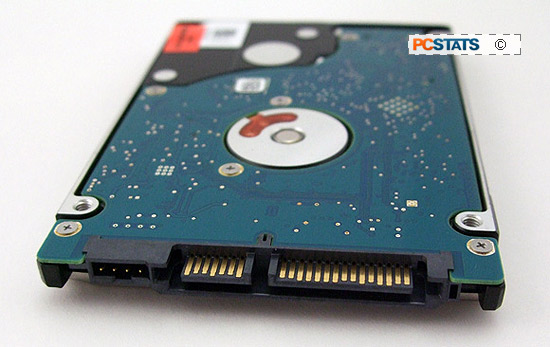 It generally takes the Adaptive Memory algorithm three iterations before the maximum benefit is seen. For example, PCSTATS ran the PCMark Vantage HDD Test Suite several times in a row and saw a healthy improvement in Overall score from 4494 (first run) to 9508 on the 4th run. See for yourself in the chart below. By about the third/fourth run the results start flattening out.
Initial Run
(OS on test disk)
Run 2

Run 3
Run 4

Seagate Momentus XT 750GB SSHD

- Futuremark PCMark Vantage - Hard Drive Test Suite
Overall PCMark Vantage HDD Score:
4494
8681
9310
9508
Windows Defender: (MB/s)
17.8
34.2
44.4
45.2
Gaming: (MB/s)
16.6
53.1
53.7
53.5
Import Pictures: (MB/s)
55.1
81.4
76.9
88.0
Windows Startup: (MB/s)
19.9
42.5
44.1
44.5
Video Editing: (MB/s)
40.6
48.5
49.9
53.0
Windows Media: (MB/s)
78.6
95.9
97.2
88.4
Adding Music WMP: (MB/s)
7.1
18.7
20.8
20.4
Application Loading: (MB/s)
4.9
12.9
15.2
16.3
The achilles heel to this approach is that infrequently accessed data sees no benefit from Adaptive Memory technology. Ditto for synthetic benchmarks which rely on largely random data sets.
Right after the jump, PCSTATS looks at Fast Factor Boot speed quickening....