File Copying
For this test a single 8.5GB file is copied from an OCZ Vertex 2 SSD system disk to the test disk (write to), from the test disk to the OCZ Vertex 2 SSD (read from), and from the test disk to itself (read and write to self). While this test is heavily influenced by the SATA controller and by the number of files being transferred, it provides a good indication of the sustained transfer rates capable from the hard drive being tested. Higher transfer speeds are best.
Large File Transfer Test - 8.5GB Single File
Avg. Speed: Write To: (MB/s)
Points
Ranking
OCZ Vertex 2 128GB SSD
56
Plextor PX-128M1S SSD
51
Seagate 2TB Barracuda XT HDD
51
Seagate 500GB Momentus XT SSHD
39
Avg. Speed: Read From: (MB/s)
Points
Ranking
OCZ Vertex 2 128GB SSD
49
Plextor PX-128M1S SSD
63
Seagate 2TB Barracuda XT HDD
58
Seagate 500GB Momentus XT SSHD
45
Avg. Speed: Read / Write To Self: (MB/s)
Points
Ranking
OCZ Vertex 2 128GB SSD
60
Plextor PX-128M1S SSD
48
Seagate 2TB Barracuda XT HDD
51
Seagate 500GB Momentus XT SSHD
36
Just a quick and fun test to gage real world impact on large file copying and pasting - a common and not very intensive task. Across the board, Seagate's 500GB Momentus XT posts relatively slow transfer rates of between 36 - 45 MB/s, interesting.
Conclusions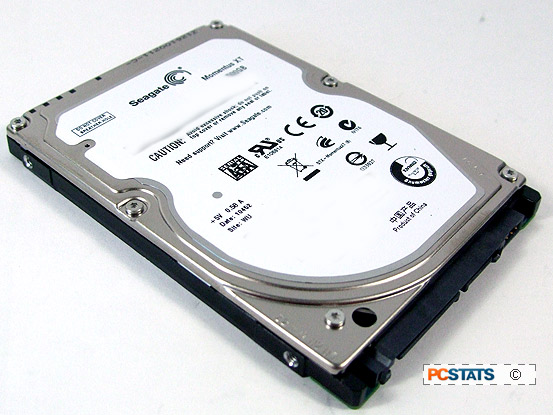 The 500GB Seagate Momentus XT drive contains 4GB of SLC NAND flash and operates on a 3Gb/s SATA II interface, yet as we consider the merits of this Solid State Hybrid Drive it's hard not to be persuaded by the marketing materials and use of the polysemous term; 'hybrid'.
As everyone knows, hard drives offer low cost per GB of data storage while Solid State Drives are incredibly fast. In the imagined hybrid scenario, the best of both worlds are combined equally to yield a low cost, yet incredibly fast device. In the real world, the hybrid 500GB Seagate Momentus XT is economical compared to the potential cost of a 500GB SSD... but only absorbs the speed qualities of an SSD in a very, very narrow usage scenario.
As the hard drive benchmarks have demonstrated, the Seagate Momentus XT offers comparably good performance for a HDD, but both SSD's it was compared against are far quicker in the bulk of tests. The Momentus XT can yield like-SSD read responsiveness to frequently used applications, but this only when the situation suits it.
Application specific benchmarks see a noticeable improvement after multiple iterations, unlike an SSD which brings about an instant enhancement along with its high up front cost. The 500GB Momentus XT's write speed is limited to the speed of the hard drive component (which is good for a HDD), there's no way around this with current hybrid drive designs.
In its current form, Seagate's hybrid technology is mixed bag. While the 4GB SLC NAND cache is completely transparent to the computer allowing the drive to be used on any hardware platform regardless of operating system, it's real world implications are limited to client computers where the same couple office tasks are apt to be repeated. As we saw with PCMark Vantage HDD test suite, the benefit is there, and it will result in snappier response times. In this respect the Seagate Momentus XT is a novel way to improve system responsiveness in a notebook computer, but at the same time we can't help but feel that the benefit remains somewhat unquantifiable.
Bottom line, if you have the option to build a new notebook with the Seagate 500GB Momentus XT, go for it. If you have an existing notebook and want to replace its hard drive for a SSHD, you can expect a little uplift here and there, but temper your expectations.
Find out about this and many other reviews by joining the Weekly PCstats.com Newsletter today! Catch all of PCSTATS latest reviews right here.
Related Articles
Here are a few other articles that you might enjoy as well...
- IcyDock MB973SP-B Tray-less 3-Bay SATA Hard Drive Bay Module
- Plextor PX-128M1S 128GB Solid State Drive / SSD Review
- Seagate Barracuda XT Preview - Worlds First SATA 6Gb/s 2TB Hard Drive
- Western Digital Caviar Black WD1001FALS 1.0TB SATA Hard Drive Review
- IcyDock MB673SPF-B 3-Bay Tooless Hard Drive Bay Module
- IcyDock MB674SPF-B 4-Bay Tooless Hard Drive Bay Module
- Icydock MB664US eSATA/USB External Hard Drive Enclosure Review
- IcyDock MB454SPF-B SATA 4-Bay Hot-Swap 3.5-inch Drive Bay Review