Seagate's Momentus XT is a 2.5" notebook drive of a half-Terabyte in capacity that stands out from the crowd because it contains 4GB of SLC NAND flash. The NAND flash is used as sort of a 'fast access repository' to store commonly used data, though at 4GB, the SSD portion of this hybrid drive accounts for only 0.8% of its total storage capacity.
The two platter, 7200RPM Seagate Momentus XT posts an average read latency of 11.0ms, write 13.0ms. Seagate's 3Gb/s SATA II ST95005620AS drive retails for round $156USD and requires no special drivers or software so it can be used in Intel and AMD systems, Mac and PC platforms. Additional Momentus XT drives are available in 250GB and 320GB capacities, all drives feature NCQ and low power requirements of 1.5W or less.
Cornerstone of Seagate's hybrid Momentus XT SSHD, Adaptive Memory is tasked with learning what data you frequently use and caching it to the 4GB internal flash memory. When this qualified data is called the next time, Adaptive Memory kicks in and instead of waiting for the data to be read off relatively slow hard drive platters, it's retrieved instantly from the NAND flash. Seagate aims to deliver like-SSD responsiveness from the Momentus XT part in parcel with the inexpensive economics of HDD-based storage. A very narrow goal that unfortunately doesn't address one of the other benefits of native SSD technology - fast writes.
Over the next few pages PCSTATS will be testing out Seagate's 500GB Momentus XT SSHD to see how well the drive operates in a variety of standard hard drive benchmarks, let's begin!

Seagate Momentus XT 500GB Hybrid Drive

Model: Seagate ST95005620AS
Type: Solid State Hybrid Drive

Capacity: 500GB (7200RPM, two-platters)
Interface: 3Gb/s SATA II / NCQ
Adaptive Memory: 4GB SLC NAND Flash
Standard Drive Cache: 32MB
MSRP Price: $156 USD
Seagate's Momentus XT uses an algorithm to continually monitor and qualify frequently accessed data and LBA bits for duplication in the embedded 4GB SLC NAND flash. The algorithm generally takes three or four iterations before optimal results are seen. For example, the difference between the first run of PCMark Vantage HDD Test Suite and the four run of this same benchmark is quite substantial; Overall score increases from 4024 to 6298.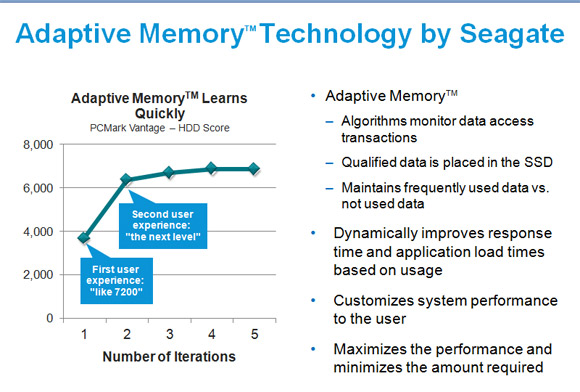 See the results yourself in the chart below.
Initial Run
(OS on test disk)
Run 2

Run 3
Run 4

Seagate Momentus XT 500GB SSHD

- Futuremark PCMark Vantage - Hard Drive Test Suite
Overall PCMark Vantage HDD Score:
4024
5920
6191
6298
Windows Defender: (MB/s)
21.3
27.7
30.8
32.6
Gaming: (MB/s)
16.8
33.9
38.2
36.0
Import Pictures: (MB/s)
42.1
53.1
48.6
51.7
Windows Startup: (MB/s)
18.5
29.7
31.3
32.0
Video Editing: (MB/s)

28.7

31.6
31.6
30.5
Windows Media: (MB/s)
59.6
61.4
60.8
61.7
Adding Music WMP: (MB/s)
6.3
12.2
12.9
13.0
Application Loading: (MB/s)
5.0
9.4
11.6
11.4
The achilles heel to Seagate's technology is that it does nothing for random data or programs and files which are infrequently accessed. As you'll see momentarily, hard drive benchmarks which utilize synthetic data are completely uninfluenced by Adaptive Memory.
Alright, let's power up the 500GB Momentus XT SSHD and test it!.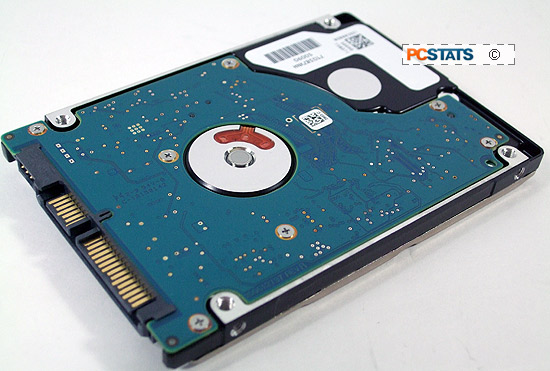 Test System Specs:

The details of how the 500GB Seagate Momentus XT solid state hybrid hard drive test system was configured for benchmarking, including the specific hardware, software drivers, operating system and benchmark versions are indicated below. In the second column are the general specs for the reference platforms this SATA II hard drive is to be compared against. Please take a moment to look over PCSTATS test system configurations before moving on to the individual benchmark results.

PCSTATS Test System Specs
test system
processor:
intel Core i7 920
(45nm)
Clock Speed:
20 x 133 MHz = 2.67 GHz
Socket:
Socket LGA1366
Motherboard:
- Intel X58 -
Gigabyte G1.Assassin
Videocard:

ASUS ENGTS250 DK
(Geforce GTS250)

Memory:
3x 2GB Corsair TR3X6G1600C8D DDR3
Memory Speed:
DDR3-1066
Storage:

- HDD
74GB Western Digital Raptor WD740 (3GB/s SATA II)
1TB Western Digital 1TB WD1001FALS (3GB/s SATA II)
2TB Seagate 2TB Barracuda XT (3GB/s SATA II)

- SSD
120GB OCZ Vertex2 (3GB/s SATA II)
Plextor PX-128M1S (3GB/s SATA II)

- SSHD
500GB Seagate Momentus XT SSHD (3GB/s SATA II)


Optical Drive:

Plextor PX-B310U Blu-Ray

Power Supply:

Seasonic SS-760KM (760W)

Heatsink:

Intel Reference LGA1366 Heatsink

Monitor (1080p):

ASUS MK241 24" HD LCD

Software Setup:

Microsoft Windows 7 Ultimate
Intel INF 9.2.0.1025
nVIDIA Forceware 266.58