In this review PCSTATS will be testing out Seagate's 2TB, 6Gb/s SATA III Barracuda XT hard drive. This 3.5" desktop hard drive features an increased 64MB onboard cache where other 2TB drives only have 32MB and it supports Native Command Queing (NCQ). The Barracuda XT is the performance oriented drive in Seagate's stables, a spindle speed of 7200RPM gives it a healthy maximum sustained data rate of 138MB/s.
The Barracuda family also includes 'Green' drives which are intended to reduce hard drive power consumption - the obvious side benefits being cool running and reduced noise levels. Vanilla Barracuda drives shore up Seagate's mainstream offerings, these drives have slightly less cache than the Barracuda XT family. Barracuda XT drive capacities range from 2TB to 3TB and offer a fantastic 5 year limited warranty.
The Seagate Barracuda XT being reviewed today uses Perpendicular Magnetic Recording technology and has a capacity of 2 TeraBytes (2,000 GB). Beneath its shiny metal exterior are four platters rotating at 7,200RPM. Each platter has an aerial density of 374GB/in2, so this 3.5" SATA III HDD should come close to attaining is listed sustained transfer rate of 138MB/s in PCSTATS' benchmark set.
Seagate's 2 TB Barracuda XT (ST32000641AS) SATA III hard drive retails for about $249 CDN ($249 USD, £140 GBP) at stores like Newegg.com.

Seagate Barracuda XT 2TB Hard Drive

Model: Seagate ST32000641AS
Type : Hard Disk Drive

Capacity: 2.0TB (7200RPM, five-platters)
Interface: 6Gb/s SATA III / NCQ
Standard Drive Cache: 64MB
MSRP Price: $249 USD
Peak transfer rate for this SATAIII drive is 600MB/s, while average latency is listed at a quick 4.16ms. The drive is backwards compatible with SATA I and SATA II interfaces. Power is supplied by a SATA style power connector, only. The 2TB Barracuda XT drive wasn't too loud by our standards, idling at 2.7 bels and generating 2.9 bels when seeking. Average operational power consumption is a modest 9.2W.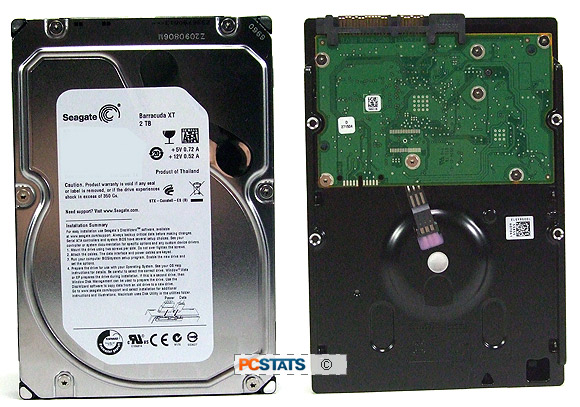 6Gb/s SATA III Expectations and Requirements
Hard drives rated to 6Gb/s SATA III interface speeds communicate with a PC faster, but at the outset the speed bump is going to be muted and in real world terms it is not twice as fast as a 3Gb/s drives. Put it this way; Serial ATA I operates at 1.5Gb/s, Serial ATA II operates at 3Gb/s and Serial ATA III runs at 6Gb/s. You'd be hard pressed to saturate a SATA II connection with 3Gb/s burst of data for anything more than a fleeting moment and that's why SATA III, while a faster interface , realistically has a small impact in bandwidth intensive situations.
Mechanical hard drives just aren't fast enough to saturate a 6Gb/s bandwidth connection continuously, but moving forward new technologies and Solid State Drives (SSD) likely will.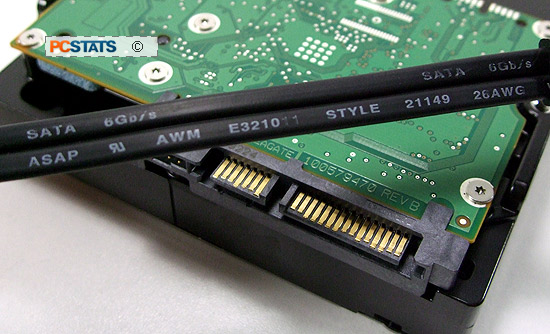 It's considered good form to use SATA 6Gb/s rated cables with SATA III hard drives. The reason is that some cheap SATA cables bundled with motherboards may be fine at SATA II levels, but can be subject to electrical interference that hampers SATA III speeds due to lack of cable shielding, poor quality materials, etc.
This does not mean there are any differences in terms of electrical connections between SATA III / SATA II / SATA cables, there are not. Suffice to say, not all SATA cables are created equally, but at least SATA 6Gb/s rated cables should be of sufficient tolerance.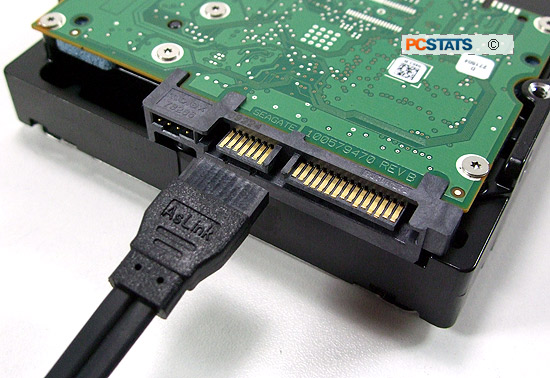 To take advantage of the Barracuda XT's 6Gb/s SATA III interface, your computer will need SATA III complaint ports, either via the motherboard chipset or a hardware controller such as the Marvell 88SE9123. If this part of the chain is absent, the drive is backwards compatible with SATA 3Gb/s and SATA 1.5Gb/s interface levels.
Alrighty, let's power up this 2TB SATA III hard drive up and test it!
Test System Specs:

The details of how the 2 TB Seagate Barracuda XT (model: ST32000641AS) hard drive test system were configured for benchmarking, including the specific hardware, software drivers, operating system and benchmark versions are indicated below. In the second column are the general specs for the reference platforms this SATA III hard drive is to be compared against. Please take a moment to look over PCSTATS test system configurations before moving on to the individual benchmark results.

PCSTATS Test System Specs
test system
processor:
intel Core i7 920
(45nm)
Clock Speed:
20 x 133 MHz=2.67 GHz
Socket:
Socket LGA1366
Motherboard:
- Intel X58 -
Gigabyte G1.Assassin
Videocard:

ASUS ENGTS250 DK
(Geforce GTS250)

Memory:
3x 2GB Corsair TR3X6G1600C8D DDR3
Memory Speed:
DDR3-1333
Storage:

- HDD
3TB Seagate 3TB Barracuda XT (6GB/s SATA III)
2TB Seagate 2TB Barracuda XT (6GB/s SATA III)
1TB Western Digital 1TB WD1001FALS (3GB/s SATA II)
74GB Western Digital Raptor WD740 (3GB/s SATA II)

- SSD
120GB OCZ Vertex2 (3GB/s SATA II)
Plextor PX-128M1S (3GB/s SATA II)

- SSHD
500GB Seagate Momentus XT SSHD (3GB/s SATA II)
750GB Seagate Momentus XT SSHD (6GB/s SATA III)



Optical Drive:

Plextor PX-B310U Blu-Ray

Power Supply:

Seasonic SS-760KM (760W)

Heatsink:

Intel Reference LGA1366 Heatsink

Monitor (1080p):

ASUS MK241 24" HD LCD

Software Setup:

Microsoft Windows 7 Ultimate
Intel INF 9.2.0.1025
nVIDIA Forceware 266.58