This is a performance-oriented motherboard with a great set of gamer-friendly options, overclocking tools and extensive connectivity list in a hefty matt-black package that looks fantastic.


80% Rating:

Home > Reviews > Motherboards > Gigabyte GA-P67A-UD7-B3
Conclusions and Total System Power Draw
PCSTATS measures total system power draw (watts) with the aid of an Extech 380803 AC Power Analyzer and A-PFC compliant Seasonic SS-760KM power supply. The meter is placed between the 120V AC outlet and the PC power supply and the computer stressed. Total system power draw is recorded and compared to the PC's idle state.
Total System Power Draw
Idle

CPU Loaded

GFX Loaded

Intel Core i5 2500K
nVidia Geforce GTX470


122W
174W
260W

(Idel @ desktop)

(via Prime95)

(via 3DM06)
The Gigabyte GA-P67A-UD7-B3 system draws 122W while idle at the desktop. Under 100% CPU load conditions with Prime95, total system power draw jumps to 174W. 3DMark06 pushes power draw to a peak of 260W.
Conclusions: Gigabyte's Golden Child
The Gigabyte GA-P67A-UD7-B3 motherboard is a great platform to build a kick ass computer system around and PCSTATS recommends you consider it for the following reasons.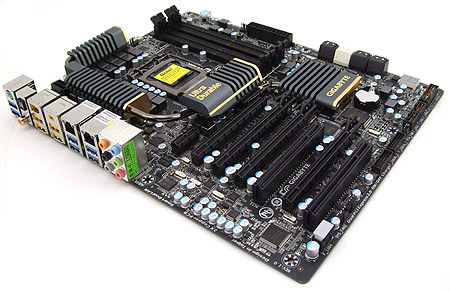 1) With a long list of features and excellent build quality going for it, this Intel P67 based motherboard from Gigabyte offers the most economical way to assemble an Intel LGA1155 PC that directly competes against the overclocking-hobbled Intel H67 and IGP-focused Intel Z68 platforms in benchmark results. The reason is simple, all three chipsets are essentially the same core logic - the Intel H67 and Z68 having onboard graphics capabilities the Intel P67 lacks. Why pay more for an newer model number when you can apply that money, instead, to an SSD for the operating system?
2) Compared to newer Intel Z68 motherboards, an Intel P67 platform affords much the same SLI/Crossfire multi-videocard capabilities but at a lower cost. If you're a gamer who likes to overclock, there's really no need to spend more cash on an Intel Z68 platform with onboard integrated graphics features you don't need. Gaming on Sandy Bridge CPU graphics is still gaming on integrated graphics, which as you know is in no way comparable to the pixel crunching power of a decent mainstream PCI Express x16 videocard.
As it stands the Gigabyte's GA-P67A-UD7-B3 is a fantastic motherboard for a dual-videocard gaming system because it offers two-way SLI/Crossfire support, plenty of USB 3.0 and enough SATA III to satisfy a pair of SSDs. If you're never going to use the IGP-CPU in your Sandybridge processor, an Intel P67 motherboard will get you in the game, for less money, without any performance drop.
Bottom line, let these benchmark results serve as a reminder that newer model numbers don't always mean better performance figures. Features are easy to add, but raw performance is what a computer draws on every day of the week.
The Intel P67 chipset offers exactly the same benchmark performance as the Intel Z68 chipset when systems are installed to a good quality SSD. Snap up the Gigabyte GA-P67A-UD7-B3 and lock in a videocard or two and get ready to play!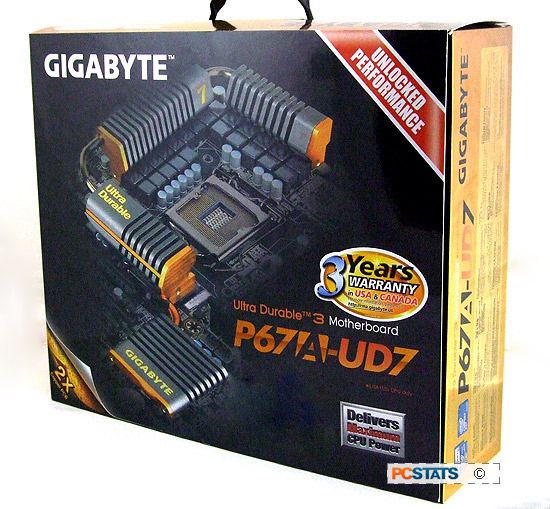 Find out about this and many other reviews by joining the Weekly PCstats.com Newsletter today! Catch all of PCSTATS latest reviews right here.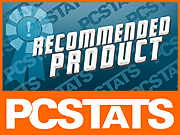 Related Articles
Here are a few other articles that you might enjoy as well...
- Gigabyte GA-Z68X-UD5-B3 Intel Z68 Motherboard Review
- Gigabyte GA-Z68XP-UD3-iSSD Intel Z68 Motherboard & Intel 20GB SSD Review
- MSI P67A-GD65 Intel P67 Motherboard Review
- ECS P67H2-A Black Extreme B3-stepping Intel P67 Motherboard Review
- Gigabyte GA-P67A-UD4-B3 Intel P67 Motherboard Review
- Gigabyte GA-Z68X-UD3H-B3 Intel Z68 Motherboard Review
- Gigabyte GA-P67A-UD4 Intel P67 Motherboard Review
- Beginners Guide: Intel Smart Response Technology and Intel 311 Larson Creek SSD
- ASUS P7P55D Premium Intel P55 Express Motherboard Review
- Intel 6-Series Chipset Recall - Sandy Bridge Intel P67 & H67 (v2.2)