In this review PCSTATS is testing the Intel P67-based Gigabyte GA-P67A-UD7-B3 motherboard. This is a performance oriented motherboard with a great deal of gamer friendly options, overclocking tools and an extensive connectivity list all rolled up into one hefty matt black package. This board looks fantastic, too.
The Gigabyte GA-P67A-UD7-B3 board supports 32nm socket LGA1155 2nd Generation Intel Core i3/i5/i7 2xxx-series 'SandyBridge' processors, such as the Core i5 2500K CPU. It supports two-way nVidia SLI and three-way AMD Crossfire graphics card configurations.
Built around the Intel P67 B3-stepping and nVidia nF200 chipsets, this flagship Gigabyte motherboard has the extra PCI Express lanes that multi-videocard gaming systems demand.
On the graphics card front, the GA-P67A-UD7-B3 will run a single PCI Express 2.0 videocard on 16 full lanes of PCIe bandwidth, a pair of nVidia Geforce or ATI Radeon videocards in two-way SLI/three-way Crossfire in x16/x16 and x16/x8/x8 mode, respectively. There are four PCI Express x16 slots (x16/x8/x16/x8), one PCI Express x1 slot and two legacy PCI slots for expansion cards.
The Gigabyte GA-P67A-UD7-B3 motherboard is equipped with four 1.5v DDR-3 memory slots that accommodate up to 32GB of dual channel DDR3-1066/1333/1600/1866/2133 memory (4GB for 32-bit operating systems). Extreme Memory Profile (XMP) RAM is supported, such as Crucial's Ballistix memory modules.

Gigabyte GA-P67A-UD7-B3 Motherboard




INCLUDES: User's Manual, Driver DVD, (4) SATA cables, (2) eSATA-to-SATA cables, 4-pin power to SATA power, eSATA/power bracket, 2-way SLI bridge, 3-way SLI bridge, I/O Shield.

Chipsets: Intel P67 Express, Nvidia nF200 chipset
CPU Support: Intel Socket LGA1155
Memory Type: Dual Channel DDR3
Videocard Support: (1-3) PCI Express x16 2.0 (x16, x16/x16 or x16/x8/x8)


Average Price at time of review: $320
I like to run a lot of hard drives on the computers I build, as I'm sure you do too. In this respect the GA-P67A-UD7-B3 is very well equipped. The board offers users two 6Gb/s SATA III and four 3Gb/s SATA II ports via the Intel P67 chipset (RAID 0/1/5/10 inclusive) for starters, but Gigabyte have sweetened things with four additional 6Gb/s SATA III ports. These extra SATA III ports come from two separate Marvell SE9128 controllers (two onboard, two at the rear I/O). Both sets of Marvell derived SATA III ports feature RAID 0/1 support.

What else is notable on the Gigabyte GA-P67A-UD7-B3 motherboard? Well for starters; a pair of GbE Ethernet jacks (support for teaming), ten USB 3.0 jacks (4 header / 6 rear I/O), eight USB 2.0 jacks (one pair of which support Gigabyte On/Off Charge), three IEEE 1394 firewire ports (1 header / 2 rear I/O), optical and coaxial S/PDIF Dolby Home Theater (7.1 channel) audio and that's not even including the overclocking options...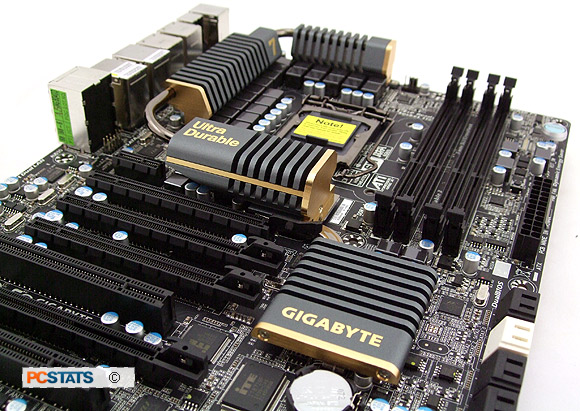 Overclockers get an on-board Port 80 card, five fan headers (two 4-pin PWM / three 3-pin), a Clear CMOS button, physical power and reset buttons (power is illuminated), dual BIOS, extra thick 8-layer copper PCB and a heat pipe cooled chipset/motherboard VRM heatsink!
The list of Gigabyte-specific software features is fairly extensive too: @BIOS, Q-Flash, EasyTune, Dynamic Energy Saver 2, Smart 6, Cloud OC and On/Off charge being the notable tools.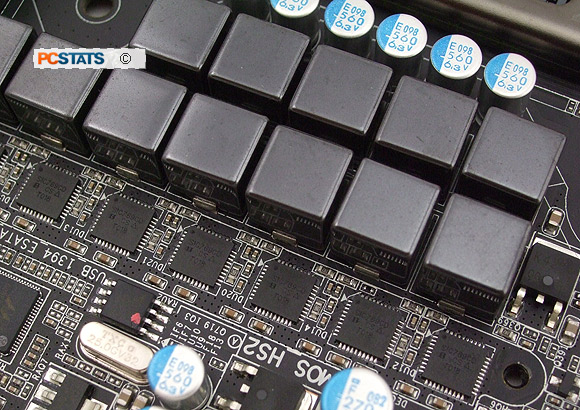 For all this, you can expect to pay about $320 USD/CDN dollars for the Gigabyte GA-P67A-UD7-B3 motherboard.
Plugs and Connectors at the Back of the Motherboard
At the back of the Gigabyte GA-P67A-UD7-B3 motherboard you'll find (6) SuperSpeed USB 3.0 ports, (2) gigabit Ethernet jacks, an optical and coaxial S/PDIF out, (2) eSATA III ports, (2) firewire and 7.1-channel audio-out headphone jacks. The audio system is based off a Realtek ACL892 codec and is Dolby Home Theatre compliant.
As with most Intel P67 platforms, there is absolutely no support for legacy IDE hard drives or FDD devices.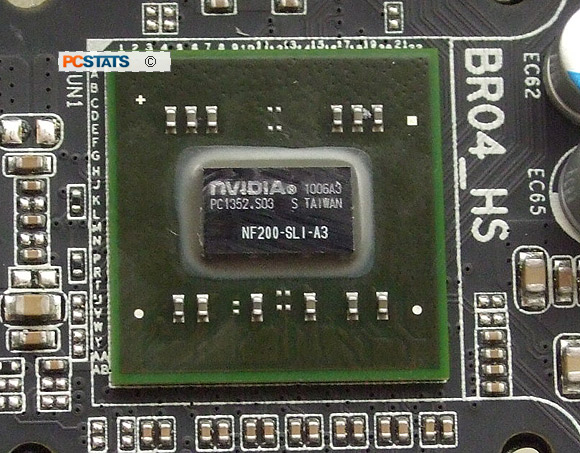 nVidia NF200 chipset
Extra thick Copper PCB
Gigabyte has manufactured the GA-P67A-UD7-B3 on an 8-layer PCB, with two 2 ounce copper inner layers that offer improved impedance and signal quality, it also reduces EMI. The extra copper lowers board mounted component temperature by acting as a massive, heat conduction backplane.
Overclocking Friendly Features
If you overclock too far the GA-P67A-UD7-B3's onboard Port 80 card will throw up an error code, this simple two-digit code helps immensely if for example memory is at fault and holding you back. In addition, Gigabyte have built custom overclocking controls called Easy Tune 6 which adjusts BCLK, CPU multiplier, voltages, etc. from within Windows 7. Overclocking profiles can bet set up and initialized with the tap of a key for certain applications.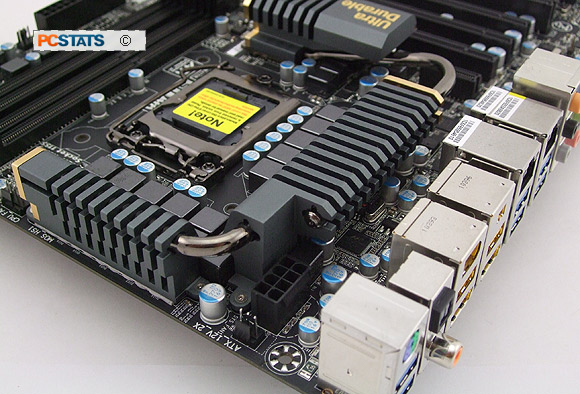 Gigabyte CloudOC is a novel overclocking tool which allows you to manage the overclocking profiles of your computer from a networked device (ie iPhone, iPad). PCSTATS mentions it for the sake of completeness, I have to admit it's not something I'd ever use. Never the less, if you've ever wanted to adjust overclocking settings while in full screen game mode, you now can with this tool via an iPad app.
Voltage controls for the GA-P67A-UD7-B3 board have been improved, fine voltage changes to 0.00625V increments can be made care of hardware over voltage, linear real time voltage control.
Next up, a 360-degre up close look at the Gigabyte GA-P67A-UD7-B3 motherboard in the motherboard gallery. Let's take a look at $320 bucks will buy you.