To take advantage of the Barracuda XT's 6Gb/s SATA III interface, your computer will need SATA III complaint ports, either via the motherboard chipset or a hardware controller such as the Marvell 88SE9123. If this part of the chain is absent, the drive is backwards compatible with SATA 3Gb/s and SATA 1.5Gb/s interface levels.
It's considered good form to use 6Gb/s SATA III rated cables with SATA III hard drives. The reason is that some cheap SATA cables bundled in with motherboards may be fine at SATA II levels, but are subject to electrical interference that hampers SATA III speeds due to lack of cable shielding, poor quality materials, etc.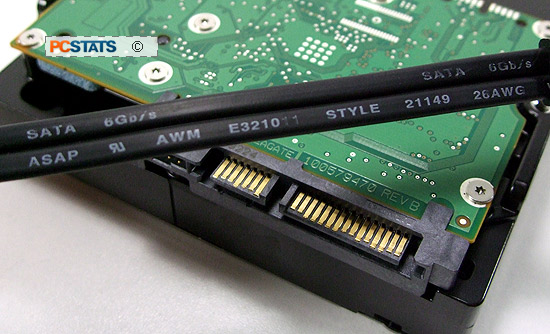 This isn't to say there are any differences in terms of electrical connections between SATA III / SATA II / SATA cables, there are not. Suffice to say, not all SATA cables are created equally, but at least SATA 6Gb/s rated cables should be of sufficient tolerance.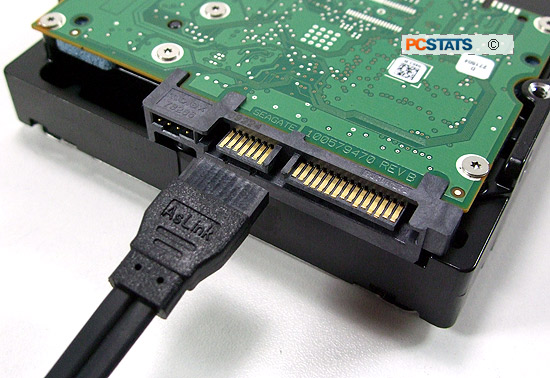 The 3TB Barracuda XT is rated for an average latency of 4.16ms and is compatible with SATA III, SATA II and SATA I interfaces. Power is supplied by a SATA style power connector. The 3TB Barracuda XT drive wasn't too loud by our standards, idling at 2.8 bels and generating 3.2 bels when seeking. Average operational power consumption is a modest 9.23W.
Alrighty, let's power up this 3TB SATA III drive and test it!
Test System Specs
The details of how the 3TB Seagate Barracuda XT (model: ST33000651AS) hard drive test system were configured for benchmarking, including the specific hardware, software drivers, operating system and benchmark versions are indicated below. Please take a moment to look over PCSTATS test system configurations before moving on to the individual benchmark results.

PCSTATS Test System Specs
test system
processor:
intel Core i7 920
(45nm)
Clock Speed:
20 x 133 MHz=2.67 GHz
Socket:
Socket LGA1366
Motherboard:
- Intel X58 -
Gigabyte G1.Assassin
Videocard:

ASUS ENGTS250 DK
(Geforce GTS250)

Memory:
3x 2GB Corsair TR3X6G1600C8D DDR3
Memory Speed:
DDR3-1333
Storage:

- HDD
3TB Seagate Barracuda XT (6GB/s SATA III)
2TB Seagate Barracuda XT (6GB/s SATA III)
1TB Western Digital 1TB WD1001FALS (3GB/s SATA II)
74GB Western Digital Raptor WD740 (3GB/s SATA II)

- SSD
120GB OCZ Vertex2 (3GB/s SATA II)
Plextor PX-128M1S (3GB/s SATA II)

- SSHD
500GB Seagate Momentus XT SSHD (3GB/s SATA II)
750GB Seagate Momentus XT SSHD (6GB/s SATA III)



Optical Drive:

Plextor PX-B310U Blu-Ray

Power Supply:

Seasonic SS-760KM (760W)

Heatsink:

Intel Reference LGA1366 Heatsink

Monitor (1080p):

ASUS MK241 24" HD LCD

Software Setup:

Microsoft Windows 7 Ultimate
Intel INF 9.2.0.1025
nVIDIA Forceware 266.58