First it was the MP3. Then it was lots and lots of MP3s.... Now computer hard drives are rapidly filling up and overflowing with movies and complete seasons of favourite TV programs. Suffice to say, storage space is the one thing computers will never have enough of. Yet as hard drives slowly grow into single-digit Terabyte territory, a single architectural decision implemented years ago makes it impossible for most PCs to even recognize HDDs larger than 2.1TB in size!
On the PCSTATS test bench today is Seagate's 3TB, 6Gb/s SATA III Barracuda XT hard drive which gets around the 2.1TB desktop storage capacity limitation by creating two partitions (2.1TB + 0.9TB) with the aid of Seagate's free DiskWizard software.
The 3TB Barracuda XT (model: ST33000651AS) is a 3.5" desktop SATA III drive which uses Perpendicular Magnetic Recording technology, comes with 64MB of onboard cache and supports Native Command Queing (NCQ). Beneath its shiny metal exterior are five platters spinning at 7,200RPM, each with an aerial density of 488Gb/in2. The drives' maximum sustained data rate is pegged at 149Mb/s, average latency at a quick 4.16ms.
Barracuda XT drives come in capacities ranging from 2TB to 3TB and true to flagship form, are protected by a fantastic 5 year limited warranty. The Seagate 3TB Barracuda XT SATA III hard drive retails for around $389 CDN ($389 USD, £190 GBP) at expensive Newegg.ca and $369 CDN at the always competitive CanadaComputers.com.
So why the 2.1TB limit?
Put simply, most desktop PCs built before 2011 can only count a finite number of 512 byte sectors.

Seagate Barracuda XT 3TB Hard Drive

Model: Seagate ST33000651AS
Type : Hard Disk Drive

Capacity: 3.0TB (7200RPM, five-platters)
Interface: 6Gb/s SATA III / NCQ
Standard Drive Cache: 64MB
MSRP Price: $389 USD
Put less simply, hard drives are split up into little sectors called Logical Block Addresses (LBA). Each LBA sector is 512 bytes, and if I've got this right, its particular location in the partition is 'addressed' by a 32-bit value in the Master Boot Record (MBR). According to nerds much smarter than I, the largest possible size of a file in this environment is given to be 4,294,967,295 bytes. Thus by multiplying 4,294,967,295 bytes by 512-byte sectors you get the limit of 2,199,023,255,040 bytes - otherwise known as 2.19TB.
If you want to boot off a 3TB hard drive, it gets somewhat more complicated....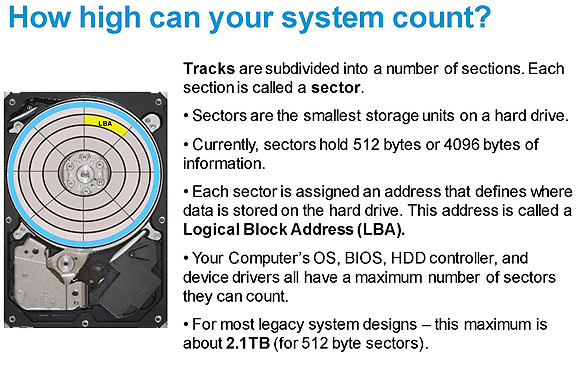 Microsoft Windows Vista SP1 and Windows 7 support a new '4K advanced format' Logical Block Address of 4096 bytes, which was introduced as an industry standard in Jan 2011. However, to boot off a 3TB drive the computer requires 1) not only a 4096 byte Long LBA capable operating system like Win 7 x64, 2) but a hard drive with a GUID Partition Table (GPT) (legacy MBR partitions don't support this), 3) a Unified Extensible Firmware Interface (UEFI) BIOS and 4) a HDD driver.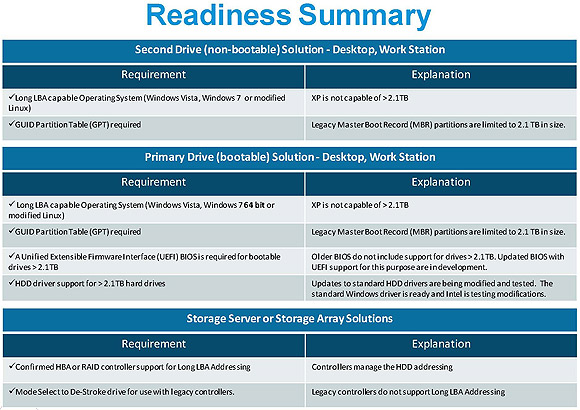 ( For more information in Advanced Format 4K Sector Hard Drives, Seagate has a comprehensive white paper here. )
To circumvent ALL these challenges, Seagate supply a free program called Disk Wizard with the 3TB Barracuda XT that gets around the 2.1TB limitation by essentially making any capacity beyond 2.1TB visible as a virtual drive and partition.
This approach allows the Barracuda XT to be used in Windows XP/Vista/7 x64 and x32 operating systems, with UEFI or legacy BIOS motherboards. The only concession you make is installing one bit of software and accepting that your lovely 3TB drive is split up into 2.1TB and 0.8TB partitions.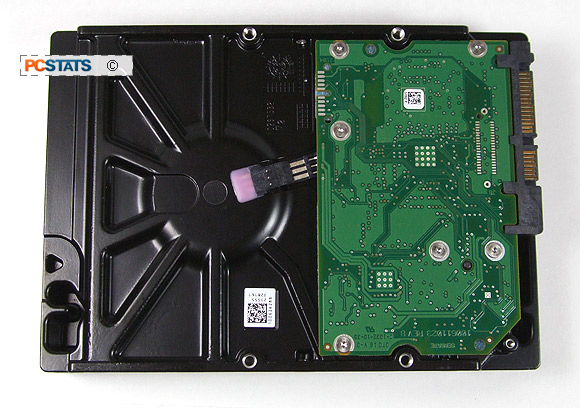 Seagate's Solution to the 2.1TB Barrier - DiskWizard
To get around the 2.1TB limit and open up the full 3TB of drive space on the Seagate Barracuda XT ST33000651AS you'll need to install Seagate DiskWizard. This application is coded up by Acronis and available here: https://www.seagate.com/beyond-2tb.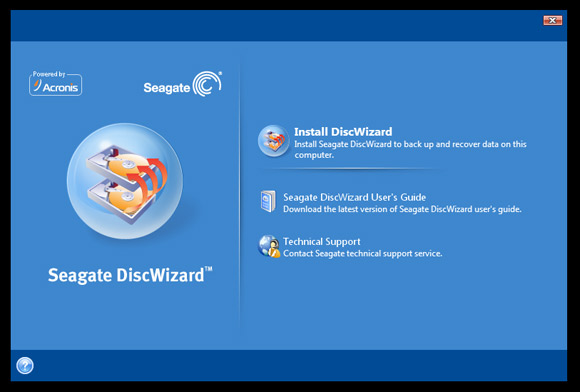 Before installing the Seagate DiskWizard software, the 3TB hard drive shows up like this in the Windows 7, Disk Management console.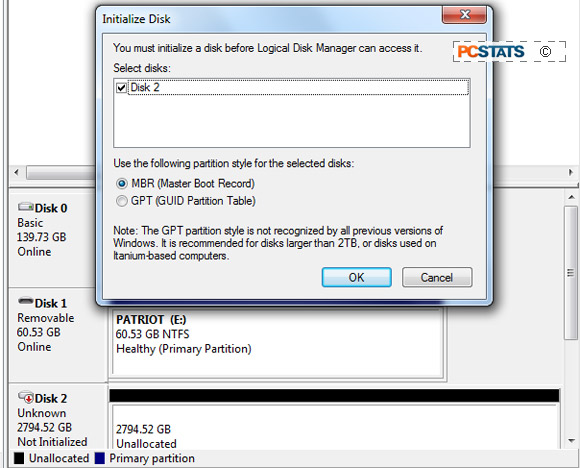 Once initialized, the full 3TB drive is broken down to a 2.19TB partition which is accessible and a 0.8TB partition which is not. So to get around this PCSTATS installed Seagate DiskWizard and let it rip on the 3TB Barracuda XT SATA III hard drive. See what happens after the jump.