Every time an integrated graphics motherboard crosses the PCSTATS test bench, we find ourselves dreaming up a new Home Theatre PC build... This time around PCSTATS is considering the merits of the little black Biostar TH67XE motherboard as a really economical way to assemble a comprehensive office or home PC with a minimum of parts buying. The level of integration present here, makes the Biostar TH67XE naturally very quiet too - without a videocard, the only fans in the system need be a CPU heatsink and power supply.
The powerful socket LGA1155 Sandy Bridge processor may have the integrated graphics core, but it's the Intel H67 chipset which makes it possible to output HD video content via HDMI and Display Port to a big screen HDTV. The TH67XE can also support a couple LCD monitors for a cost effective dual screen office PC. The only thing this board really cannot do... is overclock.
The Biostar TH67XE motherboard that PCSTATS is reviewing today supports one PCI Express 2.0 x16 videocard , a must if DX11 gaming is something you're planning on - the Intel HD 2000/3000 IGP in Sandy Bridge processors is only DX10.1 compliant after all. The really nice aspect to this Biostar motherboard is that it features DVI-D, Analog VGA, HDMI 1.4 and Display Port video outputs. Two of the video outputs may be used at any one time. In keeping with its HTPC lineage, the TH67XE platform supports THX TruStudio Pro Technology audio.
Biostar's TH67XE motherboard is built around the Intel H67 B3 revision chipset and supports socket LGA1155 Intel 2nd Generation Core i3/i5/i7 2xxx-series 32nm Sandy Bridge processors. On the storage front, the board has two 6Gb/s SATA III ports and three 3Gb/s SATA II ports. There are no IDE or FDD connectors, but one eSATA II port for external storage devices at the rear I/O. A UEFI BIOS ensures support for hard drives larger than 2TB. Dual USB 3.0 ports are handled by a discreet NEC controller as USB 3.0 is not natively supported in the Intel H67 chipset.

Biostar TH67XE Motherboard ver 5.1/5.2




INCLUDES: User's Manual, Driver DVD, (3) SATA cables, SATA power cable, Cable wrap, I/O Shield.

Chipsets: Intel H67 Express B3-stepping
CPU Support: Intel Socket LGA1155
Memory Type: Dual Channel DDR3
Videocard Support: (1) PCI Express x16 2.0 (red slot is PCI-E x1)


Estimated Price: $90 USD / £60 GBP / $90 CDN
The microATX Biostar TH67XE motherboard is equipped with one PCI Express 2.0 x16 videocard slot that runs with 16-lanes of bandwidth (in white); a second physical PCI-E x16 slot (in red) actually runs at PCI Express x1 levels. Rounding out the expansion slots are a PCI Express 2.0 x1 and legacy PCI slot. The board has four dual channel DDR3-1066/1333 memory slots that can be installed with up to 16GB of DDR3 RAM.
Rear I/O and internal connectivity includes: two USB 3.0 ports, ten USB 2.0 (four at the rear I/O, six off internal headers), two firewire (one rear I/O, one header), one eSATA, one Gigabit network jack, the standard assortment of Intel High Definition 8-channel audio (optical S/PDIF included) and four video outputs pictured below.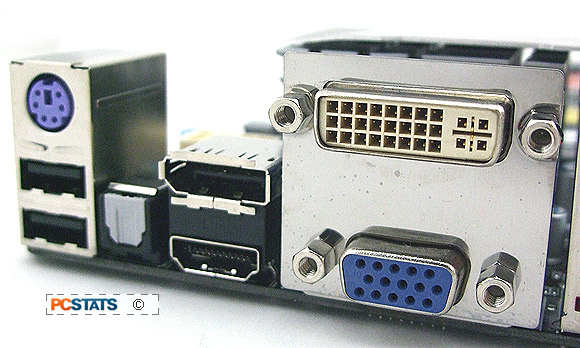 The integrated graphics video ports on the Biostar TH67XE include a DVI-D, Analog-VGA, HDMI and Display Port connection. Any two of the video outputs can be used at once, so configuring dual monitors at the office is a breeze
Biostar's TH67XE motherboard retails for around $90 CDN, ($90 USD, £60 GBP), a good value considering all the options integrated into the platform and the excellent assortment of video-outputs.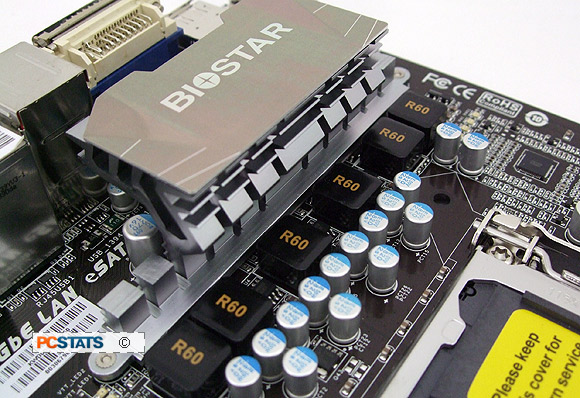 Before we get to benchmarking though, let's take a closer look at what makes this motherboard tick. Here we see the TH67XE's 7-phase VRM power supply which uses solid state capacitors.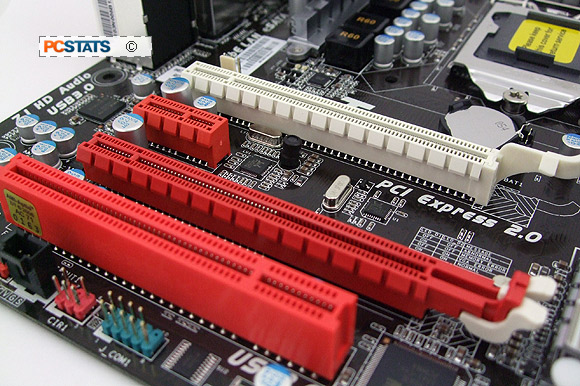 Next up, PCSTATS takes a quick look at the Intel H67 chipset, features common to the H67/P67/Z68 and tests Intel Quick Sync