By now we should know that integrated graphics is perfectly fine for everyday desktop work and even the occasional game at light image quality settings and modest screen resolutions. Integrated Graphics (IGP) can save you a ton of money when building a workstation PC, it's for this very reason why your office computer is probably running on IGP graphics right now.
The integrated graphics core at the heart of all Sandy Bridge processors is good for modest DX10.1 gaming, at best. It's not a realistic substitute for mainstream graphics cards, which is why the ECS H67H2-M motherboard PCSTATS has on the test bench today features a PCI Express x16 2.0 videocard slot.
To be fair, Intel has squeezed consistent and incremental improvements from it IGP stables, for the purposes of this review we'll be considering the Intel HD 3000 graphics core contained in the hallowed silicon of the Intel Core i5 2500K processor. This graphics core is clocked at 1000MHz and completes 3DMark Vantage about 4.3X faster than AMD's 990GX IGP, but roughly 2.5X slower than AMD's purpose bred A8 Fusion APU. Further complicating your decision process is how the AMD APU stacks up to an Intel Sandy Bridge processor in office applications - Sandy Bridge comes out a good 20% ahead in many office-oriented benchmarks.
Media transcoding is a one region both Intel and AMD have focused their collective processor powers on. Intel SmartSync gets the job done significantly faster in this respect, but transcoding isn't a deciding factor to most computer users PCSTATS has spoken to. In any event, on the review bench today PCSTATS tests the ECS H67H2-M Black Edition microATX motherboard, built on the Intel H67 B3-stepping chipset and supporting socket LGA1155 Intel 2nd Generation Core i3/i5/i7 2xxx-series 32nm Sandy Bridge processors.

ECS H67H2-M Motherboard




INCLUDES: User's Manual, Driver DVD, (4) SATA cables, eSATA bracket, I/O Shield.

Chipsets: Intel H67 Express B3-stepping
CPU Support: Intel Socket LGA1155
Memory Type: Dual Channel DDR3
Videocard Support: (1) PCI Express x16 2.0


Estimated Price: $125 USD / £80 GBP / $125 CDN
The Intel H67 chipset makes it possible to output HD video content via HDMI or Display Port to a big screen HDTV, or hook up dual LCD displays over Analog VGA and DVI monitor connections. The only aspect this board really can't handle is overclocking - a limitation of the H67 chipset. Two of the video outputs may be used at any one time, and in keeping with its HTPC lineage, the H67H2-M platform supports 8-channel Intel High Definition Audio care of the Realtek ALC892 PHY.
On the storage front, the ECS H67H2-M board has two 6Gb/s SATA III ports and three 3Gb/s SATA II ports. There are no IDE or FDD connectors, but one eSATA II port and one eSATA bracket for hooking up external storage devices at the rear I/O. Dual USB 3.0 ports are handled by a discreet ETRON controller as USB 3.0 is not natively supported in the Intel H67 chipset. Unique to many Intel H67 boards PCSTATS has tested are the dual 1GbE Ethernet ports the H67H2-M provides.
The microATX ECS H67H2-M motherboard is equipped with one PCI Express 2.0 x16 videocard slot that runs with 16-lanes of bandwidth. Rounding out the expansion slots are two PCI Express 2.0 x1 slots and one legacy PCI slot. The board has four dual channel DDR3-1066/1333 memory slots that can be installed with up to 16GB of DDR3 RAM.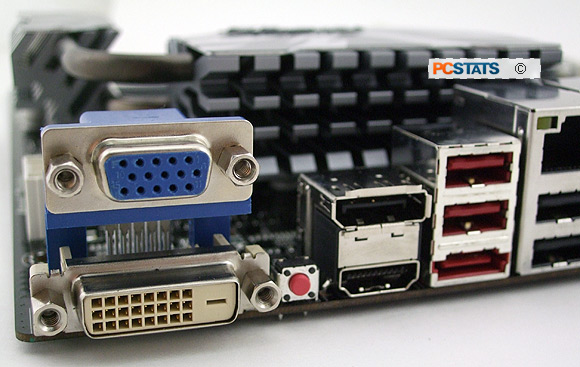 With the H67H2-M Black Edition motherboard you have a fantastic choice of HDMI, Display Port, DVI and Analog VGA video outputs to choose from! Any two of the four video outputs can be used at the same time to take advantage of the Intel HD 3000 integrated graphic core made available by the Sandy Bridge + Intel H67 chipset combo. The HDMI and Display Port video outputs support resolutions of 1920x1200. The DVI port goes to 1920x1200 (WUXGA) while the Analog VGA supports 2560x1600.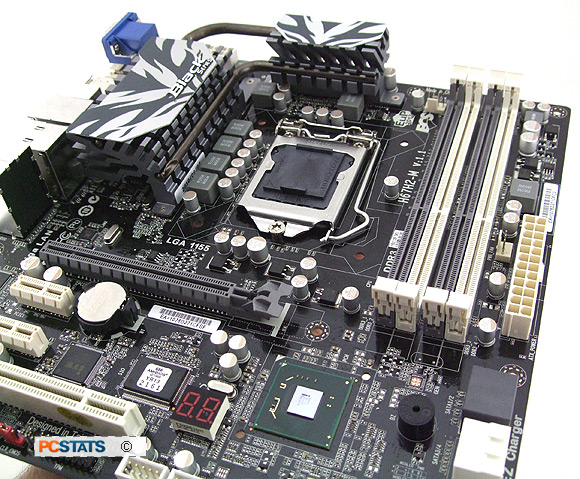 ECS' H67H2-M motherboard retails for around $125 CDN, ($125 USD, £80 GBP), a good value considering all the options integrated into the platform and the excellent assortment of video-outputs.
ECS has put serious efforts into improving the build quality of its boards, the H67H2-M utilizes Japanese made solid-state capacitors, extra-thick gold plating on the DRAM and CPU socket pins and heatpipe cooling for the board's power MOSFETs.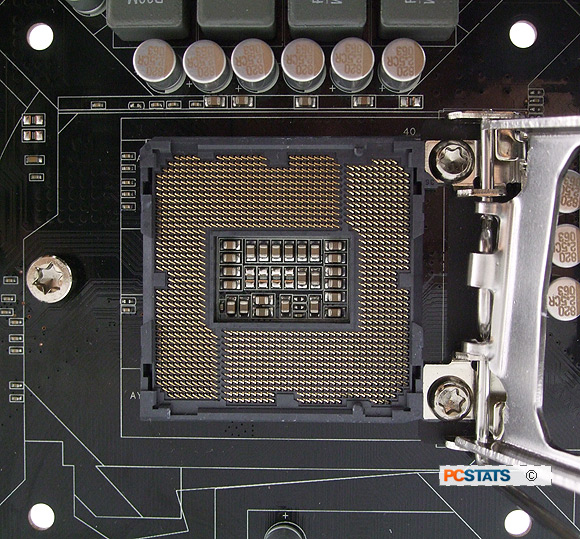 Before we get to benchmarking though, let's take a closer look at what makes this motherboard tick.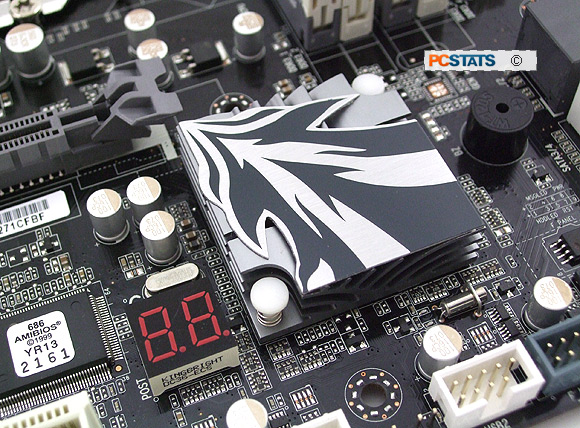 Next up, a 360-degree look at the H67H2-M Black Edition motherboard.