The ASUS P8H67-M Evo is a decent Intel H67 based microATX motherboard for mainstream computer builders focused on the popular socket LGA1155 Intel 2nd Generation Core i3/i5/i7 2xxx-series 32nm Sandy Bridge processor family.
The ASUS P8H67-M Evo supports one PCI Express 2.0 x16 videocard (x16 mode) and up to 32GB of dual channel DDR3-1066/1333 memory in 64-bit operating systems like Windows 7. Beyond the stock Intel H67 feature set, ASUS' P8H67-M Evo motherboard includes two USB 3.0 ports care of the uncommon ASmedia AS1040 controller, an IDE connector (that's rare these days!), eSATA II port via the low end Marvell SE6111 controller, four different video outputs (any two of which can be used for dual-monitor set ups) and an assortment of ASUS-gimicks like GPU Boost, EPU and MemOK.
The addition of an IDE connector is certainly novel and will appeal to users upgrading older PC systems with a new motherboard and CPU, but the bare minimum of two SATA III 6Gb/s and USB 3.0 ports is kind of disappointing. There's one other area where ASUS have taken a rather odd path... graphics.
If you're looking at an Intel H67 motherboard chances are good it's because you want to run your PC on Sandy Bridge's integrated graphics core, perhaps to take advantage of the media transcoding capabilities of Intel SmartSync. The Intel HD 2000/3000 IGP is more than sufficient for everyday desktop work and even a little bit of DX10.1 gaming at light image quality settings and modest resolutions. That being said, integrated graphics are under-powered compared to even mainstream graphics card. In this context we find it a little amusing that ASUS are selling the P8H67-M Evo motherboard as a "Quad-GPU CrossFireX" platform. The two physical PCI Express x16 2.0 slots operate at x16 and x4 mode, but who in their right mind would run two dual-GPU videocards on a microATX motherboard?
Board expansion is limited to the aforementioned PCI Express x16 2.0 slots (x16/x4), one PCI Express x1 slot and one PCI slot. The board has four RAM slots that can be installed with up to 32GB of DDR3 memory.

ASUS P8H67-M Evo Motherboard




INCLUDES: User's Manual, Driver DVD, (3) SATA cables, (1) IDE cable, eSATA/USB bracket, I/O Shield.

Chipsets: Intel H67 Express B3-stepping
CPU Support: Intel Socket LGA1155
Memory Type: Dual Channel DDR3
Videocard Support: (2) PCI Express x16 2.0 (x16/x4)


Estimated Price: $133 USD / £90 GBP / $134 CDN
Where media PCs and Home Theatre PCs are concerned, the Intel H67 chipset makes it possible to output HD video content via HDMI or Display Port to a big screen HDTV with little platform cost. The Display Port is good to resolutions of 2560x1600 and HDMI to 1920x1200. Office systems typically require two LCD displays these days - the P8H67-M Evo motherboard supports dual monitors over Analog VGA and DVI monitor connections (2048x1536 and 1920x1200 resolution, respectively).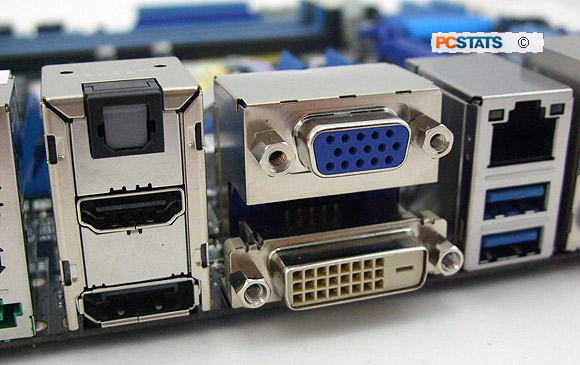 The ASUS P8H67-M Evo platform supports 8-channel Intel High Definition Audio care of the Realtek ALC892 PHY, via standard 1/8" headphone jacks and an optical SP/DIF connector.
On the storage front, the ASUS P8H67-M Evo motherboard has two 6Gb/s SATA III ports, four 3Gb/s SATA II ports, an IDE connector and one 3Gb/s SATA II jack. Two USB 3.0 ports are present on the rear I/O along with four USB 2.0 jacks. A further eight USB 2.0 jacks, two IEE1394 are available via headers or off the I/O. One USB 2.0 bracket / eSATA bracket is supplied. Rounding out connectivity is a 1GbE Ethernet port.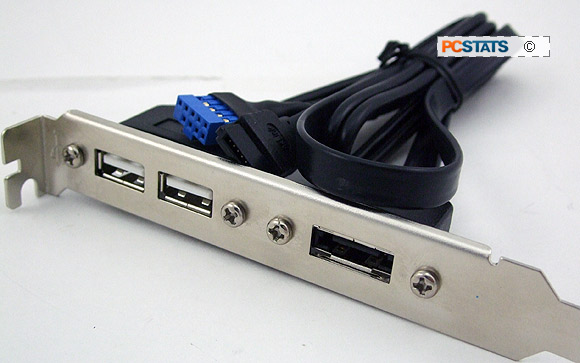 ASUS' P8H67-M Evo motherboard retails for around $133 CDN, ($133 USD, £90 GBP), a little higher than competing Intel H67 boards with a similar feature set.
ASUS EFI / UEFI BIOS
The Unified Extensible Firmware Interface (UEFI) BIOS is a long overdue upgrade to the standard blue-screen BIOS we're all familiar with. Aside from some technical system requirements like support for new 3TB drives, the UEFI BIOS is most often simply described as 'the BIOS that works with a mouse.'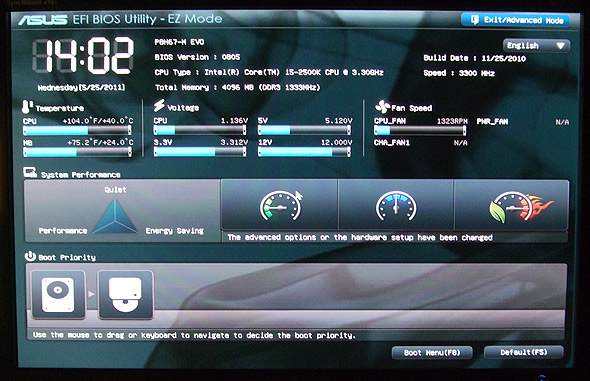 Most UEFI BIOS' that PCSTATS has encountered are cluttered with needless eye candy and charts or graphs that represent things in a newbie friendly manner you can find in Windows... In all honesty, PCSTATS really doesn't like UEFI BIOS interfaces - they are SLOW and laggy to navigate, the options tend to be poorly organized as well.
The ASUS EFI BIOS Utility is pictured above and if you want to know what a hardware reviewer with 10 years experience testing motherboards thinks of it, I'd say I hate it. A more detailed look at the BIOS options of the ASUS P8H67-M Evo in a bit.
Next up, a 360-degree look at the ASUS P8H67-M Evo motherboard.