The ASUS P8P67 Pro motherboard is a pretty standard platform with a good feature set, ideal for mainstream overclockers and gamers. Along with the dual PCI Express x16 slots for x8/x8 SLI/Crossfire, ASUS include SATA III, USB 3.0, a powered eSATA port for external storage devices, integrated Bluetooth v2.1 ( particularly unique and handy for smart phone interfacing ), 8-channel audio with DTS Surround and a whack of proprietory ASUS stuff that's guaranteed to glaze your eyes over.
These ASUS technologies include; ASUS Digi+ VRM (12+2 phase power control), Dual Intelligent processors, EPU (power efficiency tuning), TPU (auto tuning TurboV), BT GO! (Bluetooth tools for file transfer and sync), BT Turbo Remote (a smart phone interface), and MemOK (bad memory testing). On top of that, there's the usual assort of names given to blatantly common aspects of a motherboard such as; AI Suite II, Anti Surge, EFI BIOS EZ Mode, AI Charger, Fan Xpert, Q-Fan, Q-Shield, Q-Connector, OC Tuner, CrashFree BIOS 3, EZ Flash 2, Q-LED, Q-Slot, Q-DIMM, Precision Tweaker 2, Stepless Frequency Selection, CPU Parameter Recall. The kicker has got to be the motherboard screw holes - 'Easy 9-Hole Super Grounding Brilliant Lock Washer III'!
Okay, we totally made that last one up. It's just that ASUS gets a little OCD with excessive NAMING of minor 'features' and this drives us absolutely frickin' crazy. Bad ASUS. BAD!
Moving on. The ASUS P8P67 Pro motherboard is built around the Intel P67 chipset and supports 32nm socket LGA1155 2nd Generation Intel Core i3/i5/i7 2xxx-series 'SandyBridge' processors. The full size ATX board has three physical PCI Express x16 slots, but this is a bit misleading as only the first two are really useful for videocards (in x16 or x8/x8 Crossfire/SLI configurations). The third PCI-E x16 slot runs at x1 mode and shares resources with not only the PCI Express x1 slots, but also USB 3.0 and eSATA ports.
Remaining expansion options consist of a pair each, of PCI Express x1 and PCI slots. The ASUS P8P67 Pro motherboard is equipped with four DDR3 memory slots that accommodate up to 32GB of dual channel DDR3-1066/1333/1600/1866/2133/2200 memory. Extreme Memory Profile (XMP) RAM is supported as you would expect.

ASUS P8P67 Pro Motherboard




INCLUDES: User's Manual, Driver DVD, (4) SATA cables, USB 3.0 bracket, 2-way SLI bridge, Q-Connector, I/O Shield.

Chipsets: Intel P67 Express,
CPU Support: Intel Socket LGA1155
Memory Type: Dual Channel DDR3
Videocard Support: (2) PCI Express x16 2.0 (x16 or x8/x8) and (1) PCI Express x16 2.0 @ x1


Estimated Price: $180 USD / £115 GBP / $180 CDN
On the storage front, the board offers up four 6Gb/s SATA III ports, four 3Gb/s SATA II ports, two 3Gb/s SATA II eSATA jacks (one powered), two USB 3.0 ports at the rear I/O along with two more via hader (USB 3.0 bracket included). The two 6Gb/s SATA III and four 3Gb/s SATA II ports coming off the Intel P67 chipset support RAID 0/1/5/10.
There are a grand total of twelve USB 2.0 ports spread out over a six jacks and three headers. Two IEEE1394 ports are available, via header and the I/O.

Rounding out connectivity is a single 1GbE Ethernet port and integrated Bluetooth connection. For those of you who run a lot of fans, you'll find two 4-pin PWM headers and two standard 3-pin fan headers. Acoustically, the ASUS P8P67 Pro is dead quiet. The chipset and motherboard VRM are cooled with styled extruded aluminum heatsinks. On the audio front, the platform supports the standard 8-channel Intel High Definition Audio care of the Realtek ALC892 PHY, via 1/8" headphone jacks and an optical/coaxial SP/DIF connector. The audio system is 'DTS Surround Sensation UltraPC' and 'BD Audio Layer Content Protection' compliant.
When it's all said and done, the Intel P67 based ASUS P8P67 Pro motherboard can be yours for around $180 CDN, ($180 USD, £115 GBP), one SLI-bridge connector is included. For a look at what the Intel P67 chipset has to offer, please see this.
Overclocking and ASUS
ASUS has done a lot to curry the favour of the overclocker set in recent years, going so far as to provide thorough step-by-step overclocking guides to reviewers. With an unlocked Sandy Bridge processor PCSTATS was able to overclock nicely with this board, as we'll document a little later.
Desktop overclockers are kind of screwed if they choose the ASUS P8P67 Pro. There's no on-board Port 80 card, just two PWM fan headers, no physical Clear CMOS button and no physical Power or Reset buttons for easy access! The ASUS P8P67 Pro is thus kind of a pain to tweak.
On the other hand, ASUS' overclocking BIOS voltage controls are fantastically granular; vCore is adjustable to 0.005V and vCCIO to 0.00625V! Voltage adjustments for vDRAM, vPCH and vCPU_PLL range from 90-to-160 steps, which is great. But for all the pointless buttons like TPU and EPU which could have been relegated into the BIOS (in our humble opinion), ASUS didn't bother to add one single physical button for the most often used thing an overclocker looks for - power and reset! Go figure.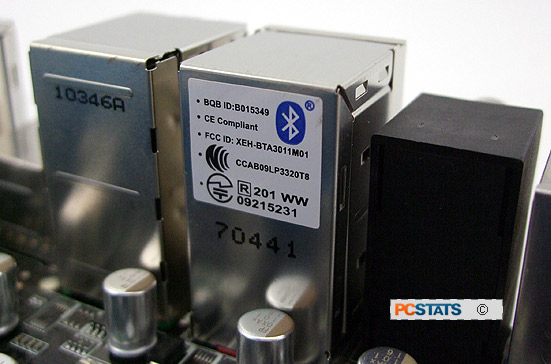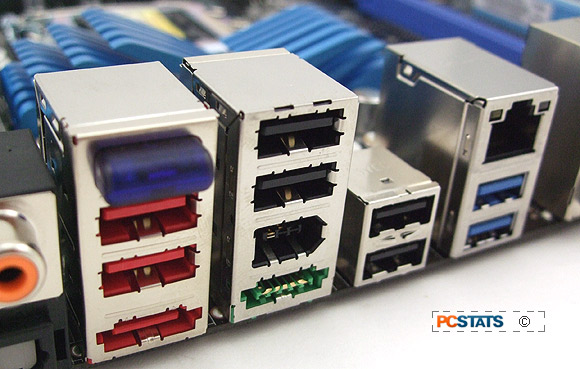 Onboard BlueTooth V2.1 located at the rear IO. BT is useful for syncing up with a smart phone.
ASUS EFI / UEFI BIOS
The Unified Extensible Firmware Interface (UEFI) BIOS is a long overdue upgrade to the standard blue-screen BIOS we're all familiar with. Aside from some technical system requirements like support for new 3TB drives, the UEFI BIOS is most often simply described as 'the BIOS that works with a mouse.'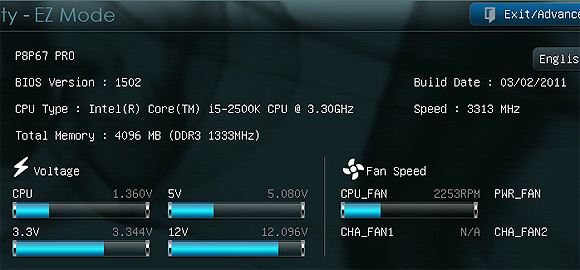 Most UEFI BIOS' that PCSTATS has encountered are cluttered with eye candy and charts or graphs that represent things in a newbie friendly manner. In all honesty, UEFI BIOS interfaces come across as SLOW and laggy to navigate, the options tend to be poorly organized as well.

Next up, a 360-degre up close look at the ASUS P8P67 Pro in the motherboard gallery...