Seagate GoFlex eSATA Upgrade Cable
The eSATA interface adaptor cable (model: STAE103) is 18" long and only works with powered eSATA ports. If your PC only has regular eSATA ports, this cable will not work. The FreeAgent GoFlex hard drive is entirely powered over its data cable, so only the somewhat newer style of POWERED eSATA ports will allow this drive to function.
The tricky bit is knowing the difference between standard eSATA and powered eSATA ports.... since technically they are the same connector. Powered eSATA ports will have a few extra pins visible since it's essentially a USB port and eSATA port combined; the USB electrical pins supply the power and the eSATA pins transmit the data.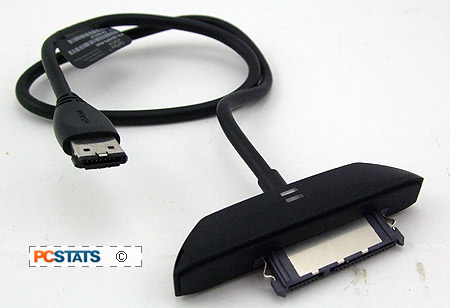 Powered eSATA Cable (optional extra)
Seagate GoFlex FireWire 800 Upgrade Cable
The FireWire 800 upgrade cable (model: STAE102) is 18" long and works with Mac OS-X 10.4.9 operating systems and higher. Obviously, the Mac computer will need a FireWire800 port available. Many PC systems feature a IEEE1394 FireWire 400 port ( 6-pin or 4-pin ), but this standard is not physically compatible with the IEEE1394b FireWire 800 interconnect.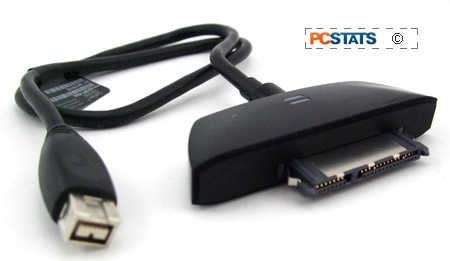 Firewire 800 Cable (optional extra)
Seagate FreeAgent GoFlex TV HD Media Player Integration
Just for reference, here's how the FreeAgent GoFlex ultra-portable hard drive interfaces with Seagate's GoFlex TV HD Media Player. With the drive locked into the bay, all the digital content on its 500GB worth of platters can played to any connected HD Television. It's awesome technology like this that's putting the nail in the coffin of Cable Television, On-Demand TV, DVD, Blu-Ray, VHS, BETA, LaserDisk... you name it.
The FreeAgent GoFlex ultra-portable drive ships with a couple programs on the disk, including Seagate Dashboard Software for backing up and synchronizing data. PCSTATS will look at this application next, along with a couple not so useful pieces of bloatware Seagate tack on.