Although Seagate's 500GB FreeAgent GoFlex ultra-portable hard drive is actually a mechanical 2.5" laptop SATA hard drive, the unit is still just a simple external storage device. Thus, instead of applying standard hard drive benchmarks to suit the memory format, PCSTATS has selected a simple benchmark suite for Removable Storage Devices.
These benchmarks are applicable to any type of external storage medium (ie. USB 2.0, USB 3.0, e-SATA, or Firewire) and any kind of memory format (ie. HDD, SSD, flash thumb drive memory). When it comes to external storage the primary role is moving files to and from internal storage devices, although many users also commonly work off external storage devices.
SiSoft Sandra 2011
Source:Sandra
Sandra is designed to test the theoretical power of a complete system and individual components. The numbers taken though are again, purely theoretical and may not represent real world performance. Higher numbers represent better performance. The best results for each column are in bold.
Sandra 2011 Multi-Filesize Read / Write Tests (MB/s)
( higher numbers are better )
Cap.
Data Interface
4 KB Test
(MB/s)
64 KB Test (MB/s)
1MB Test
(MB/s)

16MB Test
(MB/s)

256MB Test
(MB/s)
Read
Write
Read
Write
Read
Write
Read
Write
Read
Write
Seagate FreeAgent GoFlex (USB2.0)
500GB
USB 2.0
6.0
0.43
20.85
12.15
28.72
19.0
32.80
25.80
32.62
26.83
Seagate FreeAgent GoFlex (eSATA)
500GB
eSATA
18.2
1.21
29.20
12.54
55.36
46.5
71.85

33.49

76.83
37.00
Patriot Memory
(USB 3.0)
64GB
USB 3.0
5.82
0.233
53.33
3.24
67.5
15.81
96.34
18.56
122.39
45.76
Supertalent Luxio
(USB 2.0)
64GB
USB 2.0
3.0
0.129
25.15
2.24
29.24

8.7

30.36
10.78
29.12
15.00
In Sandra's removable storage Read and Write data transfer test, we get a sense of how Seagate's 500GB FreeAgent GoFlex ultra-portable hard drive will react to different file sizes. The FreeAgent GoFlex sees a peak data transfer rates of 76.83MB/s (read) over the eSATA data connection (256MB test files) and 46.5MB/s (write) over the eSATA data connection with 1MB test files. By comparison, the USB 2.0 interface to the FreeAgent GoFlex is a lot slower.
A USB 3.0 upgrade cable was not available at the time of this review for PCSTATS to test with the GoFlex drive.
8.5GB Single File Time/Transfer Test
For this test a single 8.5GB, high definition 1080p .MKV movie file is copied from a 120GB SSD system disk to the removable storage device (copy to), then from the removable storage device to the 120GB SSD system disk (copy from). While this test is influenced by the system disk SATA controller and by the number of files being transferred, it provides a simple real world indication of sustained transfer rates. Higher transfer speeds and lower transfer times are best.
8.5GB Single File Time/Transfer Test
( Lower times are best )
Removable Storage
Cap.
Data Interface
Copy TO
Removable Storage
Copy FROM Removable Storage
Speed
Time
Speed
Time
Seagate FreeAgent GoFlex HDD
500GB
Firewire 800
n/a
n/a
n/a
n/a
Seagate FreeAgent GoFlex HDD
500GB
USB 3.0
n/a
n/a
n/a
n/a
Seagate FreeAgent GoFlex HDD
500GB
USB 2.0
31MB/s
4:28
31MB/s
4:30
Seagate FreeAgent GoFlex HDD
500GB
eSATA
53MB/s
2:36
49MB/s
2:50
Patriot Memory USB 3.0
65GB
USB 3.0
52MB/s
2:39
53MB/s
2:36
Supertalent Luxio USB 2.0
64GB
USB 2.0
18MB/s
7:33
28MB/s
4:54
The single large file time transfer test (a.k.a. the BitTorrent movie sharing test) is a sign of the times; how long must you wait to share a HD 1080p movie with a friend, or wait to copy an HD 8.5GB MKV file over to watch on a home media player? :)
First off, a Firewire 800 port doesn't exist in the PCSTATS labs... so scratch that test. The USB 3.0 interface adaptor was stuck in the back of a Fedex truck... so PCSTATS made due with the stock USB 2.0 interface adaptor and the powered eSATA interface adaptor to connect the 500GB FreeAgent GoFlex portable hard drive to the test computer system.
When connected via USB 2.0 port, the 500GB Seagate FreeAgent GoFlex Ultra-Portable hard drive can transfer a single 8.5GB test file to the PC at a rate of about 31MB/s, or about four and half minutes. The same test repeated over eSATA cable yields a quicker rate of about 49-53MB/s, or a time about two and a half minutes.
Clearly, eSATA beats USB 2.0! In any case, the 500GB Seagate FreeAgent GoFlex is comparably quick to both standard high capacity USB 2.0 thumb drives and USB 3.0 thumb drives, depending on the interface adaptor interface adaptor connected to the core drive.
Brilliantly Useful Portable Hard Drive System
There's not much to a portable external hard drive that should need explaining. Plug it in, copy files and folders over and carry your data away - the quicker the file transfer goes and the more computers you can connect to, the better. It's as simple as that.
Seagate's 500GB FreeAgent GoFlex drive works very well and offers the added advantage of being continually upgradable... The model PCSTATS received for testing shipped with a common USB 2.0 interface cable, fine for most situations but also easily replaceable. Pick up a powered eSATA cable for large backup sessions, a FireWire 800 (if we used Mac) for streaming video or even a USB 3.0 interface cable to move around 8.5GB HD .MKV movies. There's even a Thunderbolt adaptor that's become available since FreeAgent GoFlex drive was originally released. On top of all this flexibility, the core drive doubles up as removable storage for Seagate's very handy GoFlex HD TV Media Player!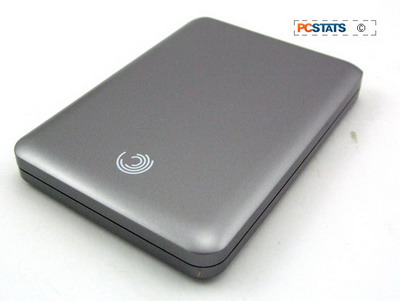 The drive casing itself has the kind of solid build quality feel that makes us confident it can be tucked into a bag and taken abroad to a trade show to back up photos. Often, those plastic shells you buy for about $15 and slap an old 2.5" laptop drive into, feel flimsy and creak just handling them. PCSTATS is glad to see none of that shoddy quality here.
Seagate back the $110 USD 50GB FreeAgent GoFlex drive with a two year warranty.
With a demonstrated peak data read speed of 76MB/s in the 256MB/eSATA cable test, and typical write speed of 53MB/s, Seagate's 500GB FreeAgent GoFlex ultra-portable hard drive is well paced against competing USB based solid state thumb drives, but with significantly larger storage capacity.
The core 500GB FreeAgent GoFlex drive ships with a USB 2.0 interface cable, so we highly recommend spending a couple extra bucks on the USB 3.0 interface adaptor. Other higher capacity GoFlex drives may ship with the USB 3.0 interface cable, so keep you eye open for that. USB 3.0 is a heck of a lot faster that USB 2.0 and backwards compatible with the older standard so there's nothing to lose.
To sum up, the Seagate FreeAgent GoFlex ultra-portable hard drive may have the longest and most unruly name, but this 500GB external portable drive is one device PCSTATS highly recommends.
Find out about this and many other reviews by joining the Weekly PCstats.com Newsletter today! Catch all of PCSTATS latest reviews right here.
Related Articles
Here are a few other articles that you might enjoy as well...
- IcyDock MB994SP-4S Four-bay 2.5-inch SATA/SAS Hard Drive Rack Review
- Seagate 3TB Barracuda XT 6Gb/s SATA III Hard Drive Review
- Seagate 750GB Momentus XT Solid State Hybrid Hard Drive Review
- Beginners Guide: Intel Smart Response Technology and Intel 311 Larson Creek SSD
- Seagate 2TB Barracuda XT 6Gb/s SATA III Hard Drive Review
- IcyDock MB973SP-B Tray-less 3-Bay SATA Hard Drive Bay Module
- Seagate 500GB Momentus XT Solid State Hybrid Hard Drive Review
- Plextor PX-128M1S 128GB Solid State Drive / SSD Review
- Seagate Barracuda XT Preview - Worlds First SATA 6Gb/s 2TB Hard Drive
- Western Digital Caviar Black WD1001FALS 1.0TB SATA Hard Drive Review