(front view)
To remove a 2.5" drive from the 4-bay MB994SP-4SB-1 unit, push in the little metal locking lever to release the catch and pull the bracket out.


(rear view)
At the back of the unit we find four SATA ports for each of the drive bays, a molex power connector and fan switch. The metal back plate is flush with the tops of the four SATA jacks, cables are well supported and there's little chance of a SATA socket being bent off. Two 40mm cooling fans draws air from the front and exhaust it into the PC case. The fans are pretty quiet when running and only turn on when there's a hard drive in one of the bays. When installed in the case a bright green LED indicates the status of the disk.
.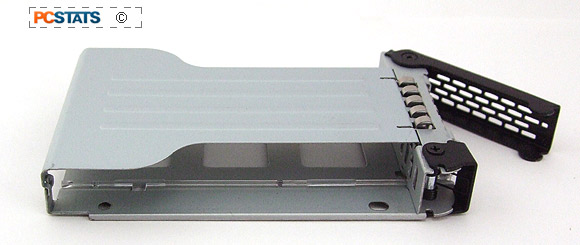 (drive caddy/bracket)
The steel drive bracket has enough vertical room for 15mm tall 2.5" drives. Although you do need to screw the drive in place from the bottom, PCSTATS prefers this approach over sliding a bare hard drive into a hard drive rack. When it comes time to RMA a hard drive, manufacturers like Western Digital and Seagate are increasingly refusing scratched and marked hard drives. With the caddy approach the HDD/SSD circuit board is suitably protected as well. At the front of the metal drive cage are flat stainless steel springs for EMI/RFI continuity.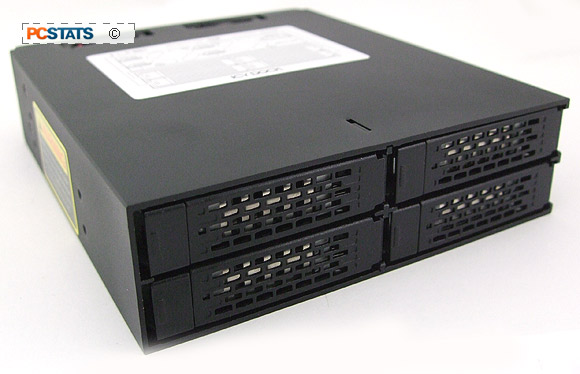 That's about all there is to the ICYDock MB994SP-4SB-1 multi-bay hard drive module since the device is effectively transparent to the SATA drives installed in it.
The only issue PCSTATS encountered while testing the IcyDock MB994SP-4SB-1 was occasionally the engagement between the steel drive caddy and the aluminum chassis was a bit sticky (the fit is loose). Conversely, when we want to remove a 2.5" drive, sometimes the catch will stick a bit.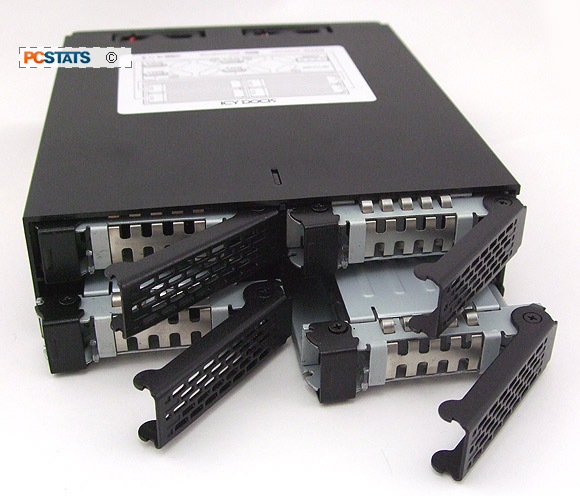 In both cases it wasn't problematic or impossible to seat correctly in a matter of moments. The IcyDock MB994SP-4SB-1 looks well made and is a compact and convenient way to mount four 2.5" SATA hard drives/solid state drives in one spare 5.25" bay. Given that optical drives are going the way of the Dodo, it's good to know older PC cases can be upgraded to keep up with technologies advances. The IcyDock MB994SP-4SB-1 four-bay 2.5-inch SATA hard drive rack is well worth considering and at $60USD it's not expensive.
Find out about this and many other reviews by joining the Weekly PCstats.com Newsletter today! Catch all of PCSTATS latest reviews right here.
Related Articles
Here are a few other articles that you might enjoy as well...
- 500GB Seagate FreeAgent GoFlex Ultra-Portable Hard Drive Review
- IcyDock MB994SP-4S Four-bay 2.5-inch SATA/SAS Hard Drive Rack Review
- Seagate 3TB Barracuda XT 6Gb/s SATA III Hard Drive Review
- Seagate 750GB Momentus XT Solid State Hybrid Hard Drive Review
- Beginners Guide: Intel Smart Response Technology and Intel 311 Larson Creek SSD
- Seagate 2TB Barracuda XT 6Gb/s SATA III Hard Drive Review