It's not easy to install a couple 2.5" notebook hard drives in a desktop computer system since desktop cases are made for 3.5" HDDs and 5.25" optical drives. There are inexpensive 2.5"-to-3.5" metal brackets that solve this problem, but they waste bay space and tend to be overpriced for simple stamped sheet metal. Instead of jury-rigged approaches and cheap brackets, consider a hard drive rack that squeezes several small 2.5" hard drives into one single 5.25" bay slot.
The IcyDock MB994SP-4SB-1 is just such a unit - it packs (4) 2.5" HDD/SSD drives into the space of a single 5.25" drive bay and provides unified power and SATA hook ups at the rear. On top of its high density convenience, all four SATA drive bays are hot swappable without the need to pop off a side panel or disconnect cables.
A pair of 40mm fans are built into the back of the aluminum 4x2.5" rack to ensure airflow to keep drive temperatures in check. The fans only turn on when drives are installed, if you don't want to use them there's a small switch at the back.
The IcyDock MB994SP-4SB-1 unit supports (4) 2.5" SATA I / II / III HDD / SSD / SSHDs of up to 15mm thickness in the space of one single 5.25" drive bay. The IcyDock MB994SP-4SB-1 is made from extruded aluminum and each drive bay slide from steel. Painted black with green status lights at the front, the MB994SP-4SB-1 looks nice and should stand up to repeated use in a desktop, home theatre PC or even 1U server chassis. The ICYDock MB994SP-4SB-1 retails for about $60 USD.

IcyDock MB994SP-4SB-1 4-Bay 2.5" Hard Drive Rack

Model: MB994SP-4SB-1
Dimension: 146x41x170mm
Cooling: (2) 40mm fans
MSRP Price: $60 USD

Capacity: (4) 2.5" SATA Notebook HDD / SSD / SSHD
I/O Interface: (4) SATA and (2) 4-pin Molex power conn.
Bay Size: Occupies (1) 5.25" chassis bay

(Includes instructions and mounting screws)
To use, install a 2.5" SATA drive into one of the four metal brackets with the short screws that IcyDock supply for the task.


(supports 15mm thick 2.5" SATA drives)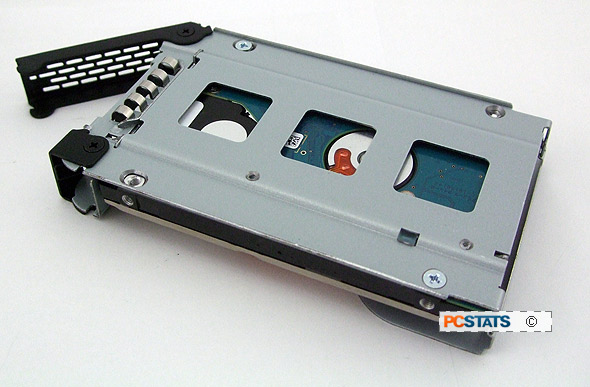 Then, slide the drive caddy into the ICYDock MB994SP-4SB-1 unit and push the front metal locking door closed.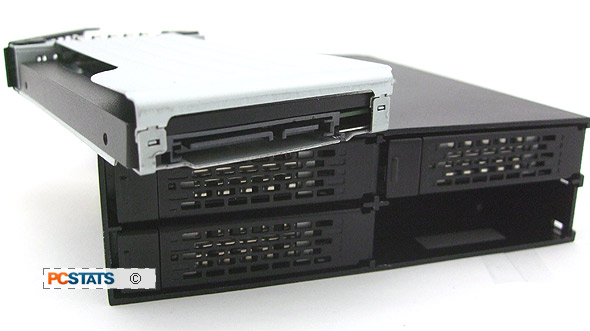 The drives' SATA data and power connectors automatically engage with the hot swap SATA backplane at the rear of the IcyDock MB994SP-4SB-1 and the green status LED comes on, along with the cooling fans. Provided the SATA ports are set to AHCI in the motherboard BIOS, the drive will become available to the operating system momentarily.
PCSTATS continues its look at the MB994SP-4SB-1 unit, right after the jump...