The AMD 990FX chipset has been out for a while now, yet Biostar's TA990FXE motherboard still gets you in the game with plenty of PCI Express lanes for Crossfire/SLI, and more SATA III connectivity than rival Intel's Z77 platform. What's not to like about all that? Let's dive in, take a close look at the Biostar TA990FXE board, overclock it and run a few pages worth of benchmarks through it's copper traces so you know what to expect.
The all black Biostar TA990FXE motherboard is of course built around AMD's 990FX Northbridge and SB950 southbridge chipsets. That means it supports the latest socket AM3+ AMD FX-series 'Bulldozer' CPU architecture and the preceding socket AM3 Phenom II and Athlon II processors - a degree of upgradability Intel has failed to match in recent years. What's particularly nice about the TA990FXE board is it's comprehensive feature set and extremely competitive sticker price, it retails for just $130 bucks!
Naturally overclocking friendly and multi-videocard compliant, this mainstream level AMD 900FX motherboard is ideal for gamers. Biostar is banking on savvy users who realize they can spend much less on an total AMD computer system that offers a bit less raw CPU performance, in turn reinvesting the savings into high-end videocards. That's what they call "smart computing".
The board's four DDR3 DIMM slots accommodate up to 32GB of dual channel DDR3-2000/1866/1600/1333/1066/800 memory under 64-bit operating systems like Windows 7. The AMD 990FX chipset is a versatile solution for running ATI Crossfire and with the proper BIOS update, this board also supports 2-way nVidia SLI. The TA990FXE board is equipped with two PCI Express 2.0 x16 slots for graphics cards, the third physical PCI Express x16 slot operates in x4 mode. A pair of Radeon videocards running in Crossfire will receive x16 lanes of PCI Express bandwidth each.

Biostar TA990FXE Motherboard




INCLUDES: User's Manual, Driver CD, (4) SATA cable, (2) CrossfireX bridge, I/O Shield.

Chipsets: AMD 990FX / SB950
CPU Support: AMD Socket AM3+
Memory Type: Dual Channel DDR3
Videocard Support: (2) PCI Express 2.0 x16

Estimated Price: $130 USD / £85 GBP / $130 CDN
While the AMD 990FX chipset has plenty of bandwidth to support add-in USB 3.0 controllers (AMD's 990FX chipset communicates with the CPU using HyperTransport 3 at 6.4GT/s) Biostar only integrate two SuperSpeed USb 3.0 ports at the rear I/O and two USB 3.0 ports via header. Four Superspeed USB 3.0 ports isn't bad, but more would be better.
The rear I/O is populated by four USB 2.0 ports, a 1394a Firewire connection, an eSATA jack, Gigabit LAN, optical S/PDIF optical/coaxial ports and the usual assortment of 7.1 channel audio stereo jacks.
Care of the AMD SB950 southbridge are five internal SATA connections (and the aforementioned eSATA connection) capable of 6Gb/s transfer rates. These can be configured to RAID 0, 1, 5 and 10 modes.
Biostar's take on the AMD 990FX is fairly conservative, fortunately what it lacks in bonus extras it delivers in cash savings. Expect to find the Biostar TA990FXE motherboard on retail shelves for less than $130 CDN, ($130 USD, £85 GBP).
360-Degree Motherboard Gallery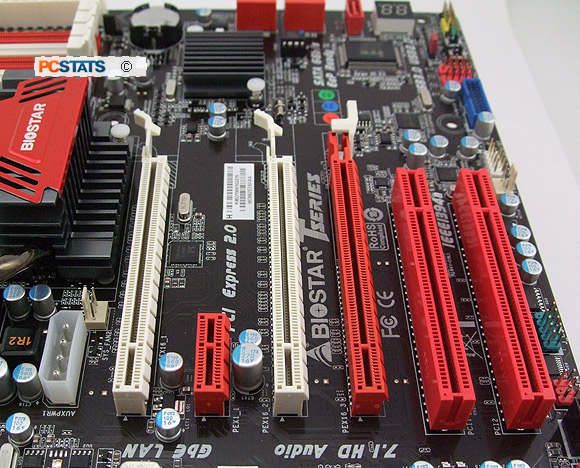 The white PCI Express 2.0 x16 slots support two-way SLI/Crossfire in (x16/x16) mode.
Biostar's TA990FXE motherboard supports two-way AMD Crossfire and two-way Nvidia SLI provided the board is installed with BIOS version99FADB24.BST. In both cases, dual videocard goodness is delivered through a pair of PCI Express x16 slots operating in x16/x16 mode. The one down side in this regard is AMDs lack of PCI Express 3.0 compliance with this chipset.
Rounding out the expansion slots on the TA990FXE motherboard are a PCI Express x1 and PCI Express x4 slot, and two PCI slots. Next to the top PCI Express 2.0 x16 slot is a 4-pin molex connector for providing additional PCI Express bus power.
The board features a Port80 debug card and physical power and reset buttons for out of the box tweaking. Biostar's TA990FXE motherboard comes with five 6Gb/s SATA III ports that support RAID 0,1,5,10 via the AMD SB950 chipset. The AMD SB950 southbridge communicates with the AMD 990FX northbridge over a Alink Express III connection at 4GB/s.