PCSTATS measures total system power draw (watts) with the aid of an Extech 380803 AC Power Analyzer and A-PFC compliant Seasonic SS-760KM power supply. The meter is placed between the 120V AC outlet and the PC power supply and the computer stressed. Total system power draw is recorded and compared to the PC's idle state.
Total System Power Draw
Idle

CPU Loaded

GFX Loaded

AMD A8-3850
nVidia Geforce GTX470


112W
193W
270W

AMD A8-3850
Radeon HD 6550D IGP

38W
159W
133W

(Idel @ desktop)

(via Prime95)

(via 3DM06)
Gigabyte's GA-A75-UD4H requires very little power while operating with the AMD A8-3850's integrated Radeon HD 6550D graphics core. At idle, the system sips a little as 38W! Under CPU-load conditions this figure jumps to 159W. With the IGP stressed by 3DMark the total power consumption is a modest 133W. Adding a Geforce GTX470 videocard into the mix introduces a significant power overhead, pushing total system power draw up across the board.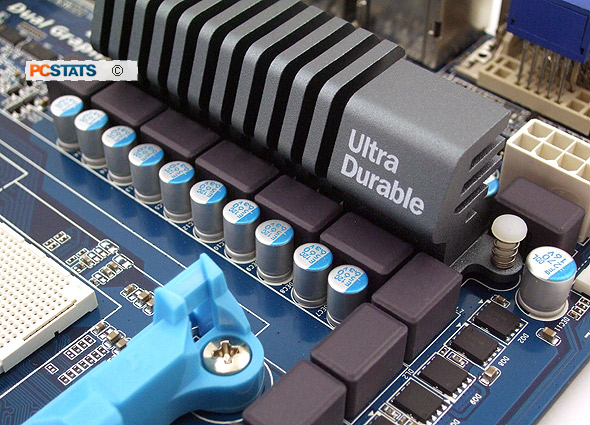 A Flagship Entry Level Motherboard?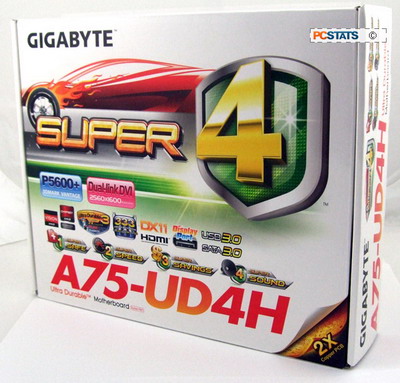 If PCSTATS compares the Gigabyte GA-A75-UD4H only against the other AMD A75 boards we've tested, there's a lot to like... particularly if you have a need for many USB 3.0 devices. If not, the microATX Gigabyte GA-A75M-UD2H motherboard is $30 cheaper and a better buy given the performance restrictions inherent with an AMD Fusion CPU.
In any case, the Gigabyte GA-A75-UD4H offers up strong mix of features the typical computer user will need. The AMD A75 platform proves itself well suited to media-center and HTPC tasks; making it very simple to output movies via HDMI cable to an HDTV for example. The Radeon HD 6550D IGP at the heart of the AMD A8-3850 CPU supports light DX11 gaming at modest resolutions, HDMI 1.3 output and typical media playback with ease.
Since there is no support for Nvidia SLI or AMD Crossfire, this motherboard is best used in standard office computers or family PCs where budgets are limited and applications aren't too intensive (ie. email, web surfing, Word, Photoshop, etc.). Given that the GA-A75-UD4H retails for about $130 CDN ($130 USD, £55 GBP), it just goes to show you how economical an AMD A75 platform can be.
In the motherboard and IGP benchmarks PCSTATS has shown you what to expect from the AMD A75 platform and the Radeon HD 6550D integrated graphics core. As you've seen, it's adequate but anemic. Considered within the class of entry-level motherboards the Gigabyte GA-A75-UD4H is a very well equipped motherboard. It comes packed with plenty of connectivity and a strong focus on build quality. If you really need all that USB 3.0, go for it! If not, save a few dollars and look towards the Gigabyte GA-A75M-UD2H motherboard instead.
Find out about this and many other reviews by joining the Weekly PCstats.com Newsletter today! Catch all of PCSTATS latest reviews right here.
Related Articles
Here are a few other articles that you might enjoy as well...
- Gigabyte GA-X79-UD5 Intel X79 LGA2011 Motherboard In-Depth Review
- Gigabyte GA-A75M-UD2H AMD A75 Socket FM1 Motherboard Review
- Biostar TA75M+ AMD A75 socket FM1 Motherboard Review
- Biostar TA990FXE AMD 990FX Motherboard Review
- ECS Z77H2-A2X Black Edition Intel Z77 Motherboard Review
- Gigabyte GA-Z77X-UD3H Intel Z77 Motherboard Review
- ASUS P8P67 Pro Intel P67 Motherboard Review
- ASUS P8H67-M Evo Intel H67 Express Motherboard Review
- ECS H67H2-M Black Edition Intel H67 Express Motherboard Review
- Biostar TH67XE Intel H67 Express Motherboard Review
- Gigabyte GA-P67A-UD7-B3 Intel P67 Motherboard Review
- Gigabyte GA-Z68X-UD5-B3 Intel Z68 Motherboard Review
- Gigabyte GA-Z68XP-UD3-iSSD Intel Z68 Motherboard & Intel 20GB SSD Review