Abstract: First and foremost, the Gigabyte GA-A75-UD4H motherboard features extensive onboard graphics ports, excellent connectivity and of course, DX11 integrated graphics capabilities.
90% Rating:
Home > Reviews > Motherboards > Gigabyte GA-A75-UD4H
Overclocking, BIOS, Test Specs

Overclocking Results:
The integration that makes the A8-3850 a wonderful mainstream CPU also makes it a bloody stubborn mule to overclock. Here's why; the A8-3850 APU is multiplier locked so it can only be overclocked by increasing the motherboard bus speed. Ordinarily this isn't a big deal, PCSTATS has overclocked countless multiplier locked processors this way.
What's different with the socket FM1 AMD A8-3850 APU is that the Northbridge, graphics and a few other devices are tied directly to the board's 100MHz bus speed. If we overclock the motherboard bus to 150MHz (for example), we're indirectly overclocking EVERYTHING that's tied to it.
To give this 2.9GHz quad-core processor a fighting chance at overclocking to its best, a set of Crucial Ballistic DDR3-1600 memory was locked into the AMD A75 based Gigabyte GA-A75-UD4H motherboard and set to run in DDR3-800 MHz mode. This way the memory won't hold things back when bus speed increases. A stock AVC heatsink was used to cool the CPU.
AMD's Fusion A8-3850 APU operates with a 29x multiplier that cannot be changed, so PCSTATS set about overclocking the processor by increasing motherboard bus speed from it's 100MHz default.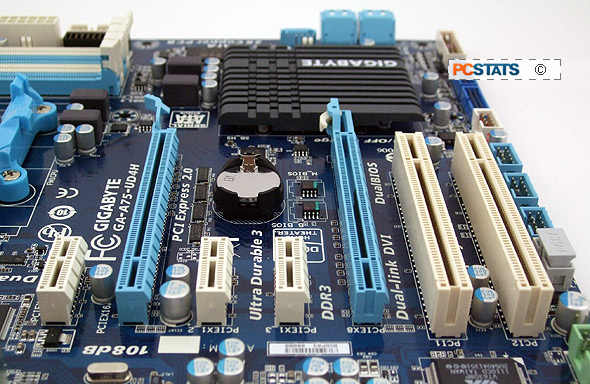 In the BIOS, the Gigabyte GA-A75-UD4H's bus speed was increased to from 100MHz to 110MHz, then 120MHz. At 125MHz the system crashed. Higher bus speeds were tried, but the best PCSTATS could squeeze from the 2.9GHz AMD Fusion A8-3850 APU was 3.48GHz (29x multiplier @ 120MHz motherboard bus speed).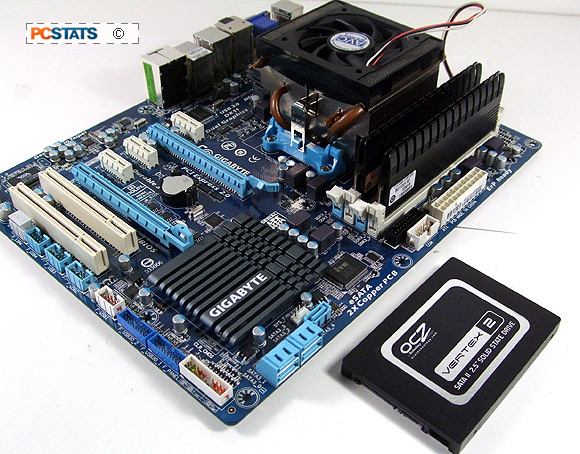 Next up, a look at the BIOS and our test system specs.

BIOS Controls and Tweaks

Gigabyte kept the traditional BIOS for the GA-A75-UD4H motherboard. The main overclocking controls for adjusting the CPU multiplier (and BCLK frequency) are found in the MB Intelligent Tweaker section.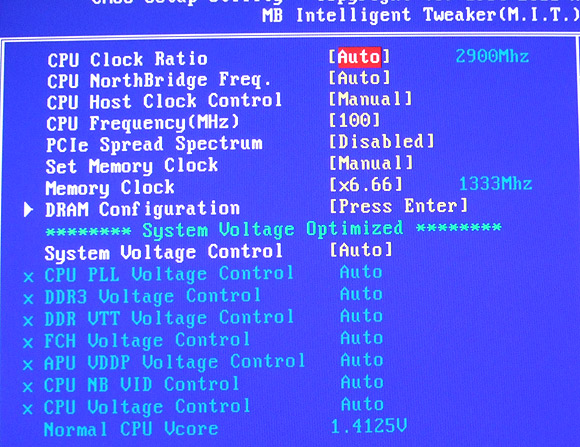 The processors' IGP can be overclocked and tweaked to your hearts content, though in reality the best performance gains will come from dropping in a discreet videocard.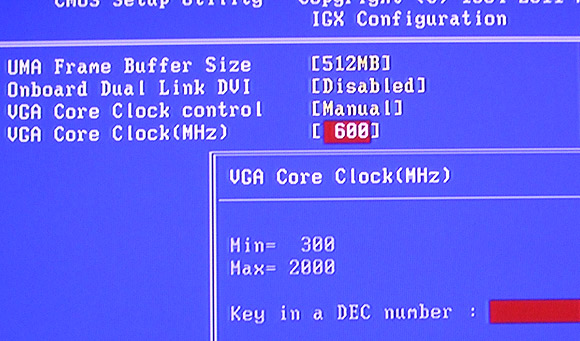 VGA clock speed can be adjusted if you'd like to try you hand at a little IGP overclocking.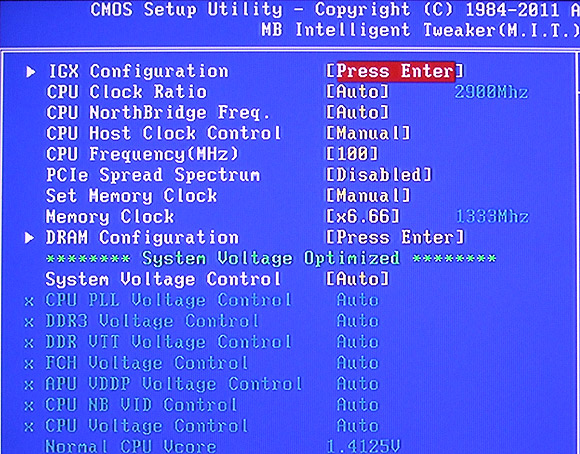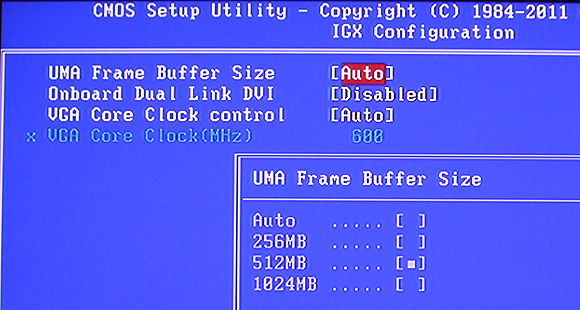 The amount of memory allocated away from the system can also be controlled. The default is 512MB. The BIOS has extensive memory control options, timings can be set down to the individual clocks cycle, per channel.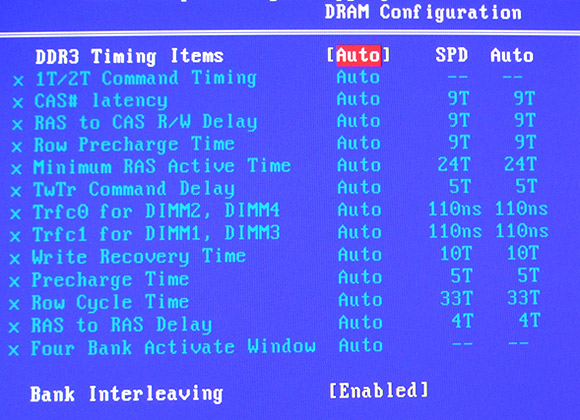 With the BIOS covered, let's move onto overclocking and the PCSTATS motherboard benchmark suite.
Test System Specs
PCSTATS has relied on Crucial memory for its servers for years, so it was only logical to install 4GB's of Crucial Ballistix DDR3-1600 8-8-8-24 memory into the Gigabyte GA-A75-UD4H motherboard test system. The storage device is super quick OCZ Vertex 2 SSD (120GB, SATAII). The effect on system-wide benchmarks is dramatic! Thanks to AMD, Crucial Memory and OCZ Technology for help outfitting this test platform.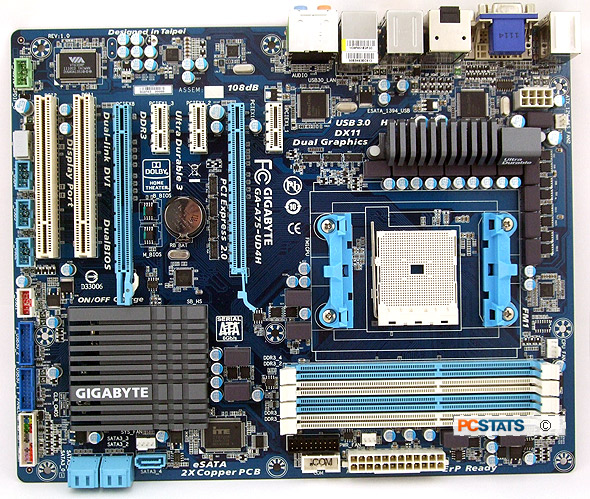 Gigabyte GA-A75-UD4H Motherboard
Details on how the socket FM1 Gigabyte GA-A75-UD4H motherboard was configured for benchmarking - including specific hardware, software drivers, operating system and benchmark versions - is listed in the Test System Spec chart below. Please take a moment to look over PCSTATS test system configurations before moving on to the individual benchmark results.

PCSTATS Test System Specs
TEST SYSTEM
Processor:

Intel Core i7 3820
(32nm)

Intel Core i5 2500K
(32nm)

AMD Fusion A8-3850
(32nm)

AMD FX-8150 (45nm)*
AMD Phenom II X6 1090T
(45nm)

Intel Core i7 920
(45nm)
Clock Speed:
36 x 100MHz = 3.6 GHz
33 x 100 MHz = 3.3 GHz
29 x 100 MHz = 2.9 GHz
18 x 200 MHz = 3.6 GHz*
16 x 200 MHz = 3.2 GHz
20 x 133 MHz = 2.67 GHz
Socket:
Socket LGA2011
Socket LGA1155
Socket FM1
Socket AM3 / AM2+
Socket LGA1366
Motherboard:
- Intel X79 -
Gigabyte GA-X79-UD5
Gigabyte GA-X79-UD5H-WB

- Intel Z77 -
Gigabyte GA-Z77X-UD5H-WB
Gigabyte GA-Z77X-UD3H
ECS Z77H2-A2X

- Intel Z68
Gigabyte GA-Z68X-UD5-B3
Gigabyte GA-Z68X-UD3H-B3
Gigabyte GA-Z68XP-UD3-iSSD

- Intel P67 -
Gigabyte GA-P67A-UD7
Gigabyte GA-P67A-UD4-B3
Gigabyte GA-P67A-UD4
ASUS P8P67 Pro
MSI P67A-GD65
ECS P67H2-A

- Intel H67 -
ASUS P8H67-M Evo
Biostar TH67XE
ECS H67H2-M
Intel DH67BL

- AMD A75 -
Gigabyte GA-A75-UD4H
Gigabyte GA-A75M-UD2H
Biostar TA75M+

- AMD 990FX
Biostar TA990FXE*
Gigabyte GA-990FXA-UD7*
ASUS Crosshair V Formula*

- AMD 890FX
Gigabyte GA-890FXA-UD7
ASUS Crosshair IV Formula
Biostar TA890FXE
MSI 890FXA-GD70
- AMD 790FX -
Gigabyte GA-MA790FXT-UD5P

- AMD 785G -
MSI 785GM-E65

- Intel X58
Gigabyte G1.Assassin*

Videocard:

Gigabyte GV-N470SO-13I (Geforce GTX470)

*Gigabyte GV-N470SO-13I (Geforce GTX470)
ASUS ENGTS250 DK
(Geforce GTS250)

Memory:
x32 - 4GB / x64 - 4x4GB Corsair CMZ16GX3M-4X1600C9 DDR3-1600 9.9.9.24

2x 2GB Crucial Ballistix DDR3-1600 8.8.8.24

2x 2GB Corsair XMS3-1600C8

3x 2GB Corsair TR3X6G1600C8D DDR3
Memory Speed:
DDR3-1600
DDR3-1333
DDR3-1333
DDR3-1066
*DDR3-1333
DDR3-1333
Hard Drive:
120GB OCZ Vertex2 SSD (3GB/s SATA II)


120GB OCZ Vertex2 SSD (3GB/s SATA II)
Intel SRT Tests: 74GB Western Digital Raptor WD 740 & 20GB Intel Larson Creek 311 SSD

74GB Western Digital Raptor WD 740 (3GB/s SATA II)
*120GB OCZ Vertex2 SSD (3GB/s SATA II)


Optical Drive:

Plextor PX-B310U Blu-Ray

ASUS BC-1205PT-BD

Power Supply:
NoFan P-400A (400W)

Seasonic SS-760KM (760W)

PC Power & Cooling TurboCool 750W

Heatsink:
Zalman CNPS11X Performa Heatsink

Intel Reference LGA1155 Heatsink

AMD Reference Heatsink

Intel Reference LGA1366 Heatsink

Monitor (1080p):

ASUS MK241 24" HD LCD

Software Setup:
Microsoft Windows 7 Ultiimate 32-bit & 64-bit
Intel INF 9.2.3.1020
nVidia 285.62

Microsoft Windows 7 Ultimate x32/x64
Intel 9.2.0.1025
nVIDIA 266.58

Microsoft Windows 7 Ultimate x32/x64
AMD Catalyst 8.86RC2
nVIDIA 266.58

Microsoft Windows 7 Ultimate 32-bit
AMD Catalyst 9.12
nVIDIA Forceware 195.62

Microsoft Windows Vista Ultimate
Intel INF 9.1.0.1012
nVIDIA Forceware 182.08

Benchmarks:
System Benchmarks: Sysmark 2012, SYSmark 2007, PCMark Vantage, SiSoft Sandra 2011
Gaming B/M: 3DMark 11, 3DMark Vantage, 3DMark 06


SEARCH PCSTATS

---

Use the power of Google to search all of PCSTATS and the PCSTATS Forums. Tell us what you think of this new feature - FEEDBACK?