Abstract:

The focus of today's review is the miniITX, 17cm square, Gigabyte GA-E350N-USB3 AMD Fusion motherboard. This platform is based on a dual-core netbook processor from AMD called the AMD Fusion E-350 'Zacate' APU.


69% Rating:
Home > Reviews > Motherboards > Gigabyte GA-E350N-USB3
The focus of today's review is the miniITX, 17cm square, Gigabyte GA-E350N-USB3 AMD Fusion motherboard. This platform is based on a dual-core netbook processor from AMD called the AMD Fusion E-350 'Zacate' APU. The processor includes an entry level Radeon HD6310 integrated graphics core with 80 shader processors that is clocked at 492MHz. The AMD E-350 is itself a dual core processor that operates at 1.6GHz and contains 512KB of L2 Cache per core, for a total of 1MB L2. The Gigabyte GA-E350N-USB3 motherboard is built around the AMD A50M (mobile) chipset and offers up a lot of integration in addition to USB 3.0.
The Gigabyte GA-E350N-USB3's embedded AMD E-350 APU draws just 18W of power and is comparable to an Intel Atom processor in terms of compute performance. The integrated AMD Radeon HD 6310 graphics is nothing to get excited about, but is DX11 compliant and does operate at a modest clock speed of 492MHz. The IGP can allocate up to 1024MB of memory from the systems' single channel DDR3-1066 DIMMs. The diminutive IGP features 80 Radeon Cores and will handle FPS games at very light resolutions, just barely. A single PCI Express 2.0 x16 expansion slot operating at x4 mode is available for discrete videocards and other devices like ATSC digital TV-tuners or 802.11n WiFi cards.
While the Radeon HD6310 can't play 3D FPS games at a decent frame rate to save its life, as you'll shortly see in the benchmarks, the integrated graphics solution does have the power to tackle high definition video content and Blu-Ray playback at 1080p without issue.... and that my friends is why the little Gigabyte GA-E350N-USB3 is worth paying attention to for the rest of this wonderfully detailed PCSTATS review!

Gigabyte GA-E350N-USB3 AMD Fusion Motherboard




INCLUDES: User's Manual, Driver DVD, (2) SATA cables, IO shield.

Chipset: AMD A50M 'Hudson-M1' FCH
CPU Support: AMD E-350 APU 'Zacate' (embedded)
Memory Type: Dual Channel DDR3
Videocard Support: (1) PCI Express x16 2.0 slot
Integrated Graphics: AMD Radeon HD 6310 (DX11)

PRICE: $130 USD/CDN
If you're like most geeks, a platform like the GA-E350N-USB3 has one role and one role alone - playing 8.5GB MKV movies at 1080p to the nearest HDTV over its built in HDMI port. Gigabyte's GA-E350N-USB3 will handle this easily enough, though it does push the 1.6GHz AMD Fusion E-350N CPU load to maybe 30% - still plenty of headroom for stutter-free playback.
In PCSTATS labs, the stock 720p and 1080i HD test videos ran smoothly with maybe 9% and 15% CPU load, respectively. If that kind of makes sense to you, all you have to know is that the Gigabyte GA-E350N-USB3 is a good mediaPC/HTPC platform which is just powerful enough for media playback over HDMI, with out excessive cooling solutions and noise.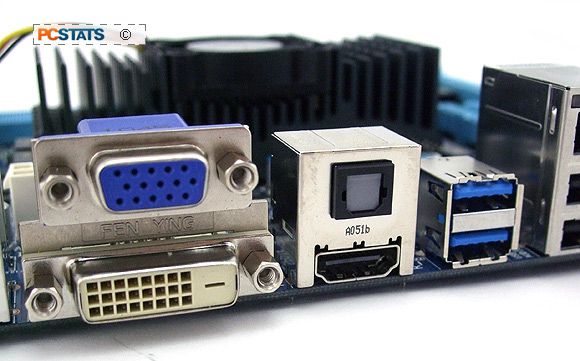 Video outputs: Analog VGA, DVI-D, HDMI
Video outputs include Analog, DVI-D and HDMI (the latter two at 1920x1200 resolution). The board supports 7.1 channel audio and is Dolby Home Theatre compliant. Key to the Gigabyte GA-E350N-USB3 miniITX platform is the inclusion of two USB 3.0 ports; this makes it a heck of a lot easier to transfer massive .MKV files to the system's SATA III HDD/SSD, certainly faster than 10/1000 LAN.
Gigabyte's GA-E350N-USB3 board features four native SATA III ports, eight native USB 2.0 ports and two USB 3.0 port. The boards' two memory slots accommodate up to 8GB of single channel DDR3-1066/1333(OC) memory. The board offers up one PCI Express 2.0 x16 slots at x4 mode. Around back there are the usual assortment of USB 3.0 and USB 2.0 ports, a gigabit networking jack and 7.1 channel audio outputs. Notably missing are any optical SP/DIF outputs or eSATA.
Among geeks, there's a special place reserved for self contained Mini-ITX motherboards that merge CPU and GPU into one fantastic little 17x17cm bundle of joy. Around the PCSTATS labs we've used these types of motherboards for firewalls, small file servers, media PCs, Home Theatre PCs, music systems, you name it. Gigabyte have even fashioned a complete computer system from the box the GA-E350N-USB3 ships in!
Most users will find the AMD E-350 integrated graphics core better than competing Intel Atom IGPs. The platform is quite capable for both HTPC and even very light general computing tasks. The Gigabyte GA-E350N-USB3 miniITX motherboard can be found online for around a $130 USD/CDN.
AMD Fusion Platform - 'Brazos' and 'Zacate'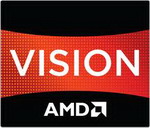 There are three parts to this AMD 'Brazos' platform spread across two physical components; the AMD E-350 APU with its' integrated Radeon HD6310 IGP, and the AMD A50M chipset. The AMD Fusion platform is both an upgrade from previous IGP chipsets such as the AMD 890GX and a complete departure from that era. The reason for that departure is the AMD A50M core logic largely fulfills the role of southbridge chipset.
The AMD E-350 Fusion APU is built on the 40nm process and is essentially a system-on-a-chip designed for Netbooks. The dual core 1.6GHz AMD E-350 (code name 'Zacate') BGA chip is soldered to the motherboard and not upgradable. It has 512kb of L2 cache per core, runs on a 16x multiplier and communicates with the AMD A50M southbridge over a 2.5GT/s UMI link. The platform supports single channel DDR3-1066 memory, with overclocking this can be boosted to DDR3-1333.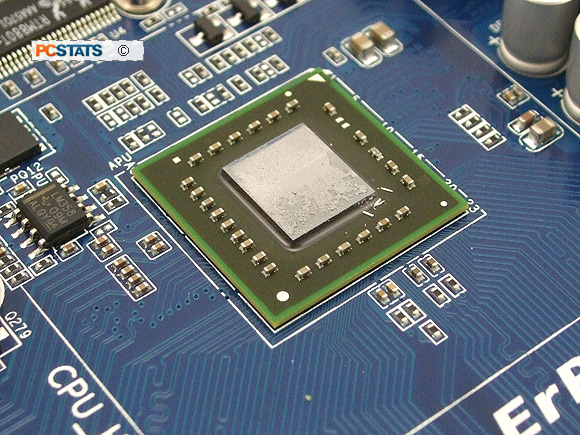 AMD Fusion E-350 APU (dual core, 1.6GHz and 492MHz Radeon HD6310 IGP)
The AMD Fusion E-350 APU architecture differs from previous AMD Athlon processors in that it integrates not only the memory controller and northbridge onto the die, but also the integrated graphics processor. Consequently, the transistor count has ballooned, but AMD was able to keep the processor package small thanks to a 40nm die shrink.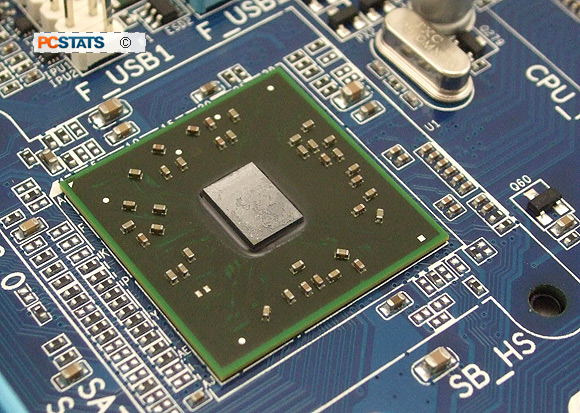 AMD A50M 'Hudson-M1' FCH (Fusion Controller Hub)
The AMD A50M southbridge is built on the 65nm process and supports six SATA III connections, up to (14) USB 2.0 devices, HD audio and two PCI Express lanes. There is no RAID support, no integrated networking or support for PCI devices.
The AMD Radeon HD6310 IGP is particularly striped down; built on the 40nm process, the core has 80 shader processors and operates at 492MHz. It has a pixel fill rate of 2GP/s, Texture fill rate of 4GT/s and overall memory bandwidth of 8.5GB/s. The HD6310 IGP uses a 64-bit bus width and is capable of 80 Gflops, at most. The IGP is DX11, OpenGL 4.0, OpenCL 1.1 and UVD3 compliant, it supports three display outputs.
Here's a chart comparing the AMD A50M and E-350 APU (mobile AMD Vision platform) against the AMD A75 chipset and A8-3850 APU (desktop AMD Vision platform) so you can get a better sense of where the Gigabyte GA-E350N-USB3 platform slots in.
AMD Fusion Platform
AMD A50M
(with E-350 APU)
AMD A75
(with A8-3850 APU)
AMD 890GX
CPU Socket
Socket BGA-413 (soldered)
Socket FM1
Socket AM3
CPU
Fusion E-350 (40nm)
'Zacate'
Fusion A8-3850 (32nm)
'Llano'
-
Chipset Codename
'Hudson-M1' (65nm)
'Brazos' platform
'Hudson-D3' (65nm)
'RS880D' (65nm)
Clockspeed, Cores
1.6GHz / 2Core, 2Thread
2.9GHz / 4Core, 4 Thread
-
TDP
18W TDP
100W TDP
-
Bus Interface
2.5GHz UMI
5GHz UMI
2.6GHz HT 3.0
Memory Support (dual channel)
DDR3-1066
DDR3-1866
DDR3-1333
Maximum Memory Capacity
8GB (64-bit)
64GB (64-bit)
16GB
Southbridge
A50M
A75
SB850
Integrated Graphics

AMD Radeon HD 6310

AMD Radeon HD 6550D*

Radeon HD 4290
Integrated Graphics Video Ports
DVI/HDMI/VGA
DVI/HDMI/DP/VGA
DVI/HDMI/DP/VGA
Shader Processors/MHz
80 Shaders / 492MHz
400 Shaders / 600MHz*
40/700MHz
DirectX Support
DX11, OpenGL4.1, OpenCL1.1
DX11*
DX10.1
PCI Express 2.0 Lanes
4 + 2
4 + 20*
22
SATA 6Gb/s
6
6
6
RAID
-
0, 1, 10
0, 1, 10
Intelgrated LAN
-
10/100/1000 MAC
10/100/1000 MAC
USB 3.0 Ports
-
4
2
USB 2.0 Ports
14
10
14
PCI Masters
-
3
3
Here we have the block diagram for this particular miniITX motherboard.
Next up, a 360 degree look at the Gigabyte GA-E350N-USB3 motherboard, then it's onto benchmarking!
SEARCH PCSTATS

---

Use the power of Google to search all of PCSTATS and the PCSTATS Forums. Tell us what you think of this new feature - FEEDBACK?