We first became aware of Western Digital's RE4 Enterprise Storage hard drives while parts checking a 1U Dell R310 server back in 2011 - an "Enterprise Storage" SATA drive seemed a curious object.... but before we get into the specs of the 1.0TB WD RE4 drive that's the focus of this PCSTATS review, first a little back story.
As anyone who has run a website for more than decade on dedicated boxes can tell you, storage standards for web servers have changed dramatically over the years. At the start of the Dot.Com boom SCSI was the dominant data interface. SCSI drives had fantastic reliability and were constructed for 24x7 continuous operation, but on the downside they were very expensive and small in capacity. The loop hole in the mix proved to be the relatively short lifespan of the server hardware itself, coupled with a shift in the limiting factors to website performance.
As web servers transitioned to web application servers, website performance bottlenecks slowly moved off the I/O onto the CPU. This, coupled with Intel's increasing technology refreshes made tantalizingly faster servers available for web application duty. It also created a situation where SCSI drives were being pushed into capacity-obsolesence and simultaneously outlasting the life cycle of the server hardware by leaps and bounds!
Given the parallel boom in desktop hard drive capacities at the time, web application servers started getting built on server grade processors and motherboards and memory, while the OS and a website data were stored not on server grade SCSI hard drives, but on economical desktop IDE/SATA drives. These desktop drives offered loads of storage space at significantly lower cost, issues of shorter drive lifespan were skirted by the shortened life cycle of application server itself. To put it another way; instead of a tank of gas outlasting the car, the car became obsolete round about the same time the tank of gas emptied.

Western Digital 'WD RE4' 1.0TB Hard Drive

Model: Western Digital WD RE4 WD1003FBYX
Drive Cache: 64MB
Capacity: 1.0TB (7200RPM, two-platters)


Type: Hard Disk Drive (HDD)
Interface: 3Gb/s SATA II / NCQ
MSRP Price: $129 USD
Eventually hard drive capacities burst past 1.0TB and drive manufacturers such as Western Digital started segmenting their storage products into tiers. With external storage drives arguably on the very lowest rung, WD came up with Green, Blue and Black desktop hard drive product segments. Shortly thereafter, WD introduced 'RE4' drives for Enterprise Storage applications.
The Western Digital RE4-series SATA drives are designed for "write intensive" server applications and for tasks like video surveillance. The WD RE4-series drives range in capacity from 250GB to 2TB and all feature 64MB cache, 7200RPM spindle speeds, 4th generation vibration tolerance and Native Command Queing.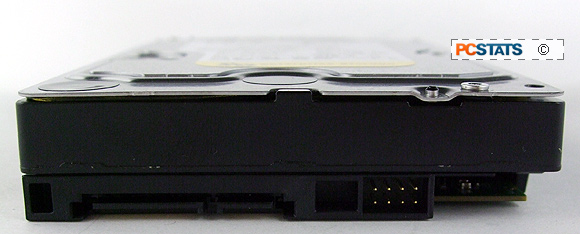 In this review PCSTATS is testing out a 3.5" Western Digital RE4 WD1003FBYX hard drive. The WD RE4 WD1003FBYX is a 1.0TB hard drive which utilizes Perpendicular Magnetic Recording and operates on the 3Gb/s SATA II interface. It features StableTrac, IntelliSeek, NoTouch ramp loading head technology, a multi-axis shock sensor, RAFF technology and RAID specific Time Limited Error Recovery. The drive supports a typical sustained data transfer rate of 128MB/s and has two platters/four heads beneath its shiny metal exterior.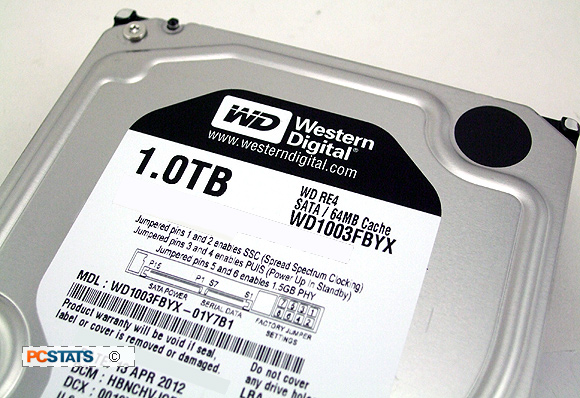 Western Digital's RE4 WD1003FBYX costs around $129 CDN ($129 USD, £190 GBP) at stores like CanadaComputers.com. The WD RE4-series drives are covered by a 5 year warranty - the same warranty period as SCSI drives. MTBF is pegged at 1.2 million hours at 100% duty cycle. For the sake of comparison a WD Caviar Blue drives is pegged at 750K hours MTBF and covered by a 2 year warranty.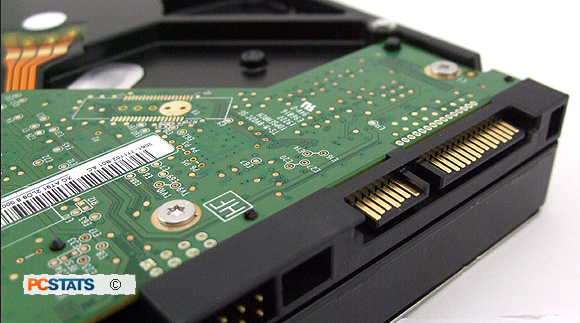 The 1.0TB Western Digital RE4 drive is rated for an average write latency of 3.67ms and is compatible with SATA II interfaces. Power is supplied by a SATA style power connector. The WD RE4 drive wasn't too loud by our standards, idling at 28 dBA and generating 33 dBA when seeking. Average operational power consumption is a modest 7.9W.
Alright, let's power up this "enterprise storage" drive and test it alone, in RAID 1 and RAID 0!
Test System Specs
The details of how the 1.0TB Western Digital RE4 WD1003FBYX hard drive test system were configured for benchmarking, including the specific hardware, software drivers, operating system and benchmark versions are indicated below. Please take a moment to look over PCSTATS test system configurations before moving on to the individual benchmark results.

PCSTATS Test System Specs
test system
processor:

intel core i5 2500k
(32nm)

clock speed:
33 x 100 mhz = 3.3 ghz
socket:
socket lga1155
motherboard:
- intel z77 -
gigabyte GA-Z77X-UD3H

Videocard:

Gigabyte GV-N470SO-13I (Geforce GTX470)

Memory:
3x 2GB Corsair TR3X6G1600C8D DDR3
Memory Speed:
DDR3-1333
Storage:

- HDD -
1TB Western Digital RE4 1TB WD1003FBYX (3GB/s SATA II)
3TB Seagate Barracuda XT (6GB/s SATA III)
2TB Seagate Barracuda XT (6GB/s SATA III)
1TB Western Digital 1TB WD1001FALS (3GB/s SATA II)
74GB Western Digital Raptor WD740 (3GB/s SATA II)

- SSD
120GB OCZ Vertex2 (3GB/s SATA II)
Plextor PX-128M1S (3GB/s SATA II)

- SSHD
500GB Seagate Momentus XT SSHD (3GB/s SATA II)
750GB Seagate Momentus XT SSHD (6GB/s SATA III)



Optical Drive:

Plextor PX-B310U Blu-Ray

Power Supply:

Seasonic SS-760KM (760W)

Heatsink:

Intel Reference LGA1155 Heatsink

Monitor (1080p):

ASUS MK241 24" HD LCD

Software Setup:

Microsoft Windows 7 Ultimate
Intel INF 9.2.0.1025
nVIDIA Forceware 285.62